Big jackpot awaits NBA draft lottery winner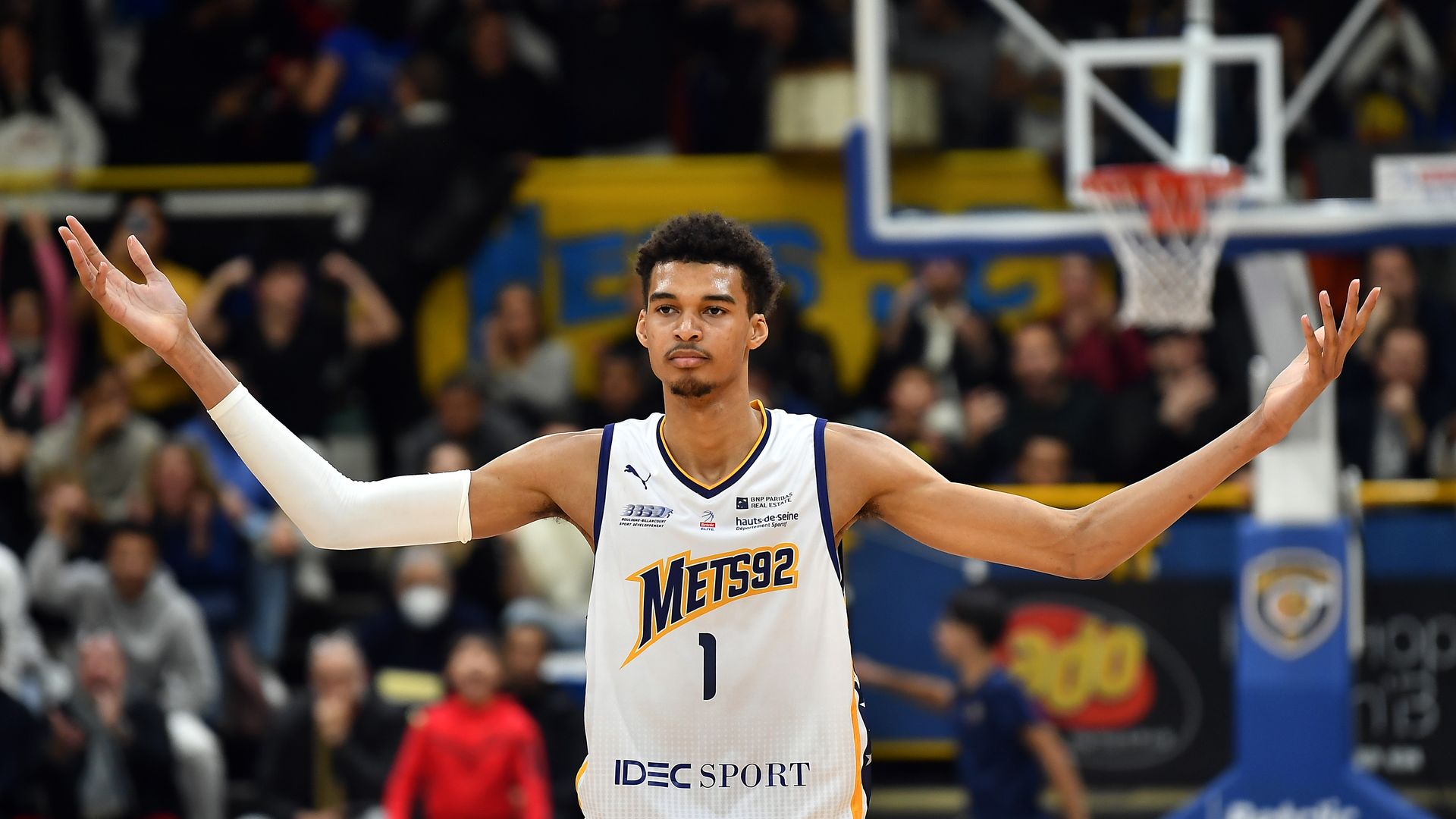 The National Basketball Association draft lottery is Tuesday night, when one lucky team will win the No. 1 pick and the right to draft Victor Wembanyama — the most hyped prospect since LeBron James.
State of play: The Detroit Pistons, San Antonio Spurs and Houston Rockets have the best chance (14%) of landing the 19-year-old French prodigy who stands 7-foot-4, has an 8-foot wingspan, shoots like Kevin Durant and defends like Rudy Gobert.
The big picture: The following seven players are, in our humble opinion, the most hyped of the draft lottery era (since 1985). From Ewing to Wembanyama, each reflected the era in which they were selected.
Patrick Ewing (1985): The four-year center out of Georgetown was the prize of the inaugural lottery at a time when back-to-the-basket bigs reigned supreme.
Shaquille O'Neal (1992): Another center, albeit a less traditional one, even Shaq spent three years in college despite averaging 28 and 15 as a sophomore at LSU.
Tim Duncan (1996): The greatest power forward who ever lived played a full four years at Wake Forest when that was still viewed as a positive.
LeBron (2003): "The Chosen One" was the crown jewel of the prep-to-pro era. Two years later, the NBA prohibited teams from drafting high schoolers.
Anthony Davis (2012): While he wasn't the first one-and-done player to go No. 1, he was perhaps the first to do so without a hint of debate after leading Kentucky to a national title.
Zion Williamson (2019): He was the face of the social media age, gaining fame for his viral dunks in high school before becoming must-see TV at Duke.
Between the lines: While Americans typically spend a year or years watching future No. 1 picks on their TV screens, most have seen very little of Wembanyama.
That has added to his mystique, keeping the focus on his undeniable physical traits and unicorn-like status rather than his game-to-game performance with the Metropolitans 92.
And while most fans haven't watched him play many games, they've seen him on social media: He was the eighth-most viewed player on NBA social channels this season — while playing in France.
Go deeper