Senators grill former SVB CEO over "fatally mismanaged" bank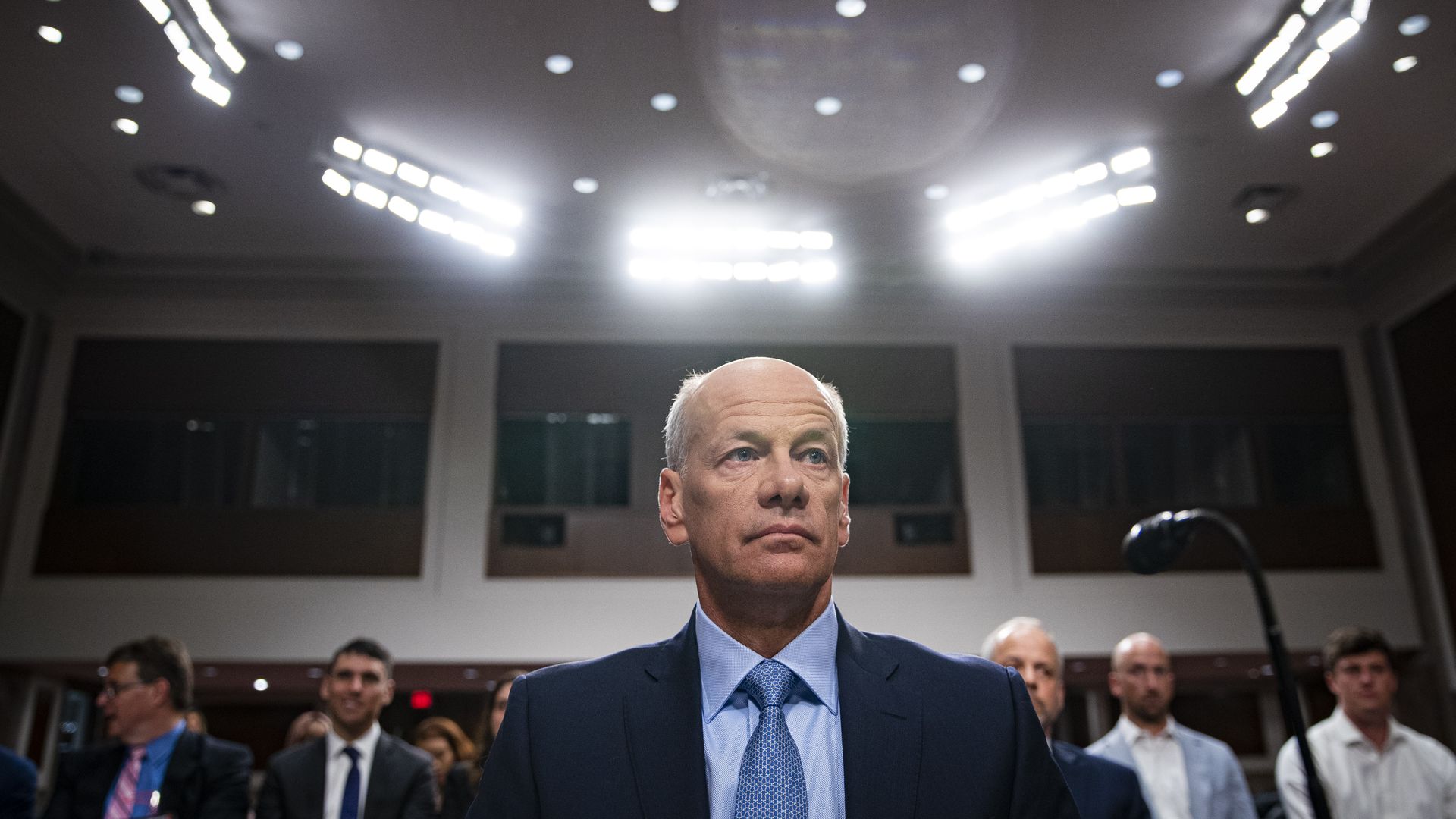 Former Silicon Valley Bank CEO Greg Becker and two former executives from Signature Bank were grilled by a Senate committee Tuesday and skewered for the failures of the financial institutions they led.
Why it matters: It was Becker's first public appearance in the wake of SVB's failure — a shocking collapse that set off a mini-banking crisis that the system is still sifting through.
Catch up quick: The run on SVB was unlike any in U.S. history. On March 9, $42 billion in deposits were withdrawn from the bank in 10 hours — that's "roughly $1 million a second," Becker noted in his testimony.
The next day, another $100 billion in withdrawal requests were on tap, he said, bringing the total to 80% of the bank's total deposits — and the FDIC took possession of the bank.
State of play: Senate Banking Committee chair Sherrod Brown (D-Ohio), laid the blame for the bank failures at the feet of these executives, with many other senators joining in to hammer Becker — especially over mismanagement and failure to hedge the bank's interest rate risk.
"We know your banks were fatally mismanaged. The next obvious question is why? Why did you let things get this bad?" Brown said.
The ire was bipartisan. "I'm shocked at the complete negligence and disregard for the economic realities that this country was facing under your leadership," Sen. Tim Scott (R-SC) said to Becker.
"Mr. Becker, you made a really stupid bet that went bad," said Sen. John Neely Kennedy (R-La.)
Sen. JD Vance (R-Ohio) hammered Becker over his pay. "So in 2022, in particular, you paid yourself a $1.5 million cash bonus even as the value of the company that you were managing declined by two thirds. That's not bad work, if you can get it."
Senators also blamed lax regulation and regulatory failures for what happened.
What's next: Senators said they are trying to claw back executive compensation from leaders at both banks. Sen. Elizabeth Warren (D-Mass.) pointed to a bipartisan bill that proposes to do just that.
The response: At the hearing, Becker and Shay seemed to blame everyone but themselves for what happened. In Becker's opening remarks, he called the bank's failure unprecedented.
"Rumors and misconceptions" led to the unprecedented bank run. Ultimately, Becker said, the run was too much to handle.
"I do not believe that any bank could survive a bank run of that velocity and magnitude," he said. The failure of the bank was "personally and professionally devastating, and I am truly sorry for how this has impacted SVB's employees, clients, and shareholders."
More than two hours into the hearing, after he was pressed on what he could've done differently, Becker said: "I was the CEO of Silicon Valley Bank. I take responsibility for what ultimately happened."
Meanwhile: The cofounder of Signature Bank, Scott Shay, told senators that he didn't think the FDIC needed to shutter his bank.
"Although I believed that the bank was in a strong position to weather the storm, regulators evidently saw things differently."
His colleague, former Signature president Eric Howell, said he did not believe mismanagement played a role in the bank's failure.
Background: At least three different reports from regulators released earlier this month pin a big chunk of blame for what happened on the banks themselves. Senators quoted from these reports on Tuesday.
The Federal Reserve issued a 114-page report blaming both SVB and lax regulation for the bank's collapse in March.
The FDIC put out an internal review of its handling of Signature Bank, that details how regulators' warnings about risks were brushed off and ignored by the bank.
In a separate hearing on Tuesday, bank regulators — including those from the Federal Reserve, FDIC, and the Office of the Comptroller of the Currency — were pushed on what led to the bank collapses and what possible rule changes were ahead as a result.
Fed banking cop Michael Barr said the central bank was considering tougher rules for banks with $100 billion or more in assets — including one that would take the bank's unrealized losses into account when setting capital levels.
Go deeper