Updated May 15, 2023 -

World
Turkey election moves to runoff with Erdoğan in the driver's seat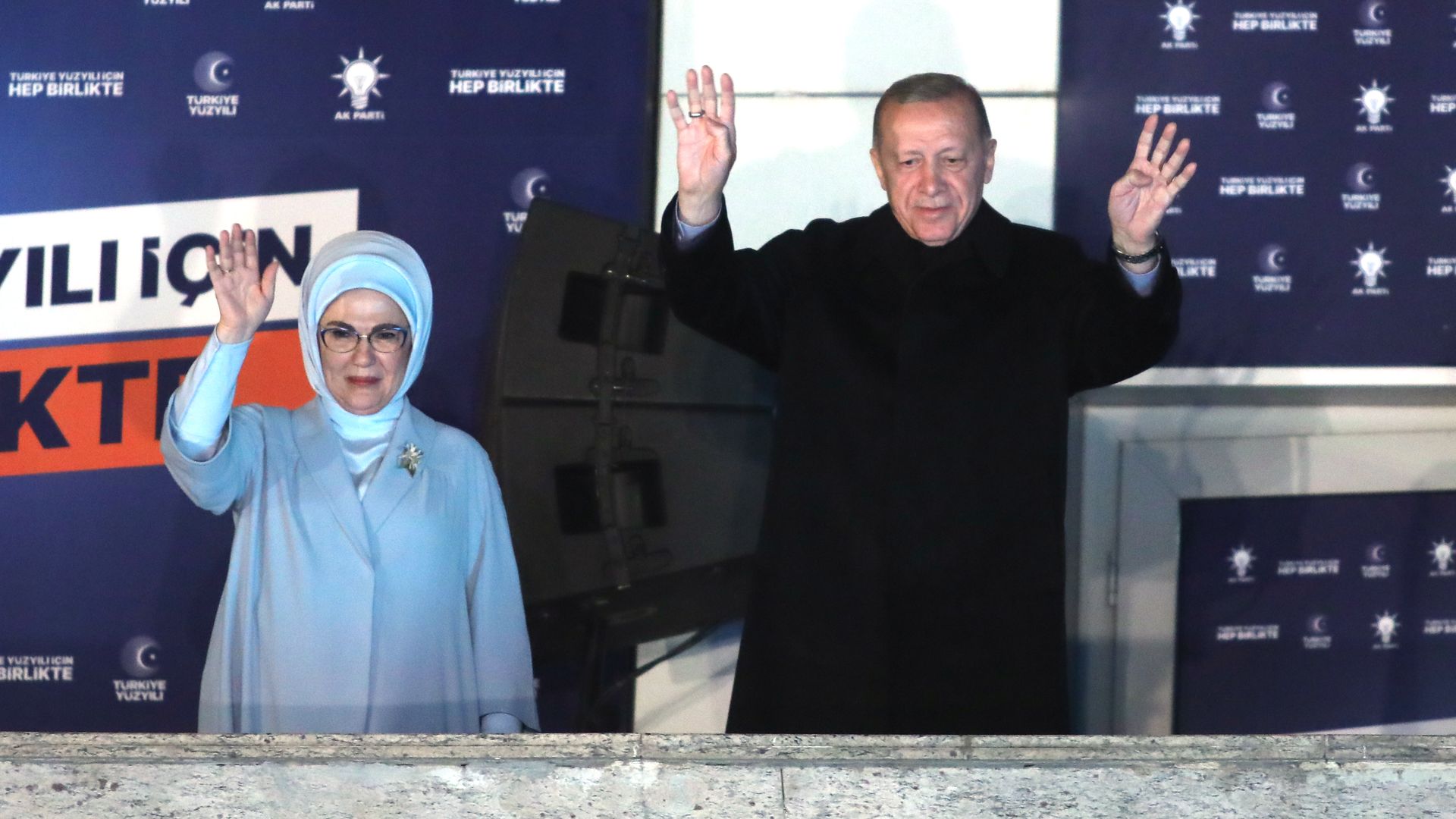 Turkish President Recep Tayyip Erdoğan and opposition leader Kemal Kılıçdaroğlu are heading for a runoff on May 28, electoral officials announced.
State of play: Erdoğan significantly outperformed the pre-election polls to win 49.5% of the vote, just short of the majority required to win outright.
Kılıçdaroğlu, who leads a broad opposition alliance, won 44.9%. That's a deflating result for the opposition, particularly as Erdoğan's bloc is poised to win a parliamentary majority. Still, Kılıçdaroğlu insists he will win in the second round.
Right-wing nationalist Sinan Oğan won 5.2%. He has said he would only consider endorsing Kılıçdaroğlu if the opposition leader promised not to make any concessions to a pro-Kurdish party. However, Kılıçdaroğlu needs Kurdish support to have any chance of victory.
Erdoğan will be heavily favored in the runoff given his advantage in the first round and the likelihood that conservative Oğan voters could back him in the second round.
Turnout was 89%. Election observers from the OSCE said the election was competitive but Erdoğan had unfair advantages, in particular in media coverage. Erdoğan allies control most of Turkey's media.
Opposition politicians cried foul as initial election returns on Sunday showed Erdoğan with a large lead, claiming state media was intentionally reporting Erdoğan strongholds first.
Some prominent opposition members insisted, ultimately inaccurately, that Kılıçdaroğlu was actually ahead and might win in the first round.
Erdoğan greeted joyful supporters on Wednesday night and said he would welcome a second round if that's what it took to win.
The big picture: Many analysts see an expected head-to-head contest between Erdoğan and Kılıçdaroğlu as a hinge point for democracy in Turkey.
This was expected to be the toughest election of Erdoğan's 20 years in power.
It came during an economic crisis arguably exacerbated by Erdoğan's unorthodox monetary policy, and after a devastating earthquake in which his government's response was widely criticized.
Erdoğan remains a hero to his loyal base of more conservative and religious Turks, though his critics accuse him of eroding democracy, punishing dissent and centralizing power in his own hands.
The other side: Kılıçdaroğlu, a mild-mannered former bureaucrat, presents himself as a bridge-builder who will serve just one term and oversee constitutional reforms to restore a parliamentary system. Analysts expect warmer ties with NATO and the U.S. if he is elected.
Editor's note: This story has been updated with new details throughout.
Go deeper: Listen to the Axios Today podcast, where host Niala Boodhoo and Dave Lawler delve deeper into the Turkish presidential elections.
Go deeper