What to watch for in Turkey's pivotal election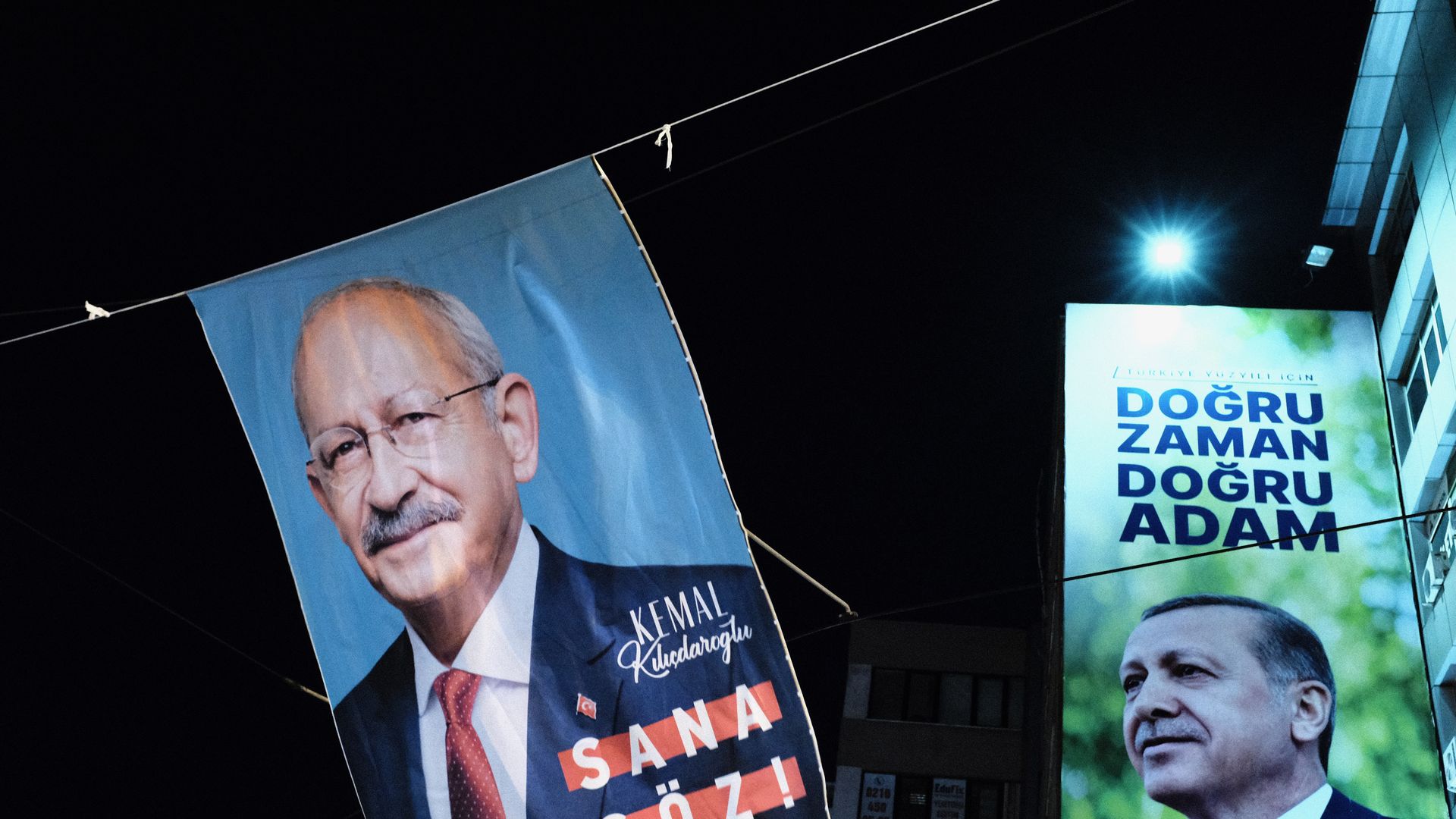 ANKARA — Turkey's May 14 election is the toughest race in two decades for President Recep Tayyip Erdoğan, and it could be one of the most pivotal elections in Turkey's history.
Driving the news: Erdoğan and opposition candidate Kemal Kılıçdaroğlu both held large rallies across the country in recent days, with most polls showing a neck-and-neck race or Kılıçdaroğlu slightly ahead.
Erdoğan has used his control over the media to his advantage. State-run network TRT gave Erdoğan 32 hours of coverage in April, and Kılıçdaroğlu a mere 32 minutes.
Erdoğan is promising free gas, wage hikes and tax reductions, and he's highlighting Turkey's first electric car and a new battle tank to give a sense of forward progress.
The flip side: The opposition is focusing on the things that are getting worse after 20 years of Erdoğan — the cost of living, human rights — and promising to restore Turkey's parliamentary system.
In a divisive campaign where Erdoğan and his allies have played on identity politics, Kılıçdaroğlu challenged a political taboo by speaking about his heritage as an Alevi, a minority Muslim sect.
Two recent incidents have sparked concerns of potential post-election violence if the opposition wins.
A rock hurled by a young protester broke a window on Kılıçdaroğlu's campaign bus on Tuesday, two days after protesters pelted Istanbul Mayor Ekrem İmamoğlu, an opposition vice president candidate, with stones during a speech.
Several government officials recently claimed the West was trying to oust Erdoğan in a "political coup."
State of play: If neither candidate wins a majority, as appears likely, there will be a runoff on May 28.
Conservative and older voters tend to back Erdoğan, while frustrated younger voters and urban secularists are more likely to vote for Kılıçdaroğlu.
Turnout was 86% in 2018, and even more voters are likely to cast ballots this time around. Two groups that could swing the outcome are the 5 million young people eligible to vote for the first time and Turkey's large Kurdish minority.
Parliamentary elections will be held simultaneously on Sunday. Erdoğan's hopes in the runoff will get a boost if his coalition wins a parliamentary majority, but he'll be greatly damaged if it doesn't.
What to watch: The outcome of the election will have a major bearing not just on Turkey's economic crisis and democratic trajectory, but also on its relations with the West, Russia, China and regional players, including Israel.
Go deeper