Turkey's Erdoğan plays to voters' fears as election comes down to wire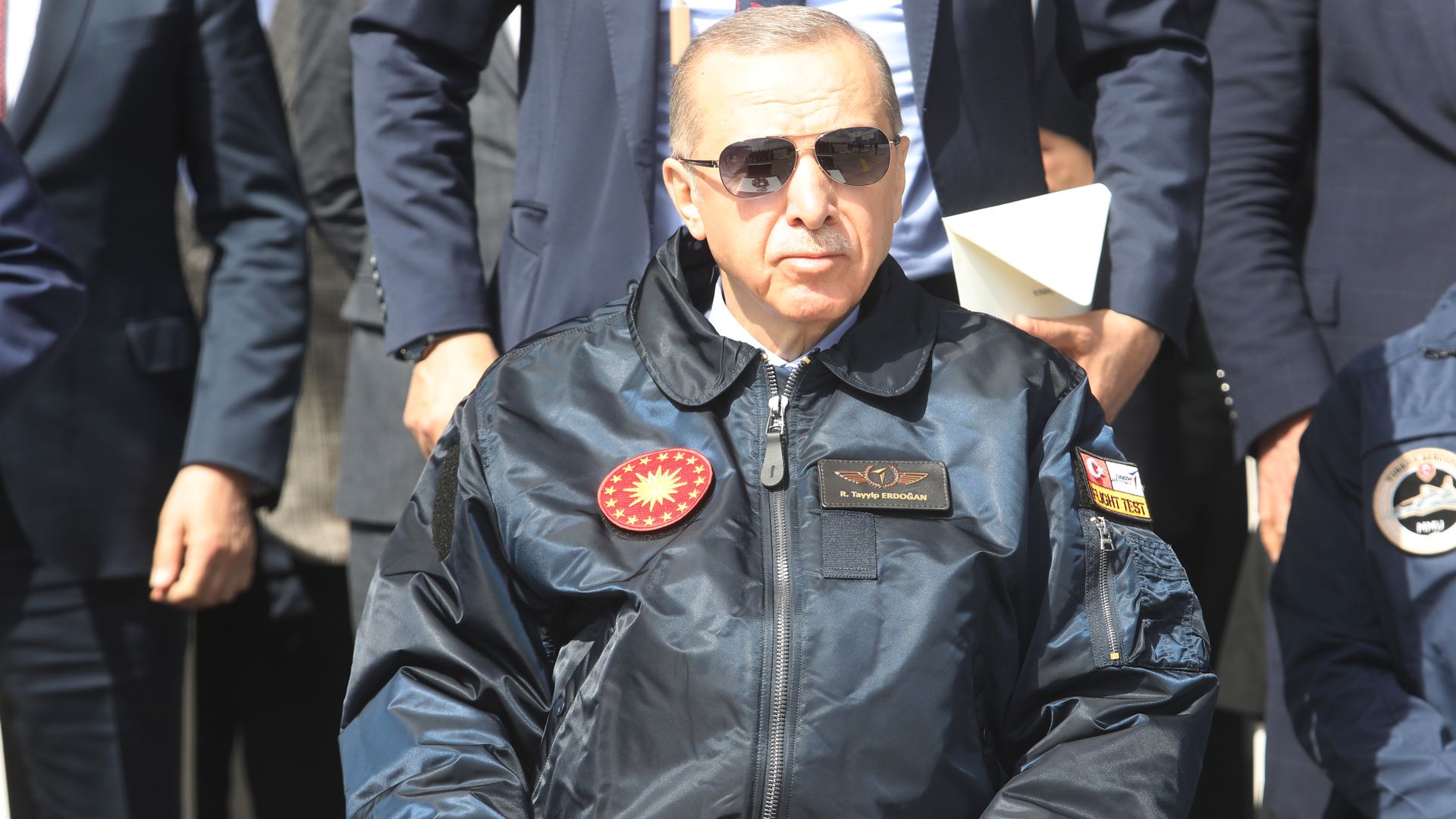 Turkish President Recep Tayyip Erdoğan looks unusually vulnerable heading into Sunday's presidential election, but the bigger surprise may be that he's still in the fight.
The big picture: Turkey's rampant inflation and feeble response to February's devastating earthquake — two issues that have dominated the run-up to the vote — were both arguably symptoms of Erdoğan's authoritarian style.
While amassing ever-greater power over two decades, Erdoğan has been accused of hollowing out state institutions and selecting inexperienced loyalists to run them.
Erdoğan has pressed for interest rate cuts despite spiraling inflation, and shuffled through four central bank chiefs since 2019.
Lax enforcement of building codes arguably compounded the earthquake's devastation, and the agency accused of botching the response was led by an Erdoğan-allied theologian.
Yes, but: Even in an economic crisis and against an unprecedented united opposition, most polls show Erdoğan neck-and-neck with or very narrowly trailing challenger Kemal Kılıçdaroğlu.
Between the lines: Erdoğan controls most major media outlets and is a highly effective campaigner.
He also oversaw a building boom and years of strong economic growth that expanded the middle class prior to the recent turmoil.
But the main reason Erdoğan's support remains strong is the power of identity politics, says Özgür Ünlühisarcıklı, who directs the German Marshall Fund's Ankara office.
Kılıçdaroğlu's secular-nationalist Republican People's Party (CHP) backed bans on headscarves in public places that were in place before Erdoğan took power in 2003. Erdoğan claims observant Muslims will again face discrimination if the opposition wins (Kılıçdaroğlu denies that).
Without any evidence, Erdoğan has claimed Turkey under Kılıçdaroğlu would appease terrorists and become totally beholden to the U.S., Ünlühisarcıklı says. At his rally on Sunday, Erdoğan showed a manipulated video in which it appeared that Kurdish militants were cheering for Kılıçdaroğlu.
"Polarization and scare-mongering are his two tactics," says Ünlühisarcıklı.
By contrast, Kılıçdaroğlu is running a largely positive and less personality-driven campaign focused on reviving democracy and stabilizing the economy.
The mild-mannered former bureaucrat has garnered millions of views on social media videos, many of them filmed in his kitchen, while other prominent opposition figures have fanned out across the country holding rallies.
Kılıçdaroğlu, 74, presents himself as a bridge-builder who will serve just one term and oversee constitutional reforms to eliminate the strong presidential system Erdoğan built for himself. Analysts expect warmer ties with NATO and the U.S. if he wins.
His bloc is far ahead with young voters and making inroads with conservative women who might previously have voted for Erdoğan's Justice and Development Party (AKP).
Driving the news: On Sunday, protesters hurled stones at Istanbul Mayor Ekrem Imamoglu, a prominent opposition figure, and smashed up his campaign bus as he attempted to address a rally.
The police seemed to hardly intervene, in what some analysts fear could be a preview of their response if Erdoğan rejects the election results. While the police report to Erdoğan, the army would be less likely to do the president's bidding in the event of domestic unrest, notes Soner Cagaptay.
As for the results themselves, Turkey has "very transparent" systems for casting and tallying votes, Ünlühisarcıklı says.
What to watch: Neither candidate is likely to win a majority in the first round, setting the stage for a May 28 runoff.
Parliamentary elections, which are also this Sunday, could play a key role in the presidential race.
If the opposition wins, Erdoğan's aura of invincibility will be gone. If the AKP wins, Erdoğan could credibly argue that electing Kılıçdaroğlu would yield a chaotic divided government.
Go deeper