Experts push Congress for more high skilled immigrants to compete with China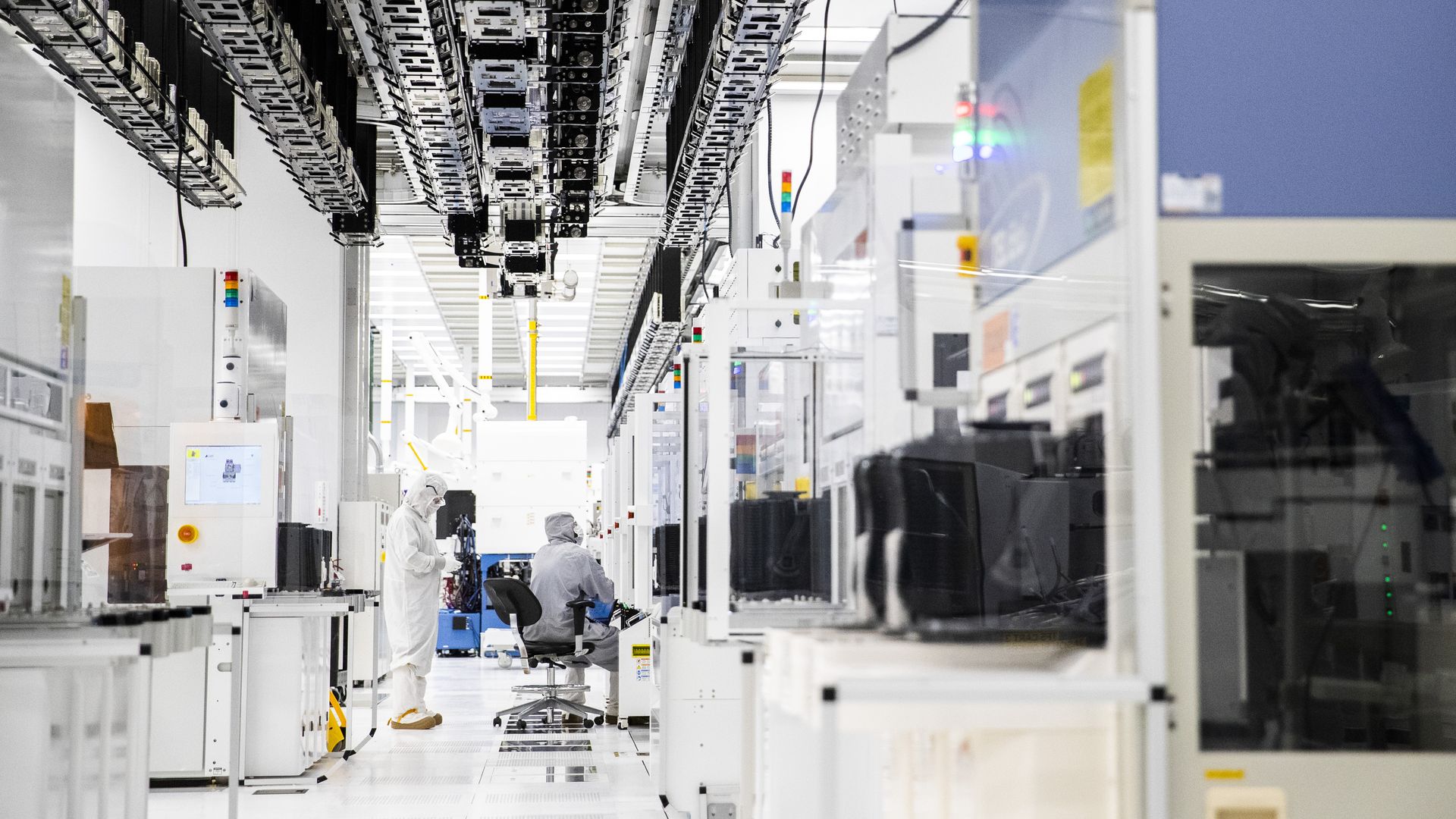 More than five dozen experts, including former national security officials, are asking the House China Select Committee to address "immigration bottlenecks" for international science and engineering graduate students and workers, according to a copy of a letter viewed by Axios.
Why it matters: Both U.S. and Chinese leaders have highlighted global science and engineering talent as key to national security and economic growth.
The letter's authors warn a talent gap is emerging between the two countries as China heavily invests in training advanced science and tech talent.
"Much of this talent will be working in Pentagon-identified critical technology areas — such as AI, biotechnology, hypersonics, and space," the letter states.
The big picture: Artificial intelligence development, the semiconductor industry and the defense workforce in the U.S. hinge on international STEM talent.
About 40% of high-skilled semiconductor workers in the U.S. were born abroad and international students make up about two-thirds of electrical engineering and computer science graduate students, per a 2020 report from Georgetown University's Center for Security and Emerging Technology.
A report last year from the Institute for Progress found 82% of "companies in the defense industrial base report that it is difficult to find qualified STEM workers" and 50% of those who hold advanced STEM degrees and work in the defense industrial base were born abroad.
The Reagan Institute's National Security Innovation Base Report Card earlier this year gave the U.S. a grade of D+ for the state of its talent base and pipeline, citing an aging domestic defense workforce and visa hurdles for foreign talent.
Details: The letter, dated May 15, is addressed to committee chairman Rep. Mike Gallagher (R-Wis.), ranking member Raja Krishnamoorthi (D-Ill.) and other members of the panel.
The 70 signatories include former Secretary of Energy Steve Chu, former Sen. Joe Lieberman, former House Rep. Barbara Comstock, and retired Lt. Gen. John N.T. "Jack" Shanahan, who directed the Joint Artificial Intelligence Center.
"Preserving our ability to attract international STEM talent transcends political partisanship," they write in calling for a hearing on the issue with "knowledgeable witnesses" and for the panel to issue a "prescriptive report."
Many also signed a letter last year asking Congress specifically for advanced STEM degree holders to be exempt from green card caps.
Yes, but: Some researchers warn the competition rhetoric could backfire and hinder international collaboration that also drives innovation.
Between the lines: The letter also raises the need to address concerns about research security.
"Fixing the U.S. talent bottleneck goes hand in hand with ensuring that U.S. research is secure from theft or espionage."
They specifically call out implementing research security guidelines introduced by the Trump administration in 2021 and continued under the Biden administration that provides federal agencies with processes for disclosing possible conflicts of interest and other guidance.
What they're saying: "Congress must look at ways we can strengthen STEM education in the United States for both students and teachers, while also drawing and retaining properly vetted, top global talent," Gallagher's office said in a statement.
"Being a nation of immigrants, particularly high skilled immigrants, is a source of great strength China can't match," says Michele Flournoy, under secretary of defense for policy in the Obama administration and a signatory of the letter.
"If we are clear eyed about the threat and the competition we are engrossed in, we've got to do more," Doug Fears, a former homeland security presidential adviser in the Trump administration who also signed the letter, told Axios.
"Congress will truly show they are taking the China competition seriously the day they address STEM immigration," says Divyansh Kaushik, associate director for emerging technologies and national security at the Federation of American Scientists.
What to watch: The Select Committee is expected to hold a hearing on Wednesday about the "economic dimensions of the strategic competition with the Chinese Communist Party," said a source close to the committee.
Roger Robinson, Robert Lighthizer and former Google CEO Eric Schmidt are slated to testify, according to the source.
Topics will include outbound capital flows, technology theft, export controls, research security, supply chains, civ-mil fusion, and trade.
Go deeper:
Chinese students cooling on U.S. higher education (Axios)
China's STEM Ph.D. push (Axios)
Xi pushes to accelerate China's scientific "self-reliance" (Axios)
Editor's note: This story has been corrected by removing the inclusion of former Secretary of Defense Chuck Hagel as a signatory to the letter sent to the House China Select Committee on Monday. It has also been corrected to fix the spelling of Robert Lighthizer's surname.
Go deeper