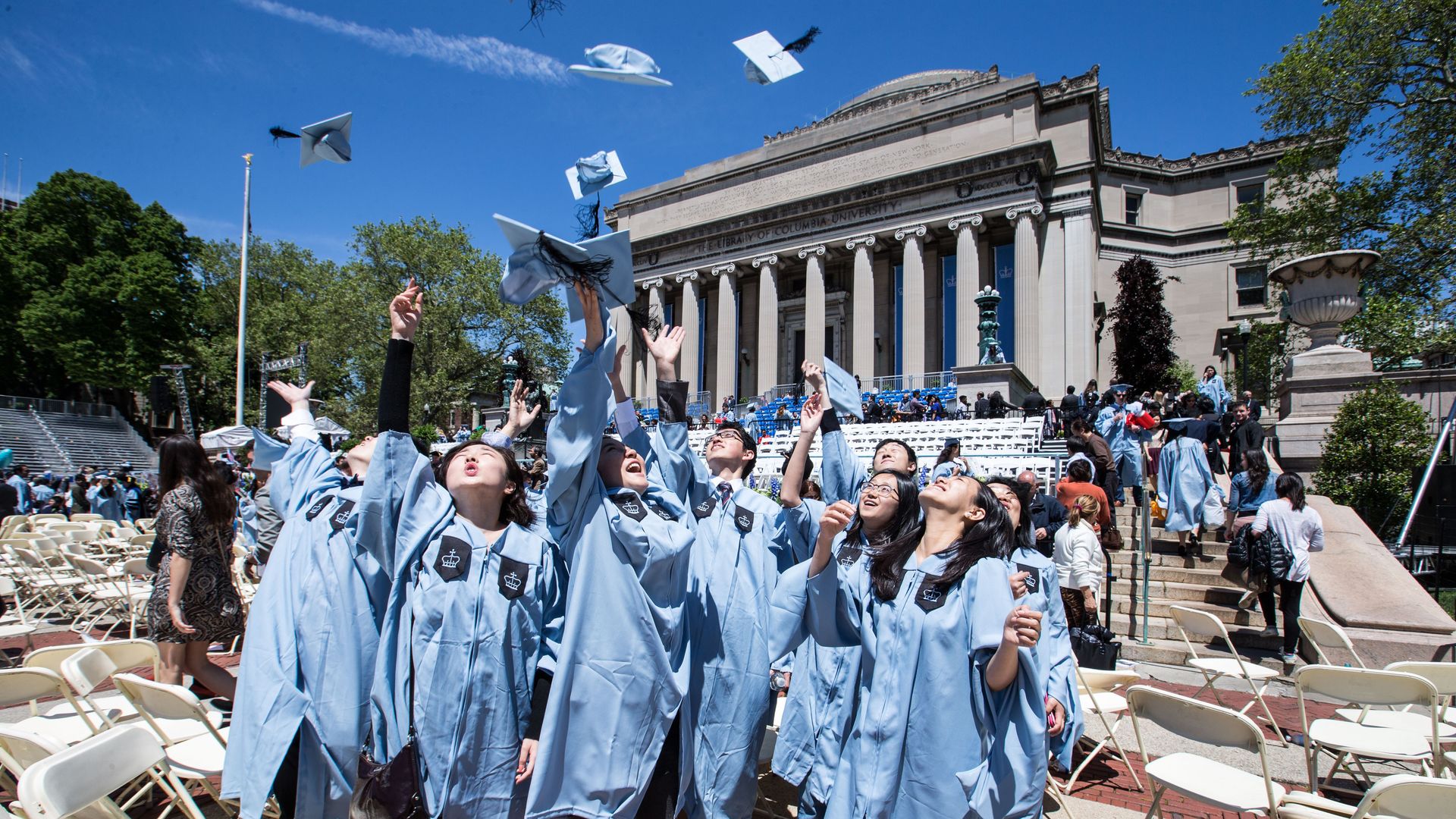 A U.S. college education, once a status symbol for Chinese families, appears to be losing its appeal as many consider alternative destinations, experts tell Axios.
Why it matters: China has been the top country of origin for international students in the U.S. for more than a decade, making it a key source of revenue for many American universities and colleges.
The educational exchange between the two countries has also long been a pillar of U.S.-China relations.
By the numbers: The overall number of Chinese students, including those enrolled at U.S. higher education institutions or on Optional Practical Training (OPT), nearly tripled over the last decade, from less than 130,000 in the 2009-10 academic year to more than 370,000 in 2019-20, according to the Institute of International Education (IIE).
Last year, there were about 290,000 Chinese students studying in the U.S. — still the largest international student body in the country. But it was an 8.6% decline from the previous year, according to IIE. By comparison, Indian students approached 200,000 last year, which was a 19% increase from the year before.
Zoom in: The number of undergraduate students from China dropped about 13% last year, but the U.S. did see a nearly 4% increase in Chinese graduate students compared to the previous year.
The decline in the overall Chinese student enrollment last year could be attributed at least in part to travel restrictions brought on by the pandemic, but IIE data also shows that Chinese student enrollment had already started to plateau during the 2017-18 academic year when 363,000 Chinese students were studying in the U.S.
What's happening: While comprehensive data from the last school year is not yet available, analysts tell Axios that Chinese students are increasingly looking elsewhere for higher education.
In 2015, about half of Chinese students planning to study abroad wanted to study in the U.S., but that percentage dropped to 30% in 2022, according to surveys conducted by New Oriental, a Chinese education company. In the same period, those who wanted to study in the U.K. jumped from 32% to 41%.
At the same time, some universities outside the U.S. are seeing an increase in Chinese student enrollment. Such enrollment at the University of Toronto, for example, has increased — albeit gradually — every year over the last decade. There were about 15,700 Chinese students at the university in 2022-23 school year — up from about 6,000 in the 2013-14 academic year.
The big picture: A decline in Chinese enrollment in the U.S. could have an impact on university revenue streams.
Chinese students contributed nearly $15 billion to the U.S. economy in 2018, according to the U.S. Department of Commerce. Many U.S. schools, especially large public universities, have become increasingly dependent on Chinese students, most of whom pay full tuition.
Three Chinese students who spoke to Axios spent on average more than $100,000 a year studying in the U.S. That figure includes tuition, room and board, and living expenses.
Arizona State University said its Chinese student enrollment in fall 2022 was about 17% below that of fall 2019, but it noted that their numbers have rebounded and are on track to close the pandemic-related gap.
Still, Matthew Lopez, the executive director of admission services at ASU, said the university has "noticed that there has been more price sensitivity with Chinese families following the pandemic, and ASU is exploring strategies that reduce the total cost of a degree for students from China.
Driving the news: It's not just the cost that may be pushing Chinese students to study elsewhere.
Higher education professionals have cited persistent gun violence, rising anti-Asian racism, rocky U.S.-China relations, a slowing Chinese economy, higher global rankings for Chinese universities, and friendlier immigration policies in many other countries, as some of the reasons that made studying in the U.S. less attractive.
Nicklas Yee, a junior at the University of Washington, said U.S. immigration policies may be keeping some Chinese students away. For example, they "need to update their status very often, usually once a year," he said.
Tina, a senior at Cornell University who wished to only provide her English first name, says her peers are also thinking about how likely it is that they can stay after graduation, considering there's a limited number of H-1B visas that allow U.S. employers to hire foreign workers with specialized skills.
State of play: Since 2020, it has gotten harder for certain Chinese students to enter the U.S. Former President Trump barred entry of Chinese graduate students believed to have ties to the Chinese military and revoked the visas of some who had already been admitted.
His administration also shortened the visa duration for Chinese graduate students planning to study certain subjects like aviation and robotics.
These policies remain in effect under the Biden administration, a U.S. State Department spokesperson told Axios in an email, adding that they only affect "a tiny percentage" of Chinese student visa applicants.
But, but, but: Despite the barriers and challenges, many experts are confident Chinese students will still consider the U.S. as a prime destination because of its longstanding reputation.
"I don't see any other countries that come close to the U.S. (in terms of quality in higher education)," said Yan Xiaozhe, the board chair of education consultancy U.S. Education Without Borders. "Americans make up the vast majority of Nobel laureates, which is a powerful symbol of the country's technological and educational caliber."
The bottom line: Studying abroad is becoming more accessible for Chinese students worldwide, said Xiao Yongbo, a summer session coordinator at UC San Diego. But "for those who want to study abroad at top schools and for largely educational purposes, the U.S. still comes out on top."
Go deeper