Spotted lanternflies could spread nationwide — if enough survive
Invasive spotted lanternflies that wreak havoc on plants and trees are threatening to expand across vast swaths of the United States over the next decade if left unchecked, researchers say.
Why it matters: Officials hope that a clear-cut, kill-on-sight directive from federal and state agencies will help control the bug's growth.
Researchers estimate that the bug, discovered in Pennsylvania in 2014, could cause billions of dollars worth of losses, primarily in the agricultural sector, as it radiates out from the Northeast.
By the numbers: Spotted lanternflies have been detected in at least 14 states, according to a map maintained by Cornell University's New York State Integrated Pest Management Program.
In at least two states — Delaware and New Jersey — there have been infestations in every county, while only a few counties in Pennsylvania and Maryland have so far been spared.
Infestations have been localized to a handful of counties in Midwestern states like Ohio, Indiana and Michigan.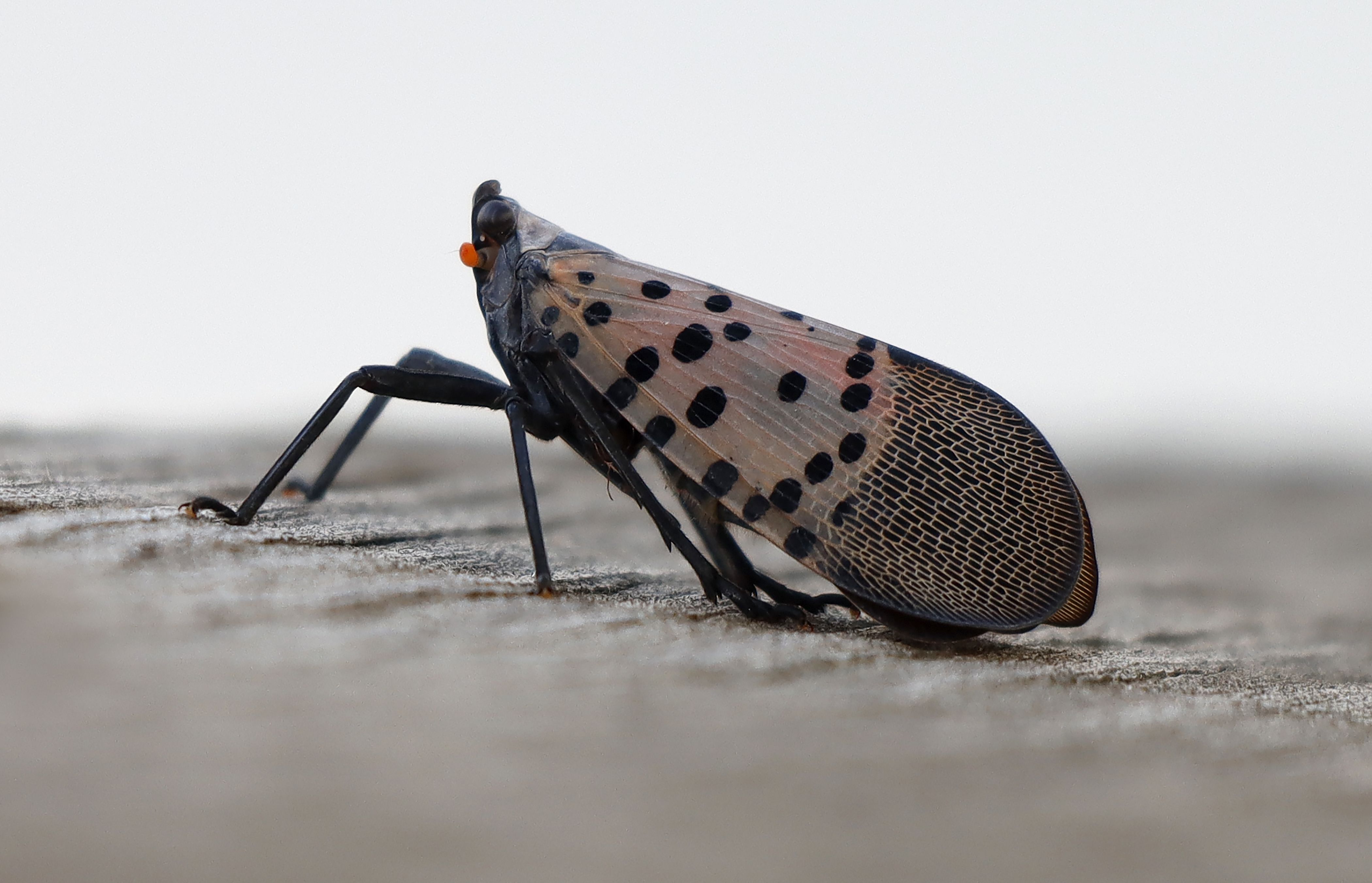 How it works: Spotted lanternflies, a colorful planthopper native to China, can kill plants with their excessive feeding habits and the sticky substance they leave behind known as honeydew.
Planthoppers native to North America don't cause significant damage and generally aren't considered pests, instead playing key roles in the food chain.
The spotted lanternfly doesn't have native predators, meaning its population can rapidly expand so quickly that hundreds of them could be spotted on one plant or tree.
Some predators like praying mantis and birds will likely eat spotted lanternflies, but not in numbers high enough to keep the population in check.
That's why the federal and state governments have urged people to crush any spotted lanternflies they see.
Yes, but: Officials have warned potential stompers to be cautious of accidentally killing native insects that look similar, including some moths and beetles.
The big picture: It's difficult to project how the insect's range will evolve in the coming years, Matthew Travis, the Department of Agriculture's national policy manager on the spotted lanternfly, said. It could depend on how well the public is educated on the species.
"We promote people being vigilant," Travis said. "In states that have spotted lanternfly — even small populations — we want the people in the counties and the municipalities around that area to be looking."
Travis said research is still being done to determine how well the insects can survive in higher elevations and drier climates in the Western U.S.
The Agriculture Department is researching the bug's native predators in China — including a species of parasitic wasp that lay their eggs inside spotted lanternfly young — that could help control their populations.
What they're saying: "My gut would say we're slowing down the spread of it," Julie Urban, an evolutionary biologist at Penn State University, said.
She added that the increased attention "allows for earlier detection and quicker treatment of new populations that have spread.
Reality check: Travis and Urban say the stomping campaign is primarily used to raise awareness, and that government control methods using chemicals, traps or special bug vacuums can be more effective.
The U.S. isn't alone in dealing with spotted lanternfly infestations — the bug also has invaded South Korea and Japan.
Bottom line: Urban said she hopes the mitigation systems that have been created for the spotted lanternfly remain in place for future invasive species — because there will be more.
"Because of international trade, and because of increasing human disturbance in natural habitats, we are just always going to get more and more invasives, so it's never-ending and likely accelerating," Urban said.
Go deeper ... Charted: The spotted lanternfly returns
Go deeper