Scoop: VP Harris quietly convenes abortion allies for 2024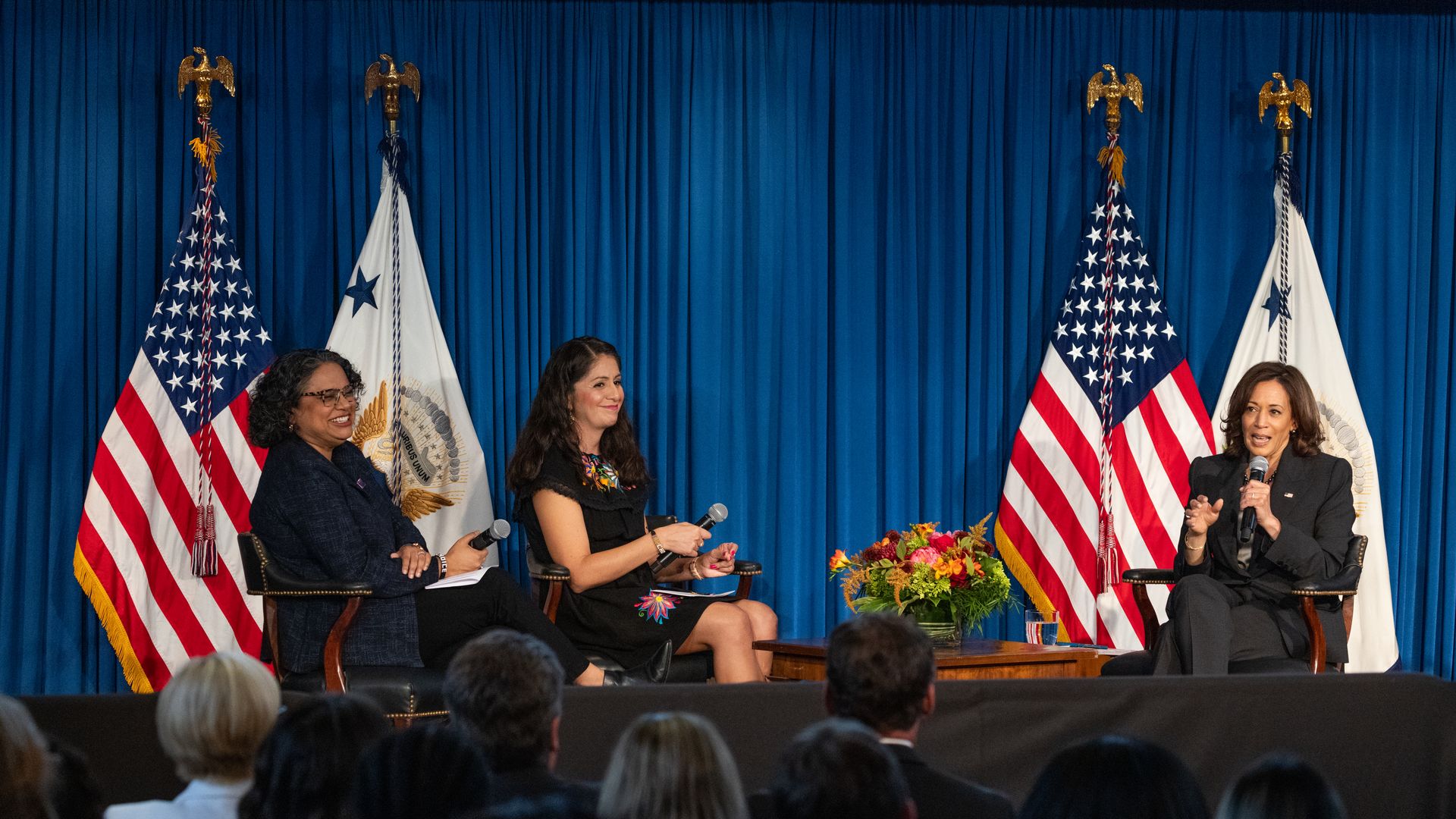 Vice President Kamala Harris has been quietly forming a small, outside group of women allies to help amplify her role as the White House's leading warrior against GOP abortion bans, Axios has learned.
Why it matters: The 2024 election gives her an even bigger lane to lead on an issue that animates large swaths of the country, helped Democrats defy the odds in the 2022 midterms and that President Biden isn't as comfortable with.
Driving the news: Harris will return to the EMILY's List gala next week to give a keynote on abortion — just like year after the Dobbs decision leak.
"Some Republican leaders are trying to weaponize the use of the law against women. How dare they? How dare they tell a woman what she can and cannot do with her own body?" she said at last year's gala.
The details: Harris convened a Wednesday meeting at the VP's residence, which has not been previously reported, with 14 women from across the reproductive rights space, as well as some from civil rights, faith and labor groups, per a Democratic official familiar with the situation.
Some of the women were frequent faces for a gathering like this — Alexis McGill Johnson of Planned Parenthood; NARAL's Mini Timmaraju; EMILY's List president Laphonza Butler; and Shaunna Thomas from UltraViolet.
Others, such as Mary Kay Henry from the Service Employees International Union (SEIU) and Becky Pringle of the National Education Association, show how the VP is trying to expand this private clique of powerful women leaders.
Harris sought input on how to bring together members from their various networks so that the White House's message on abortion reaches across the country and doesn't get stuck in the D.C. echo chamber.
The women also discussed how to draw interest to down-ballot races and candidates when most voters will be focused on the top of the ticket.
The backdrop: Aides and operatives say that Harris impressed during the 2022 midterms after the Dobbs decision.
She met with nearly 200 state legislators across the country to raise the importance of protecting reproductive rights, and held related events and meetings across 38 states in the six months leading up to the election.
The state of play: The Biden-Harris ticket's first campaign video included footage of abortion rights protests around the time of the Dobbs decision.
In it, Biden said "MAGA extremists" are "dictating what health care decisions women can make."
Harris spoke at a rally at Howard University the night of their re-election announcement to highlight their commitment to abortion access.
Go deeper: Anita Dunn, one of the top West Wing officials, recently directed the White House political and engagement teams to schedule events with Harris where she can promote popular Democratic causes like abortion rights and infrastructure spending, per Axios' Alex Thompson.
Go deeper