In blow to Erdoğan, third-party presidential candidate drops out in Turkey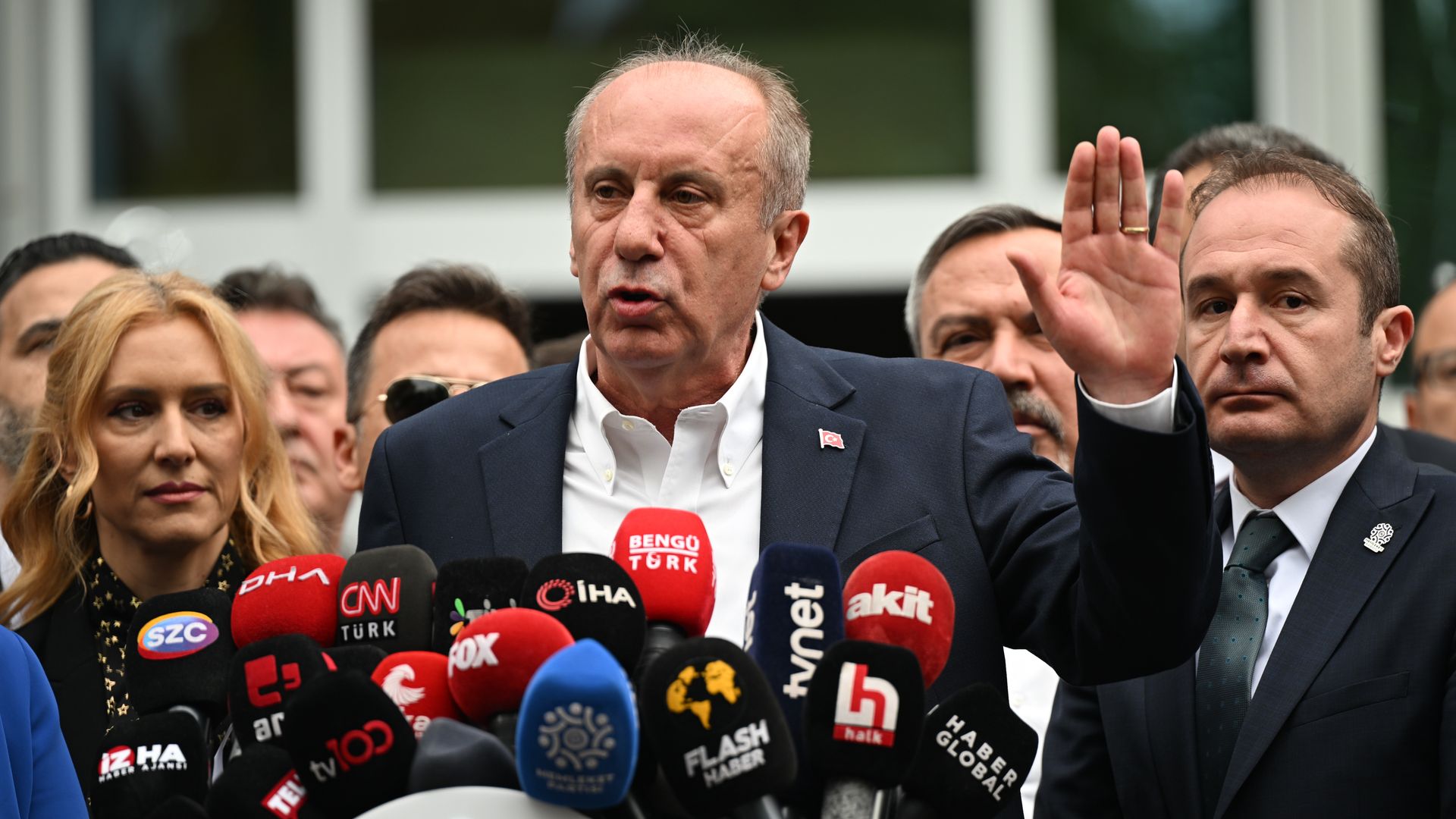 In a last-minute bombshell, opposition candidate Muharrem İnce dropped out of Sunday's presidential election in Turkey.
Why it matters: İnce had fallen to around 2% in the polls, but the primary opposition candidate, Kemal Kılıçdaroğlu, may only need a slight boost to defeat President Recep Tayyip Erdoğan in the first round.
Breaking it down: A new poll out Thursday shows Kılıçdaroğlu with 49.3% — ahead of President Recep Tayyip Erdoğan's 43.7% and just shy of the majority needed to win outright. Two other polls in the past week also gave Kılıçdaroğlu 49%.
The conventional wisdom had been that the race was almost certainly heading for a runoff on May 28.
That's still likely, but if the polls are right (a big if) and most of Ince's support goes to Kılıçdaroğlu, Turkey could possibly have a new president-elect as of Sunday night.
Yes, but: While Kılıçdaroğlu leads Erdoğan in nearly all of the latest polls, the margins in most cases are very slim, and Erdoğan has proved incredibly difficult to beat over his two decades in power.
Flashback: İnce was the main opposition candidate in the 2018 election when he was still a member of the secular nationalist Republican People's Party (CHP), which Kılıçdaroğlu leads.
He received 31%, while Erdoğan won in the first round with 53%. Ince later split from the CHP to form his own party.
When a coalition of opposition parties agreed to run on a joint ticket this time around, with Kılıçdaroğlu as their candidate, İnce declined to join.
İnce said on Thursday it was clear his bid to offer a "third option" to voters "could not succeed," and he didn't want to be blamed if the opposition lost. He also said he was dropping out in part because of false images and rumors being spread to defame him.
Go deeper