Pakistan Supreme Court orders Imran Khan's release in surprise decision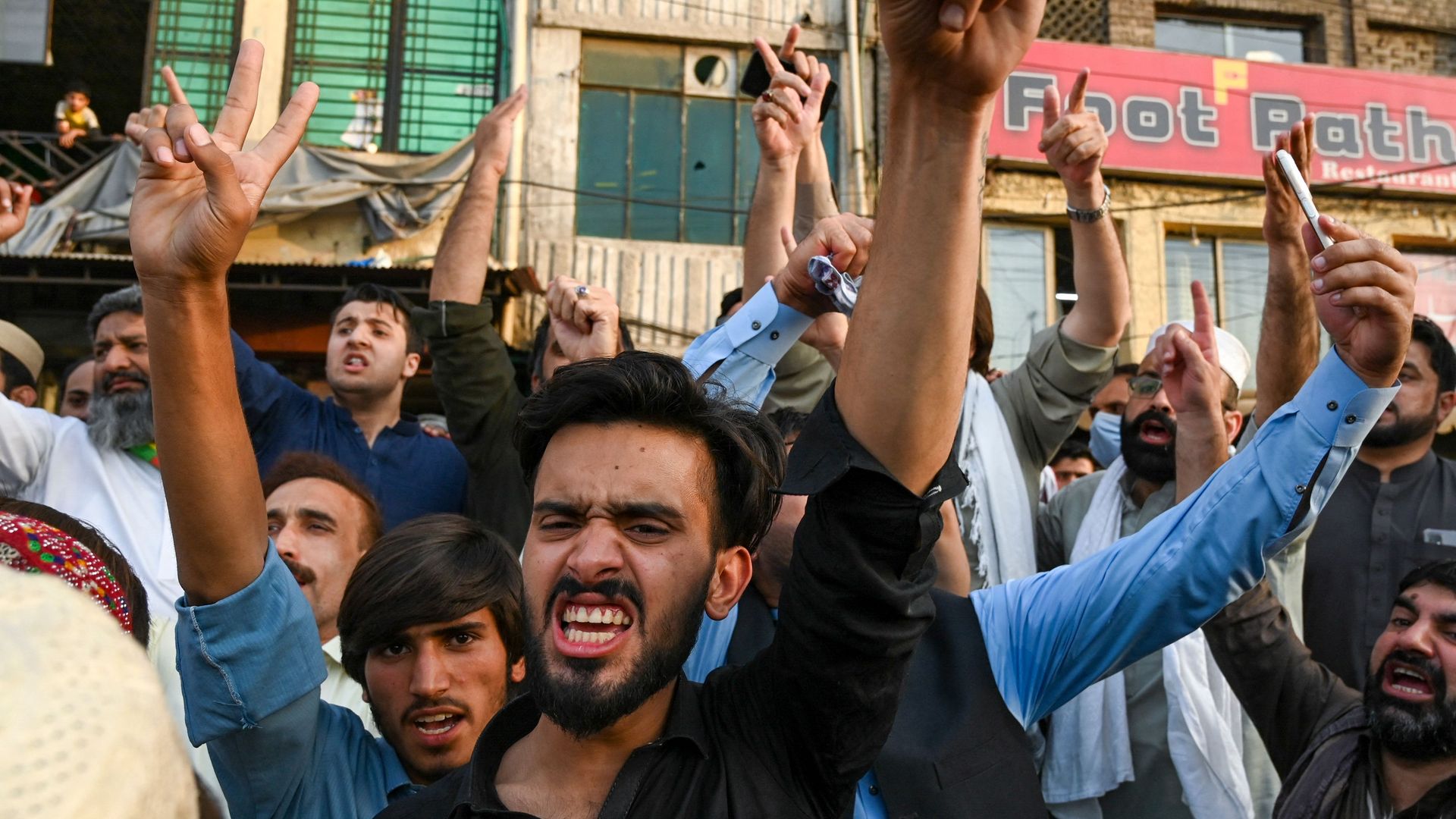 Paramilitary police in Pakistan stormed a courthouse on Tuesday to arrest former Prime Minister Imran Khan, a man many in the military establishment had longed to see behind bars — only for the Supreme Court to rule on Thursday that the arrest was illegal.
Why it matters: Khan's release is another unexpected twist in the showdown between Pakistan's most popular politician and its most powerful institution, the military.
After a swarm of police in riot gear hauled Khan out of court and into a waiting vehicle, large and often violent demonstrations broke out across the country, with at least 2,500 people arrested and 11 killed.
In much of the country, schools have been closed, mobile internet has been blocked and troops have been in the streets.
In unprecedented scenes, protesters stormed army properties, set fires, and chanted anti-army slogans.
Khan was arrested shortly after accusing a senior intelligence officer of playing a role in an apparent assassination attempt last November in which he was shot. The army swiftly denounced the claim as "fabricated and malicious." Khan previously accused senior military officers of conspiring to oust him last year.
Khan was charged with selling state gifts and executing a corrupt land deal, charges he strenuously denies. If convicted, he could be barred from running in elections slated for October.
Khan has faced other charges ranging from corruption to inciting terrorism, all of which he claims are politically motivated. Police attempted to arrest him on multiple occasions in March, but Khan's supporters surrounded his home and forced them back.
Between the lines: "The senior army leadership has decided that it does not want Khan to have a chance to return to power," says Michael Kugelman, director of the South Asia Institute at the Wilson Center. "By arresting him, the goal was clearly to take him out of the electoral picture for a period of time."
"Things are changing very quickly in Pakistan, and that's a reflection of Khan and his power," Kugelman says.
The military's "veneer of invincibility" has been cracked in the last 48 hours, says Madiha Afzal of the Brookings Institution. But the army warned Wednesday that further "attacks" would be "severely retaliated against," she notes. "It is still the most powerful institution in Pakistan, and will not let go of that position easily."
Flashback: Khan was elected in 2018 with the tacit support of the military, but seemed to fall out with the top brass before being ousted in a no-confidence vote last year.
The cricket star-turned-populist politician started holding massive rallies to push for early elections, denouncing his successor, Shehbaz Sharif, and senior military officers.
What to watch: The Supreme Court objected to the manner in which Khan was arrested, but not necessarily the fact that he was arrested.
He's scheduled to appear in court again on Friday, Afzal notes, so "it's unclear if his relief will last." Senior members of his party and thousands of his supporters are still behind bars.
The showdown is unlikely to end here. One big question is whether the elections will be held, and whether Khan or his party will be allowed on the ballot.
Worth noting: The political crisis comes amid a sharp economic crisis, with the cost of living rising and Moody's warning this week that the country could default by June if an IMF bailout deal can't be finalized.Pakistan's Supreme Court ruled that former Prime Minister Imran Khan was illegally arrested on Tuesday by paramilitary police and ordered his immediate release.
Go deeper