FDA formally loosens blood donor restrictions on gay, bisexual men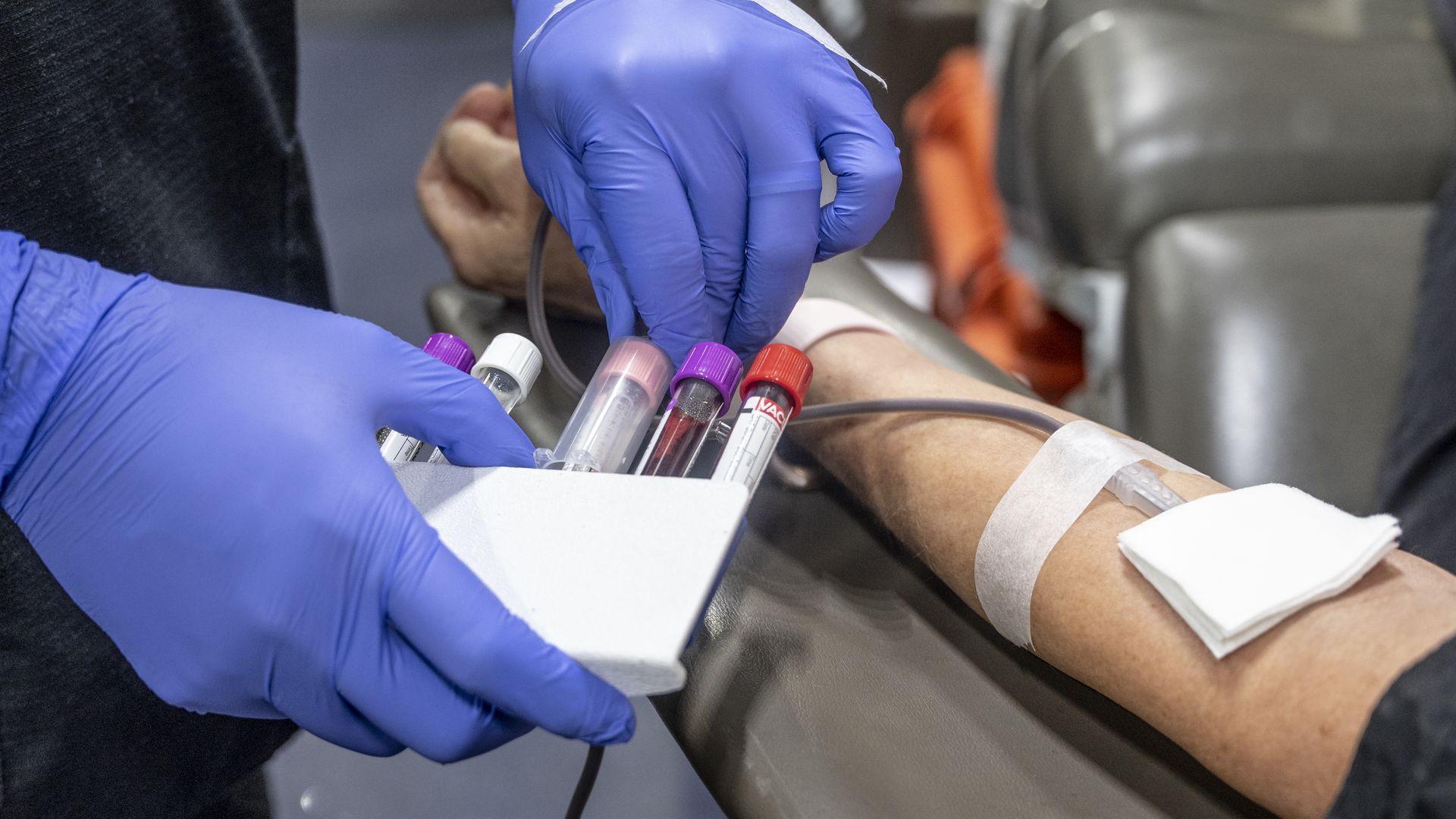 The Food and Drug Administration finalized new guidance on Thursday that will allow more gay and bisexual men to donate blood.
Why it matters: The change formally ends the FDA's blood donor restrictions for men who have sex with men that originated during the HIV/AIDS crisis in the 1980s, which have been denounced as discriminatory by medical and LGBTQ organizations.
The change may also expand the number of people eligible to give blood at a time when more than half of community blood centers across the U.S. only have between a one- to two-day supply or less of blood, according to America's Blood Centers' daily tracker.
How it works: Under the new guidance, which was unveiled earlier this year, all potential donors will complete an individualized risk assessment questionnaire meant to determine their recent sexual activity.
Potential donors who report having a new sexual partner, more than one sexual partner in the past three months, or anal sex in the past three months would be asked to wait to donate blood.
The FDA said the deferral is meant to reduce the likelihood of donations by people with new or recent HIV infection but who may be in the window period for an HIV test.
People who take medications to treat or prevent HIV infection will also be deferred from giving blood, as the FDA said their use may delay the detection of HIV and lead to false-negatives for the virus during the blood screening process.
It means that most gay and bisexual men in monogamous relationships with another man should be allowed to donate blood without having to abstain from sex.
What they're saying: The FDA said its updated policy was based on the best available scientific evidence and was similar to policies adopted by the United Kingdom, Canada and other countries.
"The implementation of these recommendations will represent a significant milestone for the agency and the LGBTQI+ community," Peter Marks, director of the FDA's Center for Biologics Evaluation and Research, said in a statement.
GLAAD, a leading LGBTQ rights organization, said in a statement Thursday that the FDA's change "signals the beginning of the end of a dark and discriminatory past rooted in fear and homophobia."
However, the organization said the deferral for people taking medication to prevent or treat HIV added "unnecessary stigma" to potential LGBTQ donors.
The big picture: Previous research from the Williams Institute at the UCLA School of Law found that lifting the FDA's previous time-based deferral for some men who have sex with men could increase the nation's blood supply by 2% to 4% annually.
Go deeper: FDA experts unanimously endorse over-the-counter birth control pills
Go deeper