FDA eases blood donor restrictions on gay, bisexual men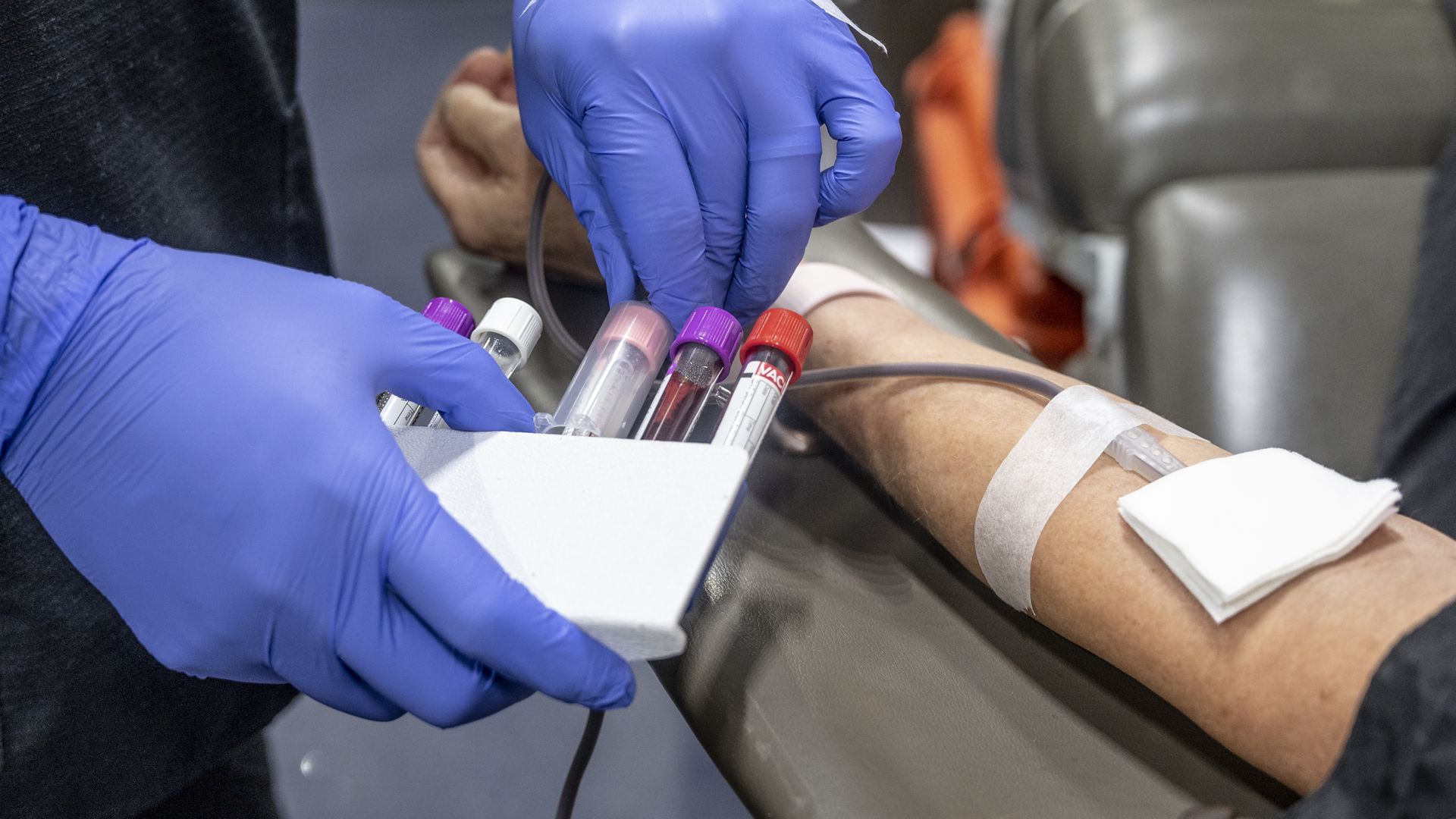 The Food and Drug Administration unveiled new guidance Friday to relax blood donor restrictions for gay and bisexual men.
Why it matters: The FDA's plan would ease restrictions that were set during the HIV/AIDS crisis in the 1980s, which several medical and LGBTQ organizations say are discriminatory.
The changes are necessary to "maintain an adequate blood supply," said Peter Marks, director of the FDA's Center for Biologics Evaluation and Research.
By the numbers: Approximately 20% of community blood centers across the U.S. have a one-day supply or less as of Friday morning, according to the America's Blood Centers' daily tracker.
If the FDA lifts the three-month deferral period, the annual blood supply would increase by 2% to 4% annually, according to the Williams Institute, a research center at the UCLA School of Law.
Details: Under current guidelines, "a man who has protected sex with another man in the three months prior to a blood donation cannot be a donor, but a man or woman who has unprotected sex with multiple partners of the opposite sex over the same time period remains eligible," according to the American Medical Association.
Lesbian and bisexual women do not have a deferral period.
The FDA's proposed guidance gets rid of that time-based deferral for some men who have sex with men: "Instead, we recommend assessing donor eligibility using gender-inclusive, individual risk-based questions relevant to HIV risk."

The current donor history questionnaire would be revised to ask all prospective donors about their sexual history in the past three months, meaning gay and bisexual men would not be singled out.

The FDA is expected to make the guidance official after a period of public comment.
Zoom in: Men who have sex with men that are not in monogamous relationships would still be subject to the three-month deferral.
The guidance proposes more inclusive language, saying that if "an individual" had sex with a "new sexual partner" or multiple in the three months before a blood donation, as well as had anal sex in that same period, they are not allowed to donate.
What they're saying: "Maintaining a safe and adequate supply of blood and blood products in the U.S. is paramount for the FDA, and this proposal for an individual risk assessment, regardless of gender or sexual orientation, will enable us to continue using the best science to do so," said FDA Commissioner Robert Califf in a statement.
Go deeper