Why a bill the U.S. handed to the UAE last year shocked MBZ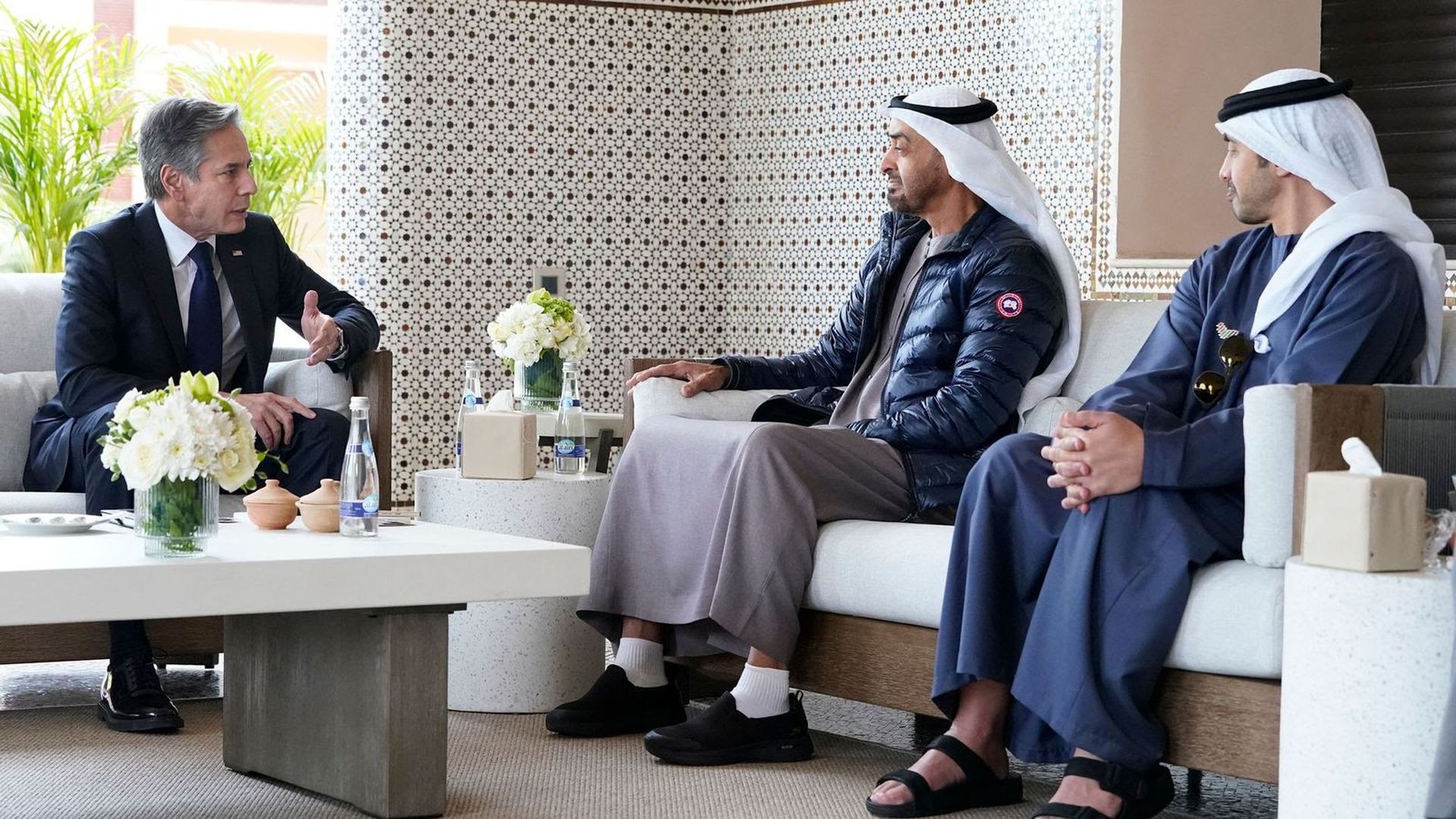 Emirati officials were shocked last year when their U.S. counterparts asked that the United Arab Emirates pay for the military assistance it received in the aftermath of a Houthi attack on Abu Dhabi, Emirati and U.S. officials told me for my book, "Trump's Peace," which was published in English this week.
Why it matters: Emirati officials told me that for then-Crown Prince Mohammed bin Zayed, this was further proof of his growing feeling since the Jan. 17, 2022, attack that the U.S. had abandoned the UAE in its time of need.
The U.S.-Emirati relationship spiraled to its lowest point in decades.
Catch up quick: After last year's Houthi drone and missile attack on Abu Dhabi, MBZ held an emergency meeting with his military commanders to decide on immediate measures to defend the country from another attack.
The Emirati military informed MBZ that the best way to detect and intercept incoming drones with the UAE's existing capabilities was by having Emirati Air Force F-16s and Mirage 2000s in the air at all times, Emirati officials told me.
For that to happen the UAE needed the refueling capabilities of U.S. Air Force KC-135 strategic tankers, which were deployed to the Al Dhafra Air Base in Abu Dhabi at the time. The U.S. agreed to the Emirati request and the tankers refueled the Emirati fighter jets several times, according to U.S. and Emirati officials.
Several days after the second attack on Abu Dhabi, the military attaché at the U.S. Embassy arrived for a meeting with senior UAE military officials.
Emirati officials told me they thought he had come to discuss the Houthi attacks, only to discover that the meeting was over something completely different. The senior U.S. military officer handed his Emirati counterparts a bill for the refueling of their jets.
The Emiratis who saw the Houthi attack as their 9/11 were deeply offended.
What they're saying: White House and Pentagon officials told me the request was a mistake both in substance and in style and said they regretted it.
State Department councilor Derek Chollet told me "Sheikh Mohammed was understandably upset."
"I felt bad that so much time had elapsed, that he was feeling upset and we didn't have an indication that this was the case. We certainly took it very, very seriously and felt that we responded in a way that we thought was responsive to our friends in need. Sheikh Mohammed did not feel that way," Chollet said.
Go deeper