#MeToo's legacy lives on in the E. Jean Carroll verdict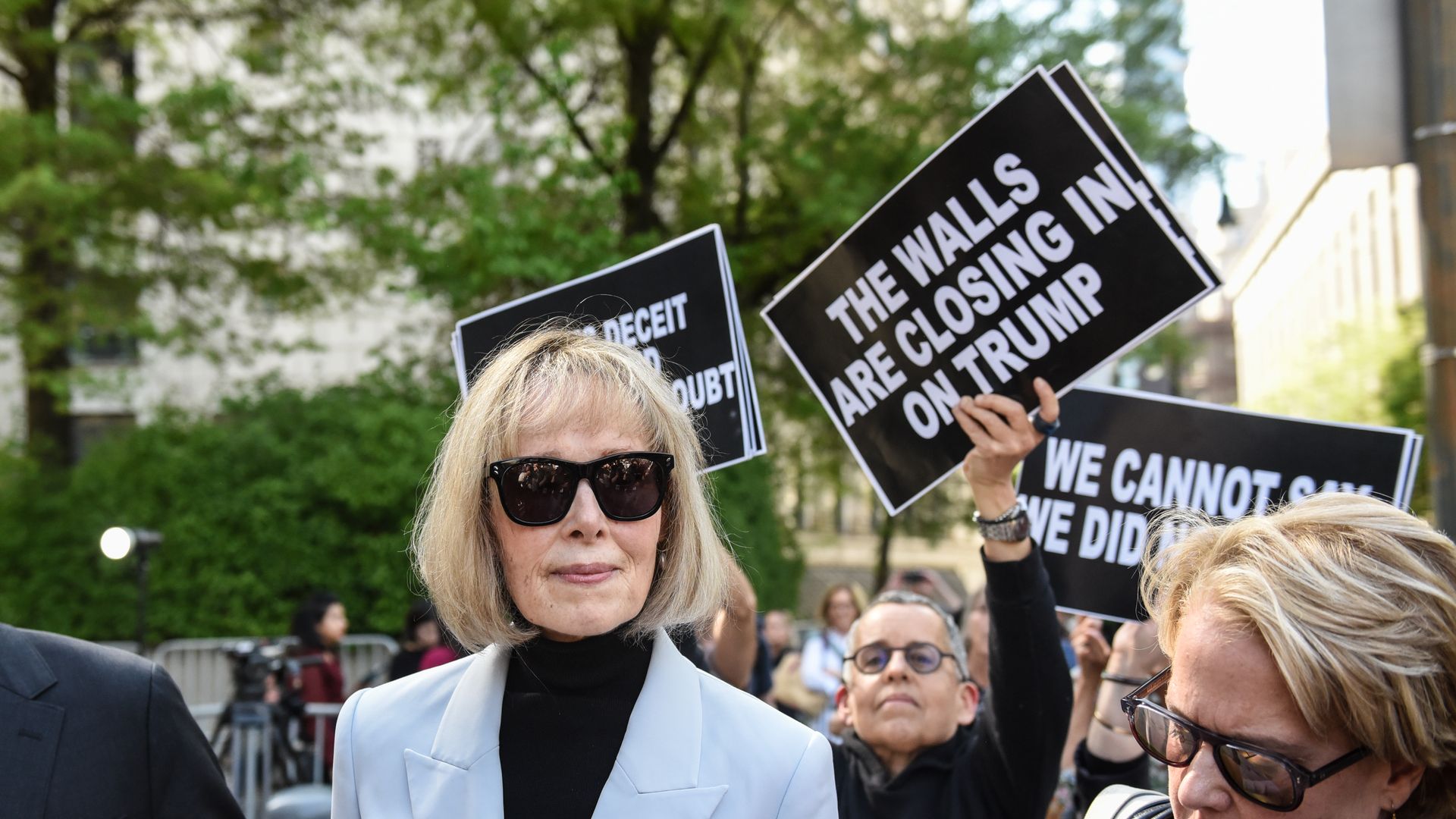 E. Jean Carroll's win in her lawsuit against former President Trump is also a victory for a #MeToo-era New York law that temporarily lifted the statute of limitations on sexual abuse complaints.
Why it matters: Carroll's success in court will likely lead to more litigation — victims have until November 2023 to file civil lawsuits against their alleged abusers — and possibly even more state laws modeled on New York's.
If someone was previously on the fence about coming forward, Carroll's victory on Tuesday could push them to move ahead, said Jacob Eidinger, director of communications at Crumiller, a feminist law firm that handles these kinds of cases.
"That Carroll took on a former president with virtually unlimited resources and power to trial — and won — is hugely reassuring for other survivors who are scared they won't be believed."
"This victory is not just for me but for every woman who has suffered because she was not believed," Carroll said in a statement Tuesday.
Big picture: The #MeToo era seems like a long-ago moment in history, but its legacy lives on in the law and culture.
Catch up quick: Carroll filed her suit last November as soon as New York's law went into effect.
Modeled on similar legislation that allowed those who experienced abuse as children to file lawsuits, the Adult Survivors Act opened up a one-year window to allow survivors of sexual assault to file civil lawsuits against abusers and any institutions that may have protected them.
Zoom in: In addition to the Survivor's Act, there are other new laws — federal and state — that make it easier for victims of sexual assault and workplace sexual harassment to seek justice and speak up about their experiences.
"It's just a time when silencing women is not tolerated in the way it used to be," said Nancy Erika Smith, an employment lawyer known for representing former Fox host Gretchen Carlson in her lawsuit against former Fox News CEO Roger Ailes.
"Younger women have these expectations about how the workplace should be. They've literally grown up with #MeToo."
For example: Last year Congress passed a law banning the use of forced arbitration in cases of sexual harassment and assault — meaning employers can no longer push lawsuits into private courtrooms that are more shielded from public view.
And a handful of states, including New Jersey and California, have restricted the use of nondisclosure agreements (NDAs) in cases of assault and sexual harassment — the rationale being that victims shouldn't be forced to keep quiet about such incidents.
Under a new federal law, passed as part of the Trump tax cuts, companies can't deduct the cost of a sexual harassment settlement if an NDA was involved.
On top of that, women don't want to sign such agreements. "Many clients are pushing back," said Milton Williams, an employment lawyer and former in-house counsel at Time Inc.
Parisis "Gerry" Filippatos — the lawyer representing former Fox News producer Abby Grossberg, who has accused the network of sexual discrimination — recently told Axios: "We've made it clear that no amicable resolution will include any gagging of Abby."
Meanwhile, companies are now more likely to fire powerful executives who've been accused of sexual misconduct, employment lawyers told Axios. Just last month, NBC executive John Shell was fired after an employee accused him of sexual harassment and discrimination.
In the past, it would be more likely that a company would pay a complainant a lot of money and send her on her way, Smith said. The executive would more often than not get to keep his job.
Reality check: Not all companies. Those that aren't as high-profile as a media outlet may not be so quick to fire, said Lauren Katunich, an employment lawyer who regularly works with businesses.
And not all women. Many lower-wage workers don't have the resources to file sexual harassment lawsuits in the first place.
Go deeper