Scientists publish more diverse human "pangenome"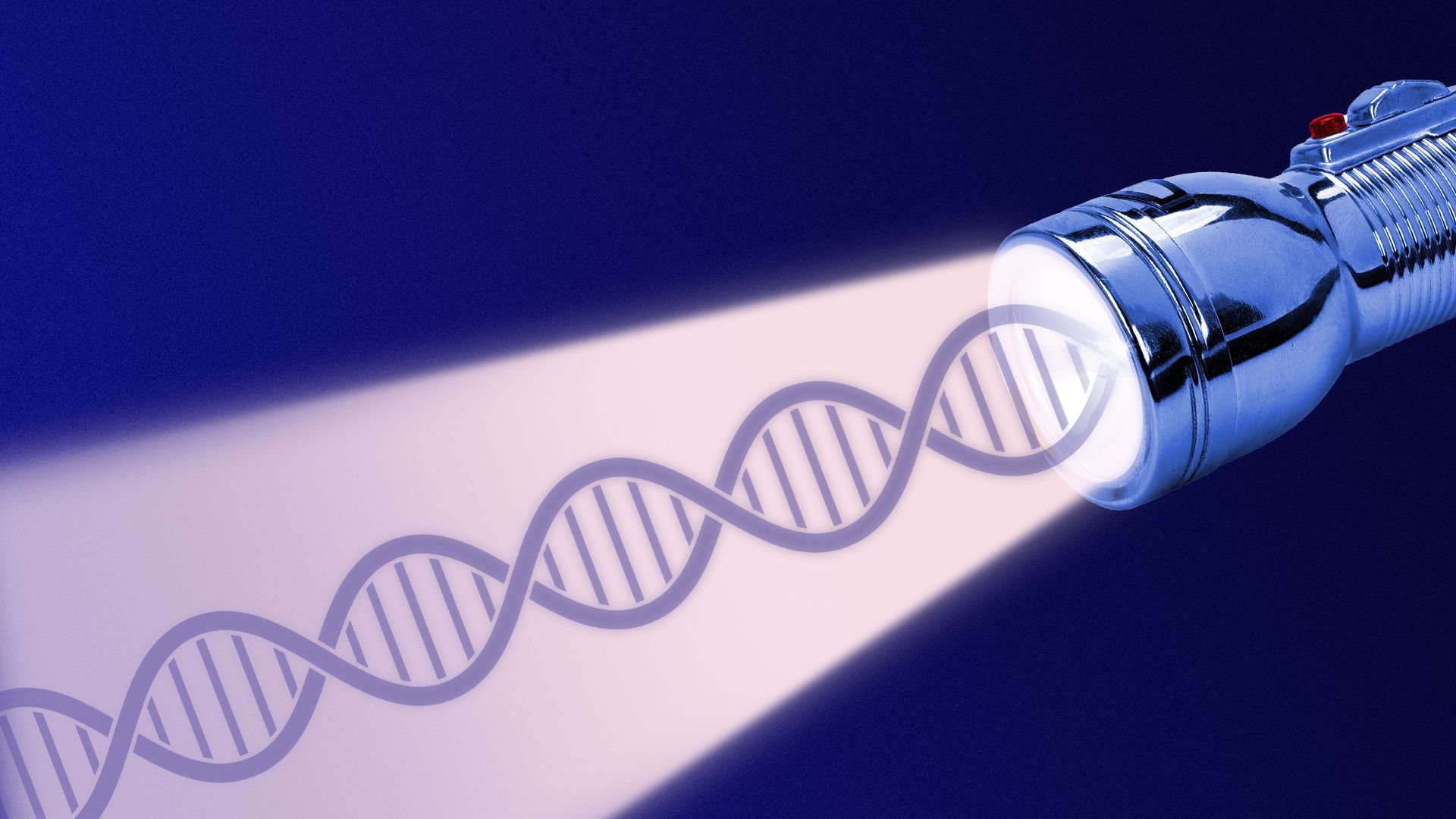 Scientists on Wednesday published a first draft of a human "pangenome" that captures more of the genetic diversity in the human population.
Why it matters: It's a major development that could help researchers to find and better understand genetic variations linked to diseases and disorders. Genetic research and medical treatments have been hindered by a reliance on genomic data from white European populations.
Background: The first draft of the human genome, published more than 20 years ago, was based largely on the genome of a single individual. It has since been used as the reference for understanding genetic variants in people.
But, "[n]o single genome can represent the genetic diversity of our species," researchers write in one of four papers published on Wednesday in Nature describing the work.
Driving the news: The new pangenome is a collection of sequences based on DNA from 47 people from around the world, including Africa, Asia, the Caribbean, Europe and the Americas. It was produced by the Human Pangenome Reference Consortium, a group of more than 120 scientists who are trying to sequence the genomes from 350 people by the middle of next year.
The new reference genome was made by aligning the different sequences and mapping where they diverged from one another.
New "long-read sequencing" techniques that allow longer fragments of DNA to be analyzed compared to traditional sequencing methods and advanced computational tools helped enable the effort.
"Almost all areas of human genetics and genomic medicine can be impacted positively" by the new reference genome, Ting Wang, a professor of medicine at Washington University School of Medicine in St. Louis, said in a statement.
"For example, the identification of genetic variations that are associated with human diseases will be both more sensitive and more specific, directly improving disease diagnosis and therapeutics."
Yes, but... The pangenome hasn't captured the full genomic diversity of humans. People from the Middle East, Africa and Oceania are underrepresented, Evan Eichler, a professor of genome sciences at the University of Washington and member of the consortium, told the Washington Post.
And the clinical benefits of the pangenome aren't likely to be immediate, Tina Hesman Saey reports in Science News. Eichler said researchers first have to study how genetic variants affect diseases.
What to watch: Some researchers "are concerned that the project risks repeating ethically questionable practices from other large-scale genetic-diversity projects," Layal Liverpool writes in Nature.
Other projects have been criticized for not engaging enough with the underrepresented groups they are collecting samples from and some experts are concerned people from those groups won't benefit from the research, she reports.
Go deeper