Sexual abuse verdict tests Trump's Teflon armor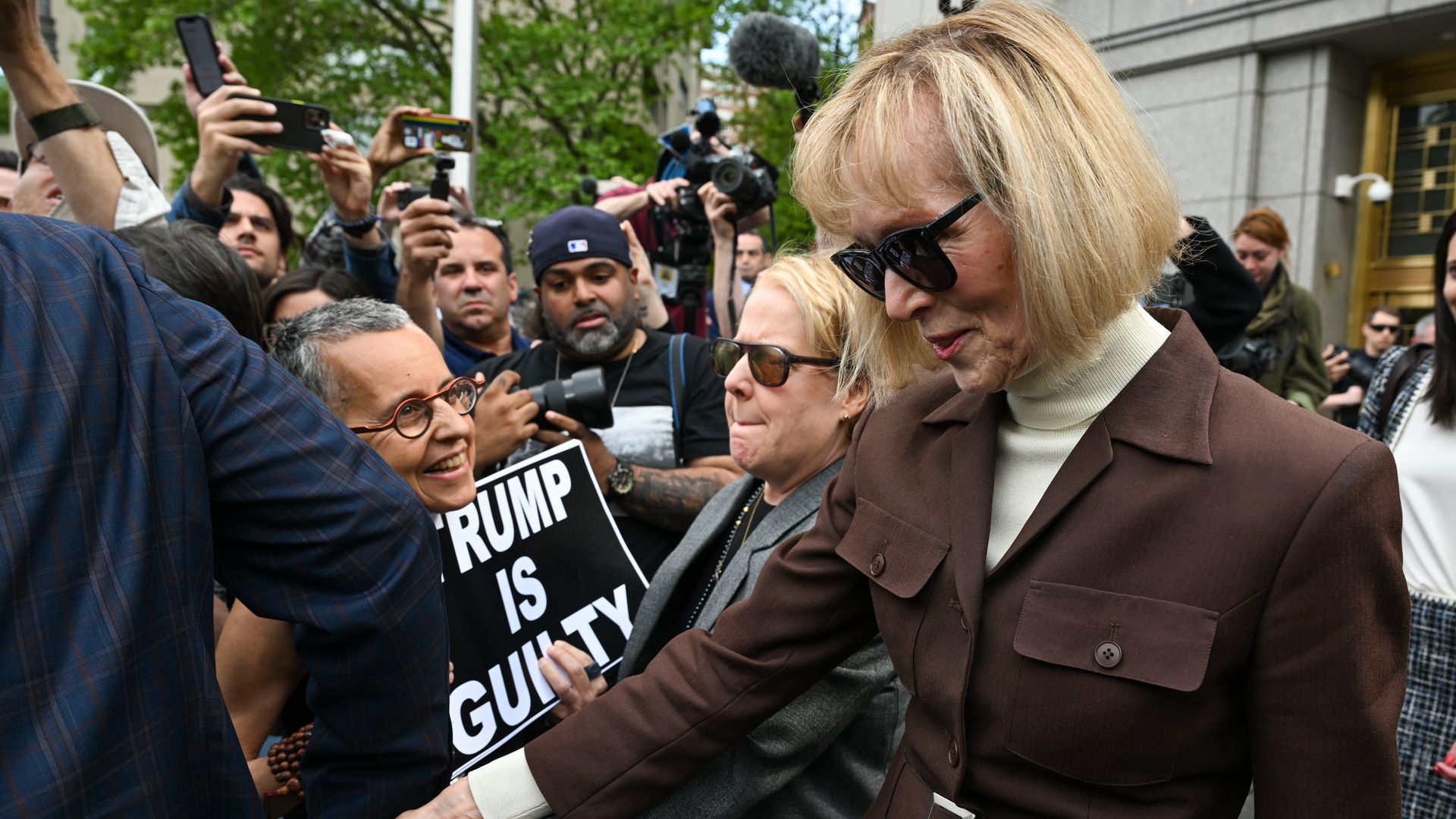 In any other context, it would be a career-ender: A federal jury ordered the Republican presidential front-runner to pay $5 million after finding him liable for sexually abusing and defaming a famous writer.
Why it matters: E. Jean Carroll's successful lawsuit against former President Trump is a landmark moment in the #MeToo era. And yet recent history suggests it will do little — if anything — to dislodge Trump's iron grip over the Republican Party.
Driving the news: Within hours of beginning deliberations, a jury of nine New Yorkers determined it was more likely than not — the standard in a civil trial — that Trump sexually assaulted Carroll in the dressing room of a Manhattan department store in 1996.
The jury rejected Carroll's claims that she was raped, but found that Trump defamed the longtime advice columnist when he called her allegations "a complete con job" and "a Hoax and a lie" in 2022.
Trump reacted to the verdict in similar fashion, posting furiously on Truth Social: "I HAVE ABSOLUTELY NO IDEA WHO THIS WOMAN IS. THIS VERDICT IS A DISGRACE - A CONTINUATION OF THE GREATEST WITCH HUNT OF ALL TIME!"
Between the lines: Despite falsely claiming before the verdict that he was "not allowed to speak or defend myself," Trump chose not to testify or even appear in court. His legal team plans to appeal.
The big picture: At least 26 women have accused Trump of sexual misconduct or assault dating back to the 1970s.
In 2016, many pundits predicted the "Access Hollywood" tape — in which Trump bragged about kissing and grabbing women without their consent — would be a political death knell. Voters elected him anyway.
Trump defended his comments in a deposition played for the jury last week, saying of his infamous "grab them by the p***y" remark: "Well, historically, that's true with stars."
What we're watching: Whether the political verdict on Trump's alleged pattern of conduct was truly "settled" by his victory in 2016 now will be put to the test.
Former Arkansas Gov. Asa Hutchinson was first among GOP presidential candidates with a statement blasting Trump's "indefensible behavior." Others largely remained silent.
Republican National Committee chair Ronna McDaniel tried to deflect attention from Trump's vulnerabilities on Fox News, arguing that suburban women are more concerned with the direction of the country under President Biden.
Several GOP senators expressed concerns over Trump's electability given his legal troubles, which are far from over. Others called the jury a "joke": "I think you could convict Donald Trump of kidnapping Lindbergh's baby," said Sen. Lindsey Graham (R-S.C.).
What's next: Trump still plans to appear at Wednesday's controversial CNN town hall, where he'll take questions from an audience of Republican and independent voters.
Go deeper