The West's uphill battle to sanction Russian diamonds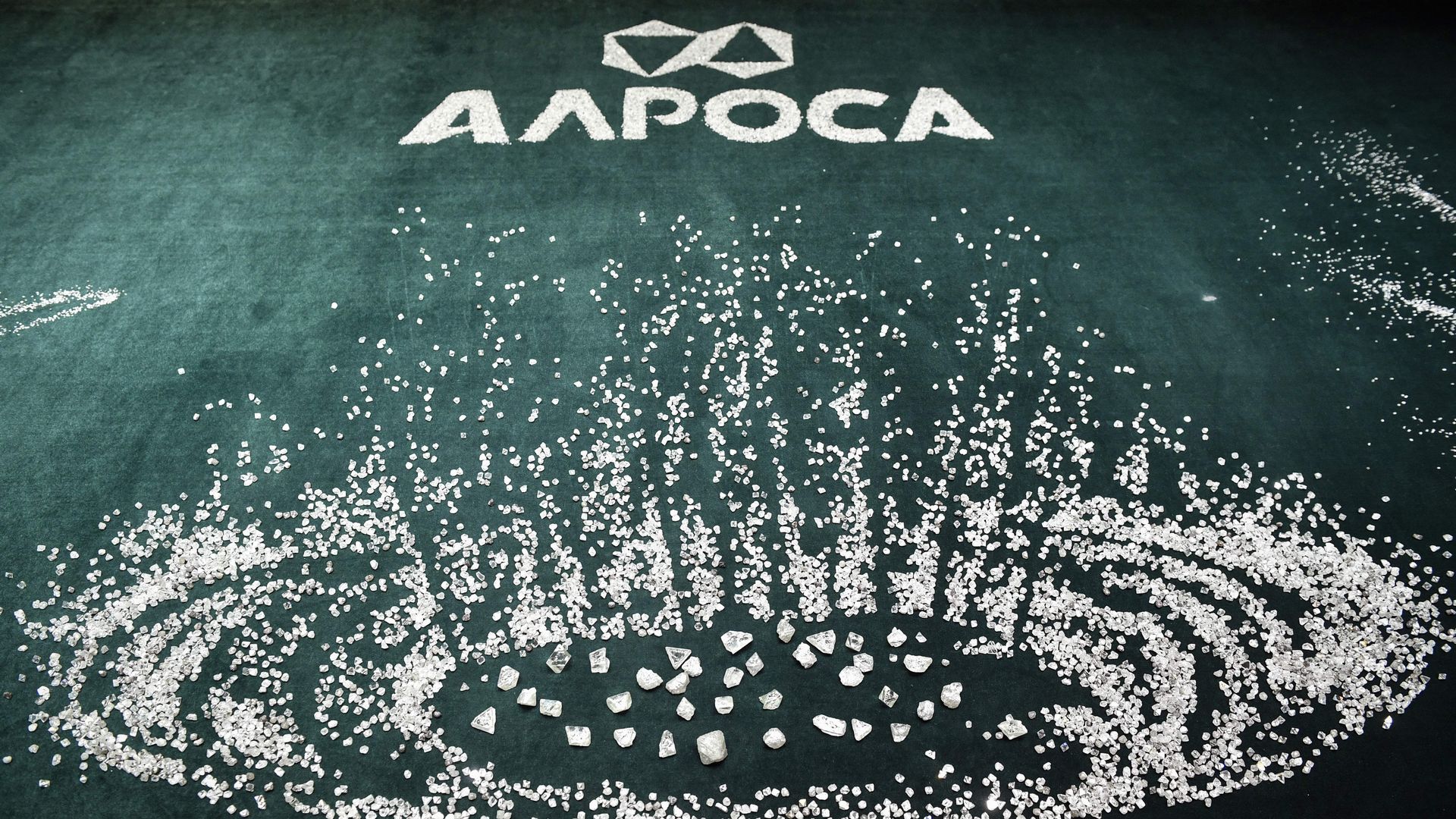 Since Russia invaded Ukraine, the U.S. and its allies have imposed sanctions on Moscow's energy exports, banks, and oligarchs. But one luxury good has largely escaped the glare of international sanctions: diamonds.
Why it matters: Russia counts diamonds as one of its top 10 non-energy exports by value, with exports totaling over $4.5 billion in 2021, according to the U.S. Treasury Department.
The country is home to the world's "largest and richest diamond reserves" and is, by volume, the world's "greatest producer and exporter of rough diamonds," according to the Diamond Registry.
Alrosa, Russia's partly state-owned diamond mining company, is the largest in the world and is responsible for 90% of Russia's diamond mining capacity, per the Treasury Department.
What's happening: Actions taken by the U.S. so far have not affected the bulk of Russia's diamond supply.
The U.S. Treasury Department sanctioned Alrosa's CEO Sergei Sergeevich Ivanov on the day of Russia's invasion and expanded sanctions against the company in April 2022.
President Biden issued an executive order in March 2022 banning the import of Russian non-industrial diamonds.
Yes, but: The current U.S. ban on Russian diamonds excludes those that have been "substantially transformed" in third countries, such as through cutting and polishing — an exemption that accompanies many U.S. import prohibitions, a Treasury Department spokesperson told Axios.
For example, Russian diamonds that are cut and polished in India are considered Indian diamonds, allowing them to enter the U.S. market, despite the sanctions.
The vast majority of Russia's crude diamonds are exported rough and then cut and polished abroad.
The exclusion of cut and polished diamonds is a "major loophole" that renders the current sanctions largely "symbolic," Hans Merket, a researcher at the International Peace Information Service (IPIS) told Axios.
A senior State Department official told Axios that the initial sanctions were part of a plan of "strategic escalation" because sanctioning polished diamonds "is not something that can be done quickly."
The big picture: Despite calls from Ukraine and some European Union countries, successive EU sanctions packages have excluded Russian diamonds.
Belgium, the only major diamond trading hub in the EU, initially opposed sanctions and argued they would only push the trade of Russian diamonds to other trading centers, Merket said.
The Belgian position has softened on sanctions, they have maintained that any action should be part of an internationally coordinated response and account for tracing.
Renewed hopes for EU sanctions have coincided with mounting pressure from allies and the realization that trade in Russian diamonds is decreasing in value.
One of the reasons sanctioning polished diamonds is hard is that they're difficult to trace amid the sprawling tapestry of actors that comprise the diamond industry.
A typical diamond will go through scores of transactions on its way from the mine to the market, Merket said.
"If you go to a jewelry shop, for instance here in Antwerp, and you ask for any kind of diamond ring that they're selling, nobody knows where these diamonds came from."
Technology exists for tracing diamonds via laser etching or scanning, but it's unclear how quickly that technology can be scaled up to accommodate large bulks of diamonds, Merket said.
The G7 vowed in February that it would "work collectively on further measures on Russian diamonds, including rough and polished ones."
The goal of any measures taken by the G7 is to achieve "bifurcation" in the international market, in which Russian diamonds might be sold to some countries but not among the G7, the State Department official told Axios.
Traceability is the "clearest tool to achieve that bifurcation," they added, noting that an import ban, as well as other approaches, are all being discussed.
The State Department official said that it's possible to have an import ban that is based on a due diligence declaration, as was previously done with rubies from Burma.
But a tracing system based on documentation opens up questions about how the validity of documents will be verified and how vulnerable the system might be to manipulation, Merket warned.
Both an import ban and a traceability scheme would be necessary to effectively target Russian diamonds, Merket said.
"It wouldn't make sense to only have a traceability system without a diamond ban, because then you simply know which diamonds are Russian and which not, but then you wouldn't stop them."
The State Department official said that the goal was to achieve alignment across the G7, but did not specify what that would mean with regard to actions taken by the EU.
The State Department official said the likely scenario is the implementation of a system to restrict the import of Russian diamonds that could be enforced in a variety of ways.
The European Commission did not respond to Axios' request for comment.
The Russian Embassy in Washington pointed Axios to recent comments by Dmitry Birichevsky, head of the Russian Foreign Ministry's Department of Economic Cooperation, in which he called international restrictions on Russian diamonds "irresponsible" and contrary to the interests of the industry.
Go deeper