West ramps up Russia sanctions after invasion of Ukraine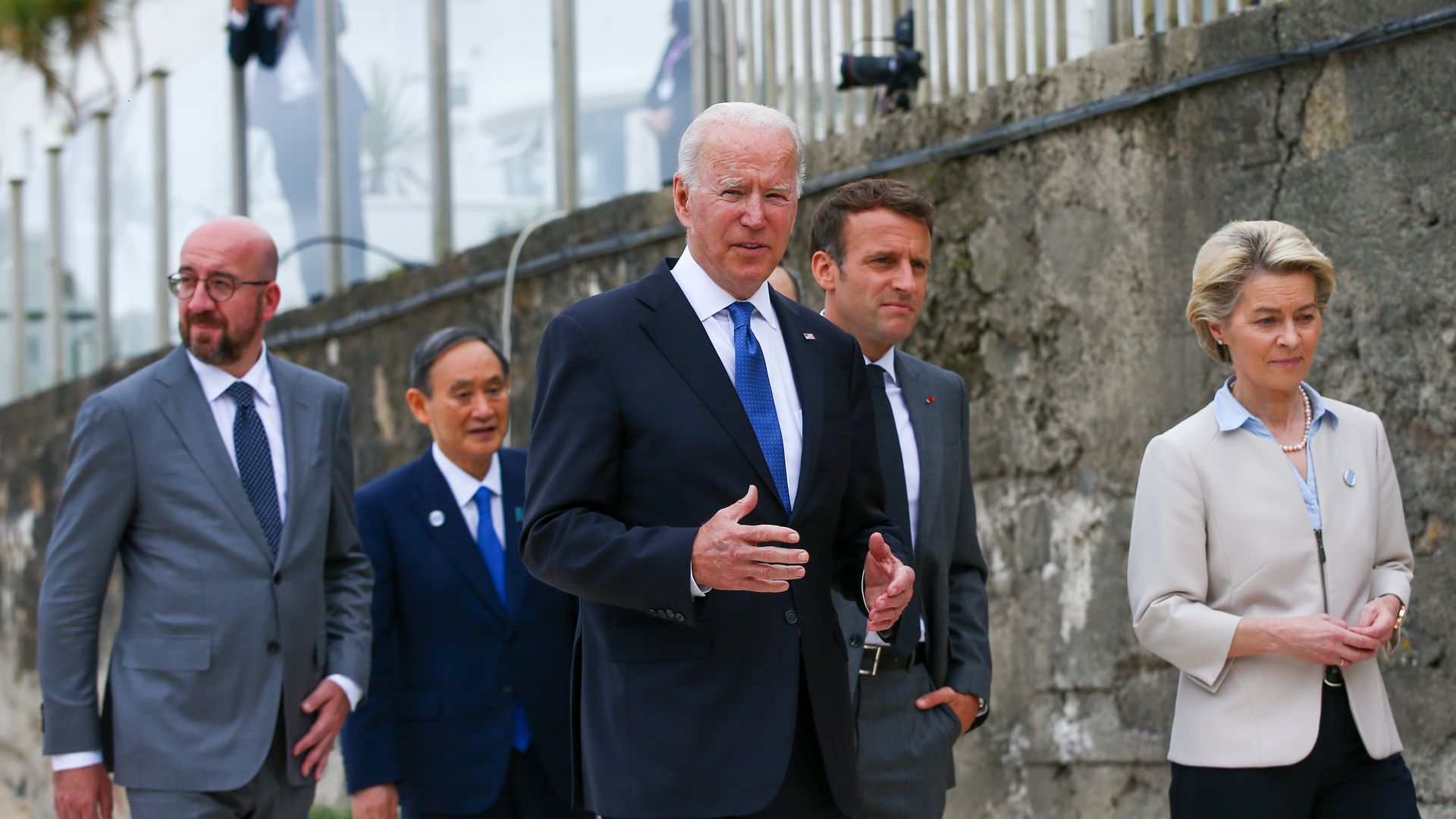 Western countries are announcing more sanctions in response to Russia's unprovoked invasion of Ukraine on Thursday.
The latest: President Biden said G7 leaders have agreed to impose new "devastating" sanctions on Russia, and he is set to explain the specifics of those sanctions later on Thursday.
United Kingdom Prime Minister Boris Johnson in a speech to British lawmakers Thursday announced that the country will impose its "largest ever" set of economic sanctions on Russia.
The sanctions package include freezing assets of all major Russian banks, limiting cash held by Russian nationals in U.K. banks and financial restrictions on more than 100 individuals and entities.
The package will also ban Aeroflot, Russia's largest airline, from the U.K. while banning the export of tech equipment and components that are crucial for electronics, telecommunication devices and the aerospace industry.
Canadian Prime Minister Justin Trudeau said his government will place financial restrictions on 58 individuals and entities, including the Russian elite and their family members and major Russian banks.
Canadian sanctions will be raised on members of the Russian Security Council, including the defense minister, the finance minister and the justice minister.
"In addition, effective immediately we are ceasing all export permits for Russia and canceling existing permits," Trudeau said.
The European Council announced Thursday that it had agreed to implement further restrictions that would "impose massive and severe consequences on Russia."
"These sanctions cover the financial sector, the energy and transport sectors, dual-use goods as well as export control and export financing, visa policy, additional listings of Russian individuals and new listing criteria."
The rollout of initial sanctions began earlier this week after President Vladimir Putin decided to recognize the independence of two separatist "republics" in eastern Ukraine and send in Russian troops on a "peacekeeping" mission on Monday.
The Biden administration announced sanctions Tuesday targeting two Russian banks and the country's sovereign debt, adding to sanctions announced Monday on the separatist republics.
The European Union's foreign ministers agreed Tuesday to sanction the 351 Russian Duma members who voted to recognize the Donetsk and Luhansk People's Republics, as well as 27 Russian entities and individuals accused of destabilizing Ukraine.
The EU also agreed to target the "ability of the Russian state and government to access the EU's capital and financial markets and services."
The bloc's top diplomat Josep Borrell said that Putin is not on the sanctions list, but stressed that this is a "first step" and that Russia's actions in Ukraine are likely "not finished."
The big picture: The U.K. also imposed sanctions on five Russian banks — Rossiya, IS Bank, General Bank, Promsvyazbank and the Black Sea Bank, Johnson announced Tuesday.
The U.K. sanctioned three "very high net worth individuals" — Gennady Timchenko, Boris Rotenberg and Igor Rotenberg — freezing their assets in the U.K. and banning them from entering the country.
German Chancellor Olaf Scholz announced Monday that the certification process for the Nord Stream 2 pipeline will be halted, saying that "the situation has fundamentally changed."
It's a stunning turn of events for the $10 billion, Russia-to-Germany natural gas pipeline, which Scholz had long resisted naming as a potential sanctions target if Russia invaded Ukraine.
Go deeper: What to watch for as Russia orders troops into eastern Ukraine
Editor's note: This article has been updated with new details throughout.
Go deeper