McConnell teases interventions in 2024 GOP Senate primaries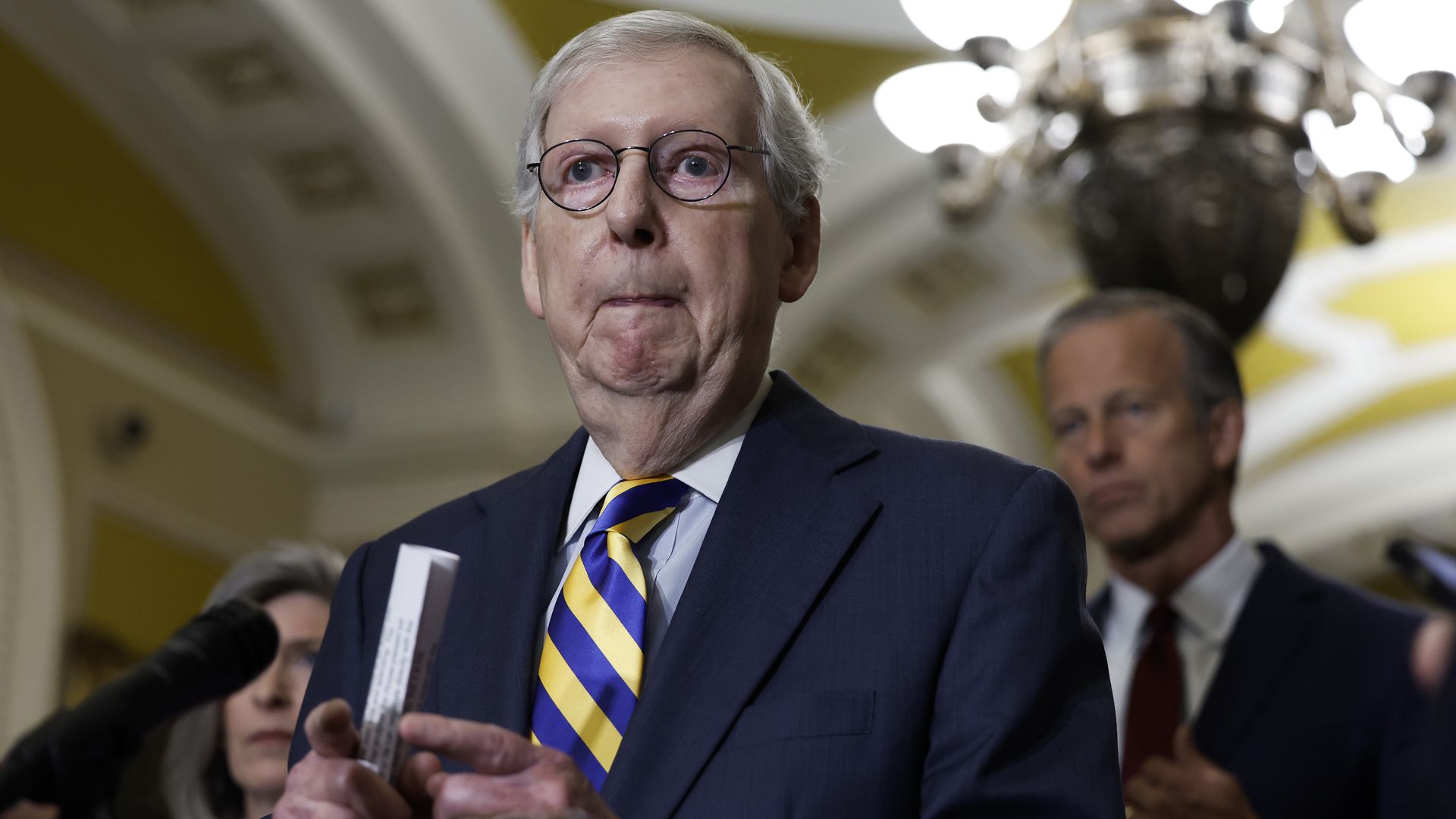 Senate Minority Leader Mitch McConnell (R-Ky.) is vowing to have a heavier hand in the 2024 Republican Senate primaries, per a new CNN interview out Monday.
Why it matters: The 81-year-old GOP Senate leader said he isn't certain that his party will take back the majority in 2024, despite a map heavily favoring his party.
"I just spent 10 minutes explaining to you how we could screw this up, and we're working very hard to not let that happen. Let's put it that way," McConnell told CNN.
The big picture: The three Senate tossup races in 2024 — West Virginia, Ohio, and Arizona — are in red or swing states, giving Republicans an added edge.
After the 2022 midterm debacle, McConnell blamed the losses on a failure to recruit quality candidates.
He also called out a "diminished" former President Trump for handpicking candidates in general elections. Trump-backed Herschel Walker of Georgia and Mehmet Oz of Pennsylvania both lost their races.
He's singing a similar tune this cycle — and vowing to have a greater involvement through his outside group, the Senate Leadership Fund, along with the National Republican Senatorial Committee, in contested GOP primaries.
"We'll be involved in any primary where that seems to be necessary to get a high-quality candidate, and we'll be involved in every general election where we have a legitimate shot of winning – regardless of the philosophy of the nominee," the Kentucky Republican told CNN.
State of play: McConnell is zeroed in on beating incumbent Democrats in Montana, West Virginia, Ohio, and Pennsylvania.
In two other swing states with Democratic incumbents, Wisconsin and Nevada, Republicans are still considering whether they will engage in those contests, he said.
He also said that Republicans are still deciding on whether to engage in Arizona, which is expected to be one of the most competitive contests.
Zoom out: McConnell, who previously called Trump "practically and morally responsible" for Jan. 6, did not answer directly when asked if he'd be comfortable with Trump as the 2024 Republican nominee.
"Look, I'm going to support the nominee of our party for president, no matter who that may be," he said.
He added that Trump as the nominee could actually be beneficial in Senate races such as West Virginia, Montana and Ohio.
The bottom line: "We don't have an ideological litmus test," McConnell said.
"We want to win in November."
Go deeper: Senate GOP's 2024 landmines
Go deeper