The food fight in the White House: Biden's diet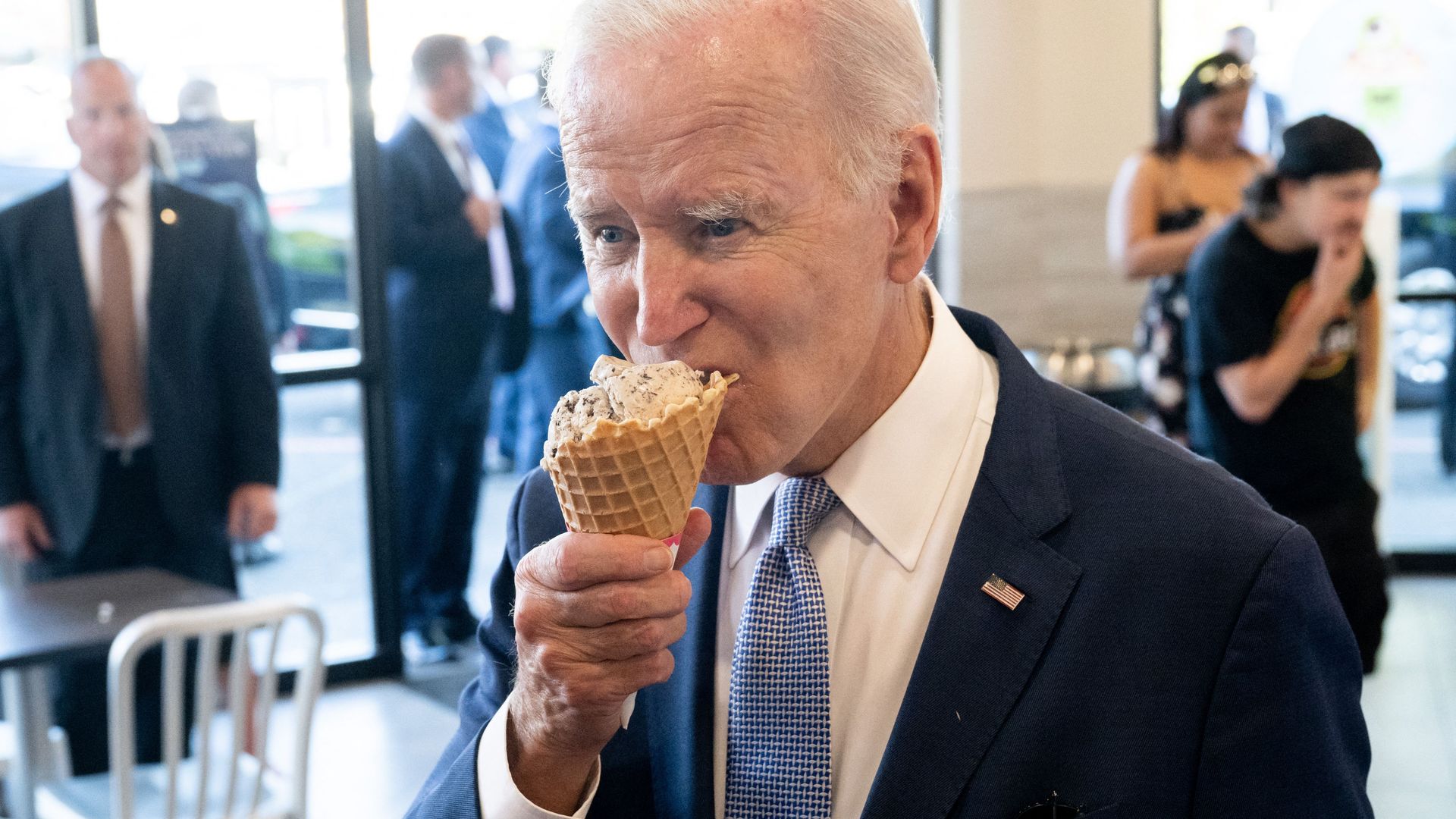 There's a delicious (surf and) turf battle inside the Biden White House — over the president's plate.
The food fight has pitted Joe Biden — who prefers carbs over greens — against First Lady Jill Biden, who has been pushing the commander-in-chief to eat more fish and veggies whether he likes them or not (he doesn't).
Why it matters: The internal tug-of-war over Joe Biden's diet is just one of many public and private steps being taken by close aides and the first lady to keep the 80-year-old president healthy as he prepares to run for a second term.
State of play: Some Biden aides have long noted that he eats "like a child," with a food palette that skews beige.
His favorite dishes include peanut butter and jelly sandwiches, BLT's, pizza, cookies, spaghetti with butter and red sauce, and ice cream that he occasionally makes into a full sundae, according to current and former Biden aides.
On Friday while visiting D.C.'s Taqueria Habanero, Biden ordered churros and a chicken quesadilla.
A teetotaler, he often drinks orange Gatorade.
Zoom in: In September 2021, the president's sister Val came to the White House for a private dinner, and the first lady selected their entree: salmon in a pastry shell with a medley of vegetables.
"Damn, she makes me eat this healthy stuff all the time," said the president, who's not a fan of salmon, according to Val's recounting of the dinner in her memoir.
With the first lady out of sight, Biden had some lemon pound cake and finished a carton of Breyer's chocolate chip ice cream for dessert, Val recalled.
Zoom out: Biden works out with a physical therapist, Drew Contreras, many mornings.
Actor Jason Bateman jokingly asked Biden about his routine during a podcast interview last November: "Are we blasting back and bi[ceps]'s on Tuesdays and Thursdays?"
"Yes," the president replied, "as a matter of fact."
But Biden acknowledged that fitness is more complicated at 80.
"The difference in age, if I let it go for a week I feel it," he told the hosts. "I used to be able to go for a week and nothing would change."
Go deeper