Scoop: Inside Hunter Biden's clash with the White House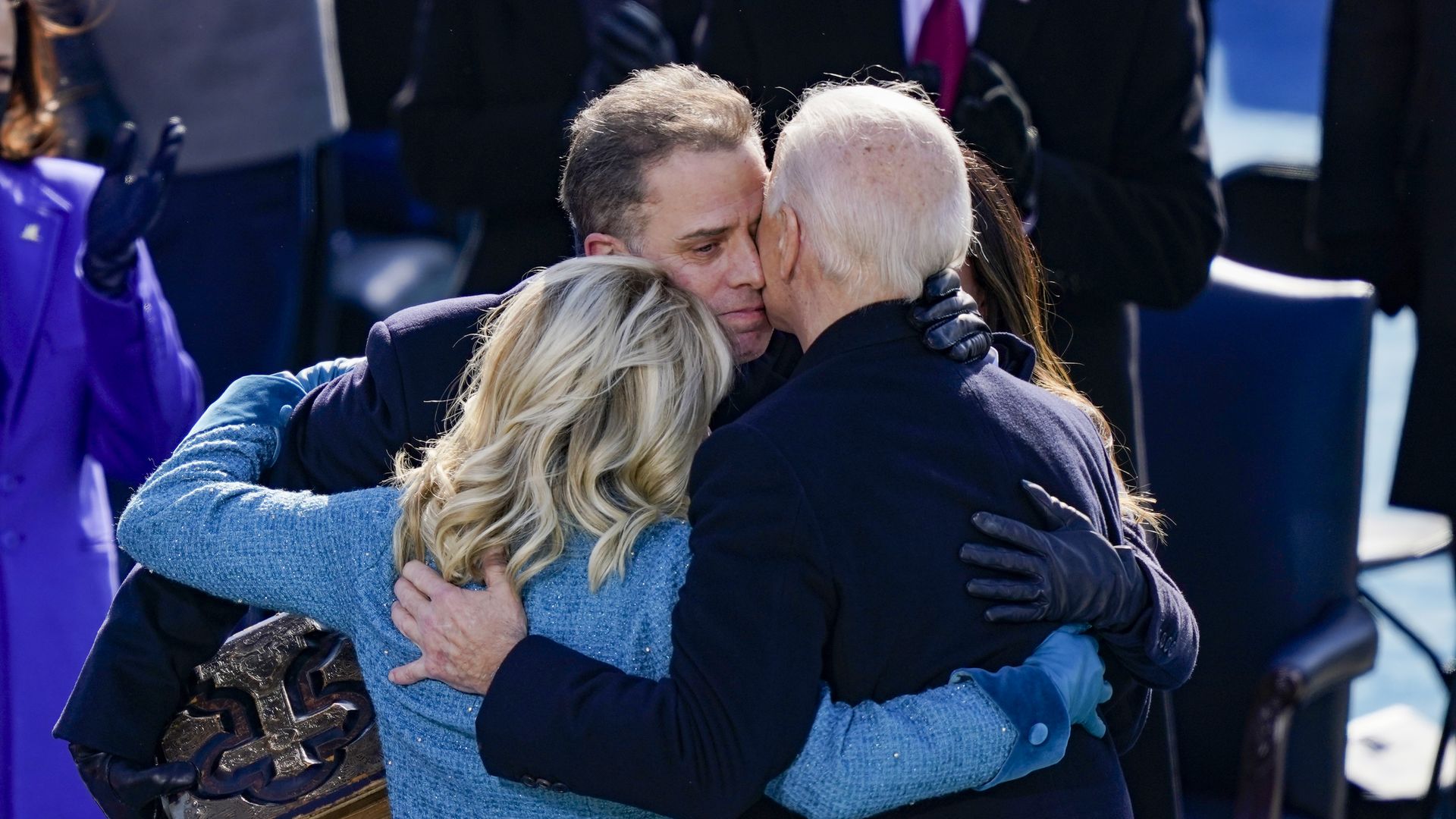 Top aides to President Biden have clashed with Hunter Biden's team over strategies for dealing with the legal battles and Republican attacks that surround the president's son.
Why it matters: The tensions led Hunter — without involving the president's top aides — to hire prominent lawyer Abbe Lowell in December, as part of a plan to take a more combative approach than the White House and Hunter's previous lawyer had taken.
Hunter's team also is moving toward creating a legal defense fund, and hiring ethics advisers for it. High-level Democrats and others are worried about the idea of the president's son soliciting money to pay for his legal troubles.
"For this fund to work, it must be extraordinarily transparent and even restrictive by prohibiting foreign citizens and registered lobbyists from contributing," Anthony Coley, the former top spokesman for the Justice Department who was senior adviser to Attorney General Merrick Garland, told Axios.
"Without these type of guardrails, the fund will be a legitimate headache for the White House."
Zoom in: Lowell's hiring was abrupt and unwelcome among some involved in Hunter Biden's legal matters. Hunter, 53, is facing a Justice Department investigation into his taxes and a potential gun charge, probes from House Republicans, and a child-support court case in Arkansas.
Longtime Biden lawyer Bob Bauer, who is married to White House senior advisor Anita Dunn, had recommended Hunter's previous lawyer for the congressional investigations, Josh Levy. But Bauer had no role in hiring Lowell.
Instead, Bauer was simply informed that Lowell was being hired. Levy resigned soon afterward, according to people familiar with the episode.
In January, Lowell — who recently represented Republicans such as Jared Kushner, former President Trump's son-in-law — met privately with Bauer and top White House officials, including Dunn and special counsel Dick Sauber, to clear the air and discuss the new strategy.
White House officials and Bauer asked Lowell to improve the communication from Hunter's team, people familiar with the meeting told Axios. Tensions between the two sides were reported previously by Puck.
Zoom out: Hunter's team has shifted from largely not commenting on GOP attacks or stories in conservative tabloids to publicly fighting back.
Lowell has become an increasingly powerful force in Hunter's orbit as a result.
The White House press team has been wary of commenting on Hunter, preferring to distance President Biden from the legal matters involving his son as a private citizen.
But White House spokespeople charged with responding to House GOP investigations also have become more aggressive in defending Biden family members, as Republicans try to link Hunter's business activities to Joe Biden's policy moves.
State of play: Hunter's team and allies have not made a final decision on whether to move forward with a legal defense fund, according to people familiar with the matter.
But supporters of President Biden have been approached for potential roles with the fund, in communications and ethics oversight.
They include Richard Painter, a former ethics lawyer under George W. Bush who has become an aggressive anti-Trump commentator. "That whole issue is something I'm not commenting on," Painter told Axios. "I get lots of calls from lots of people."
Hunter Biden, a former investor and lobbyist, doesn't have a steady source of income and is reportedly millions of dollars in legal debt.
Lowell said Monday that Hunter has paid $750,000 in child support to Lunden Roberts, an Arkansas woman with whom Hunter had a child.
Many of Hunter's expenses in recent years have been covered by Los Angeles attorney Kevin Morris, a confidante and adviser to the president's son.
Lowell and Chris Clark, who is representing Hunter in the Justice Department probe, declined to comment on their financial arrangements with the president's son. The White House declined to comment.
During a hearing in Arkansas this week on Hunter's paternity case, Lowell was in court with Hunter's local counsel. Lowell attended because he believes conservatives are weaponizing the case as part of a broader attack on the Biden family, according to a person with insight into his moves.
Last week, Clark met with Justice Department lawyers about that investigation, amid speculation that a decision on whether to charge Hunter could come soon.
Go Deeper: How the Hunter Biden investigations could impact 2024
Go deeper