Maryland Rep. David Trone launches 2024 Senate bid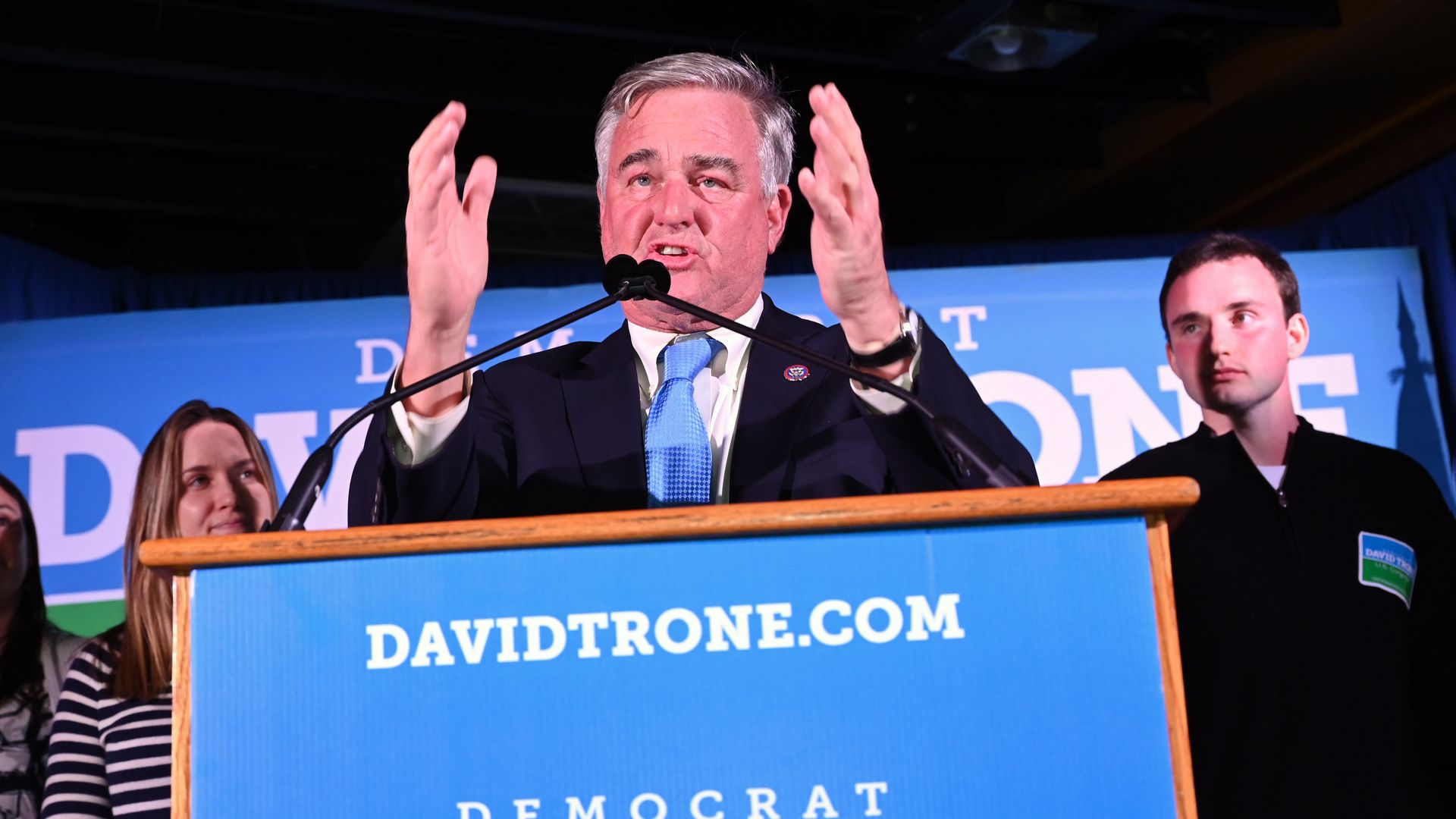 Rep. David Trone (D-Md.) on Wednesday announced his candidacy to replace retiring Sen. Ben Cardin (D-Md.), adding to a potentially hotly contested Democratic primary.
Why it matters: Trone, a three-term House member and co-founder of Total Wine & More, has a personal fortune and electoral record that could make him a serious contender for the seat.
Trone is one of the wealthiest members of Congress, reporting between roughly $40 million and $150 million in assets in his 2021 financial disclosure.
Driving the news: In a launch video, Trone cited his business background and his congressional record on substance abuse deaths, the mental health crisis and criminal justice reform.
"That's why I'm running for U.S. Senate: to work with Marylanders, to take on these challenges, and to take the bold steps necessary to make real change," he said in an accompanying press release obtained by Axios.
The press release also cited abortion access and "MAGA extremists threaten[ing] to tear down our democracy" as other key issues.
In an apparent nod to the likelihood that he'll face stiff competition from other high-profile Democrats, he said in the video, "I know I won't be the establishment choice. But hey, why start now?"
The backdrop: The co-founder and co-owner of Total Wine & More, a Maryland-based alcohol retail chain, along with his brother David, Trone unsuccessfully ran for a House seat in the D.C. suburbs in 2016.
He lost the race to now-Rep. Jamie Raskin (D-Md.), the progressive ranking member of the House Oversight Committee and another potential candidate for Cardin's seat.
In 2018 Trone won a more competitive seat in another part of the state, the Western panhandle, fending off a credible Republican challenger in 2020 and 2022.
The state of play: Raskin has not yet announced his intentions, but the race is already heating up.
Will Jawando, a council member from populous Montgomery County in the D.C. suburbs, became the first major candidate in the race on Tuesday with a campaign focused on income inequality.
Other potential candidates include Baltimore County Executive Johnny Olszewski and Prince George's County Executive Angela Alsobrooks.
What we're watching: Cardin, a giant of Maryland politics whose endorsement could carry considerable sway in a crowded primary, hasn't said whether he will back a would-be successor.
"We've got a lot of great Democrats," he said at the Capitol on Tuesday, "We've got a big batch of them, and I'm very optimistic that one of those individuals will be the next senator."
Go deeper