Hispanics with disabilities hit record employment, data shows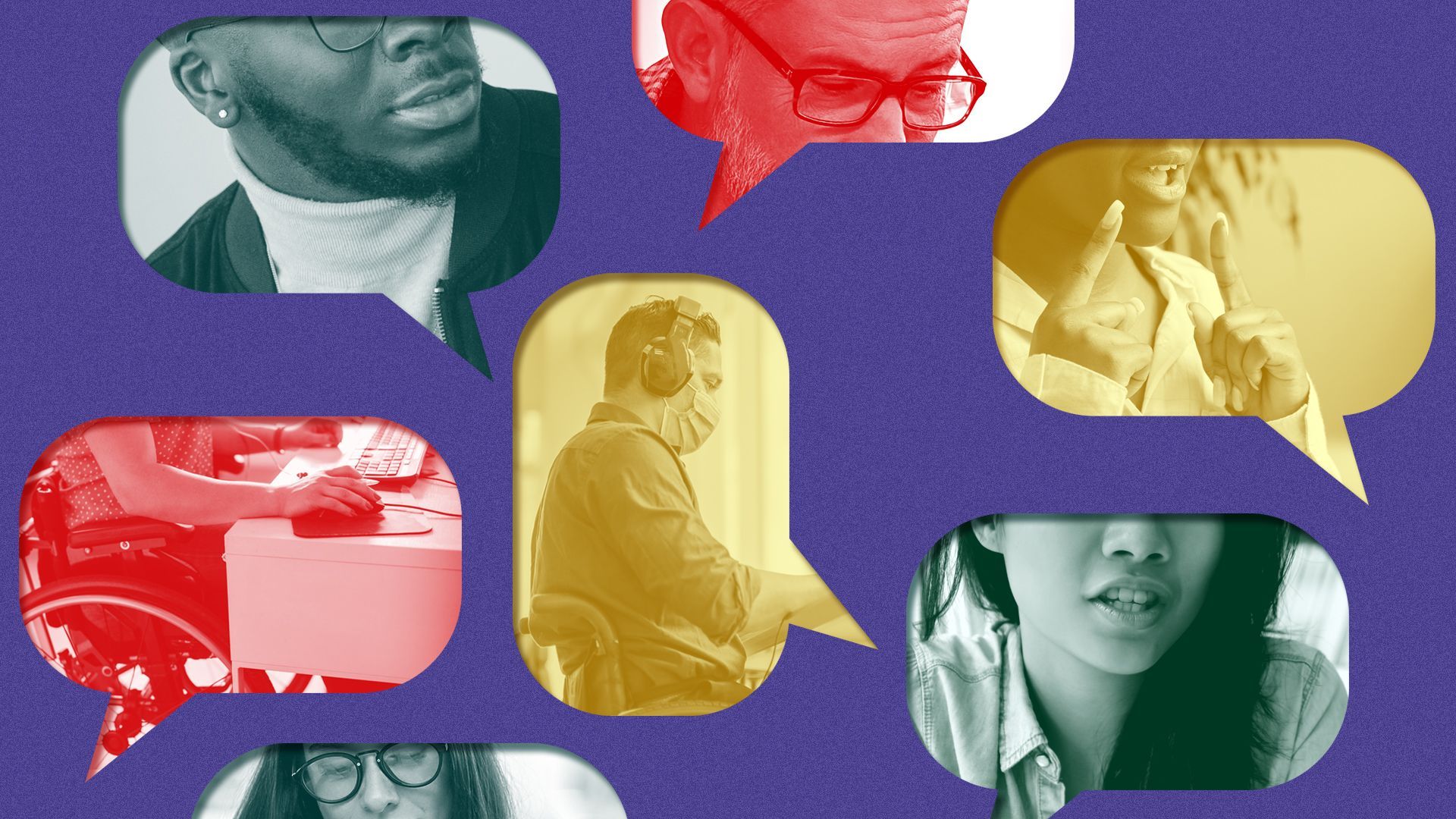 Hispanics with disabilities in the U.S. have reached a record employment rate, in part thanks to remote work.
By the numbers: About 35.5% of U.S. Latinos ages 16 to 64 with a disability were employed between April 2022 and March of this year, according to the National Trends in Disability Employment (nTIDE) project from the Kessler Foundation and the University of New Hampshire.
That's higher than it was from April 2019 to March 2020 (before the COVID-19 pandemic started), when the employment rate for Hispanics with disabilities was 30%.
But it's lower than the rate for non-Hispanic white people, which was 38% between April 2022 and March 2023.
The employment rate for Hispanics with disabilities fell to 27% during the height of the pandemic.
What's happening: The accessibility of remote work and flexible hours contributed to the uptick, researchers say.
Yes, but: Overall, across all levels of education, people with a disability were much less likely to be employed than their counterparts who don't have a disability, according to the U.S. Bureau of Labor Statistics. They're also less likely to earn a living wage.
On average, they earn 66 cents per dollar earned by people not living with a disability, per Census Bureau data, and some people with disabilities can also be paid below minimum wage.
What they're saying: Since the pandemic began, there has been more attention paid to workers with a disability, says Michelle Garcia, who works in community development at the nonprofit Access Living. "We're more in the limelight of the workforce," in part because so many more people developed disabilities as a result of COVID-19 infections, she adds.
But many companies still aren't open to hiring people with disabilities, or still do not take into account accessibility tools such as closed-captioning on video calls or making desks wheelchair-friendly, Garcia says.
Having a budget for that — and, critically, considering someone's skills and experience and not just their disability — can improve the situation of all employees, she adds.
"If you're inclusive for one person that is working for you, that means you're inclusive for everybody else walking through your door or rolling through your door.
The big picture: More than 6.1 million U.S. Hispanics, or 10% of the Latino population, live with some form of disability, according to the University of New Hampshire's Institute on Disability.
That rate is lower than for white non-Hispanics, but Latinos usually report greater levels of unemployment due to disability, higher high school dropout rates and lower use of assistive devices.
Language barriers and limited access to health insurance factor into that, Rutgers University professor Javier Robles said during the nTIDE data presentation last month.
Subscribe to Axios Latino to get vital news about Latinos and Latin America, delivered to your inbox on Tuesdays and Thursdays.
Go deeper