Lawmakers spy opportunity in debt ceiling crisis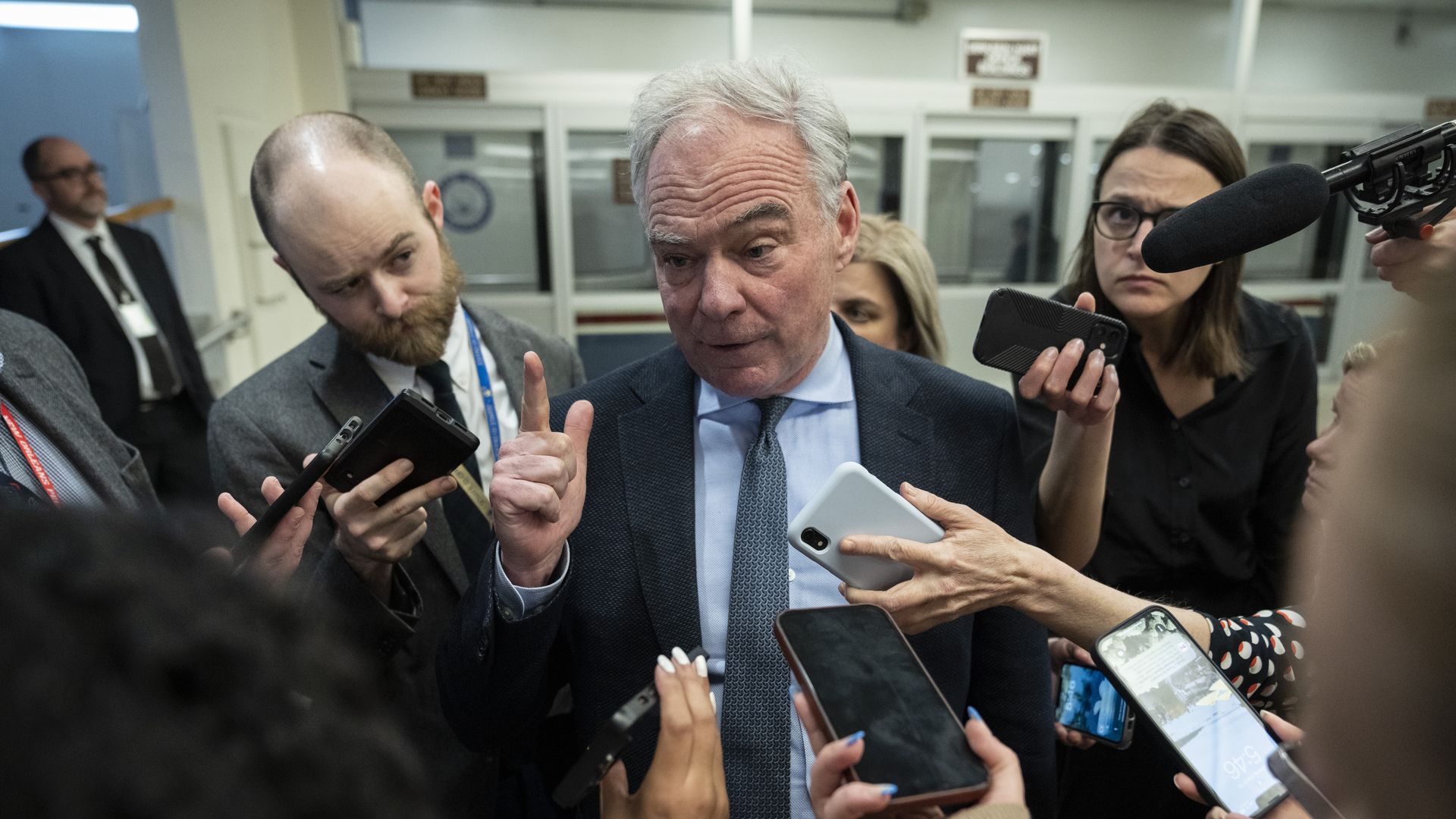 Senators in both parties are looking to the latest partisan standoff over the debt ceiling as a potential catalyst for long-term reform of the process.
Why it matters: Perennial brinksmanship has left lawmakers seething about having to repeatedly scramble to fend off a catastrophic default.
"I think providing a more reliable mechanism would make a lot of sense," said Sen. Thom Tillis (R-N.C.).
Senate Banking Committee Chairman Sherrod Brown (D-Ohio) told Axios: "I wish we didn't have to do this."
Driving the news: Sen. Tim Kaine (D-Va.) and Jeff Merkley (D-Ore.) have introduced legislation that would have the president set the debt limit each year, giving Congress the ability to block it through a resolution of disapproval.
Kaine told Axios they are considering bringing the measure to the floor in the coming weeks to try to pass it via unanimous consent, a long-shot effort that can be derailed by just one senator objecting.
"We need to quit playing games ... [and take] this brinksmanship off the table," Kaine said of his bill, adding that it is one of "many things we might try this month."
What they're saying: Senate Democrats across the caucus voiced firm support for a raft of potential reforms.
Trump-state Sen. Jon Tester (D-Mont.) said "a couple" proposals make sense — including Kaine's bill and another to set the debt ceiling in the annual budget.
Progressive Sen. Brian Schatz (D-Hawaii), who has introduced legislation to repeal the debt ceiling, told Axios: "I think [Kaine's bill] is fine too. But I just think we should repeal it."
"Anything to avoid putting the country through this," said Brown, another Trump-state Democrat. "Because this clearly does some damage. Even at this stage, it's starting to do some damage to the country."
What to watch: The explosive stalemate over the debt ceiling currently underway could propel a new wave of efforts to try to defuse future conflicts before they can occur.
"Every time we get close to default, people start asking those questions," Senate Majority Whip Dick Durbin (D-Ill.) told Axios.
"The crisis that occurs every 12 or 18 months is just not good," said Tillis, adding that it would be "wise to consider" reform.
Between the lines: "If I were China and I were trying to convince ... other countries to reconsider the dollar as the reserve currency," Tillis said, "What we're going through right now would be one of the things I use to pitch it."
The big picture: Tillis isn't the only Republican expressing openness to reform when the dust from the current crisis clears.
"I'm all for sitting down with my Democratic and Republican colleagues and talking about some debt ceiling reform," said conservative Sen. John Kennedy (R-La.).
Sen. Jerry Moran (R-Kan.) told Axios he is "open to hearing ideas of how we might do that. ... I'd have to see how that all worked."
"Is there another way to do it? Maybe. I'm open to [it] if people have suggestions about that," said Senate Minority Whip John Thune (R-S.D.), "It does seem unnecessarily complicated."
The backdrop: Bipartisan compromise on this issue wouldn't be unprecedented.
A group of 10 Republican and three Democratic senators, including Kaine and Kennedy, proposed legislation in 2019 to have the debt ceiling set by the budget.
Yes, but: Some Republicans, including Thune and Moran, told Axios they also see some value in the current process.
"I think it's important that we go through this process fairly regularly," said Sen. Kevin Cramer (R-N.D.). "The debt ... is the one trigger that forces a comprehensive discussion about [spending]."
Others, such as Kennedy, said any reform discussions will likely have to wait until after the current crisis is resolved.
Go deeper