Adams: Texas governor is "targeting 5 cities run by Black mayors"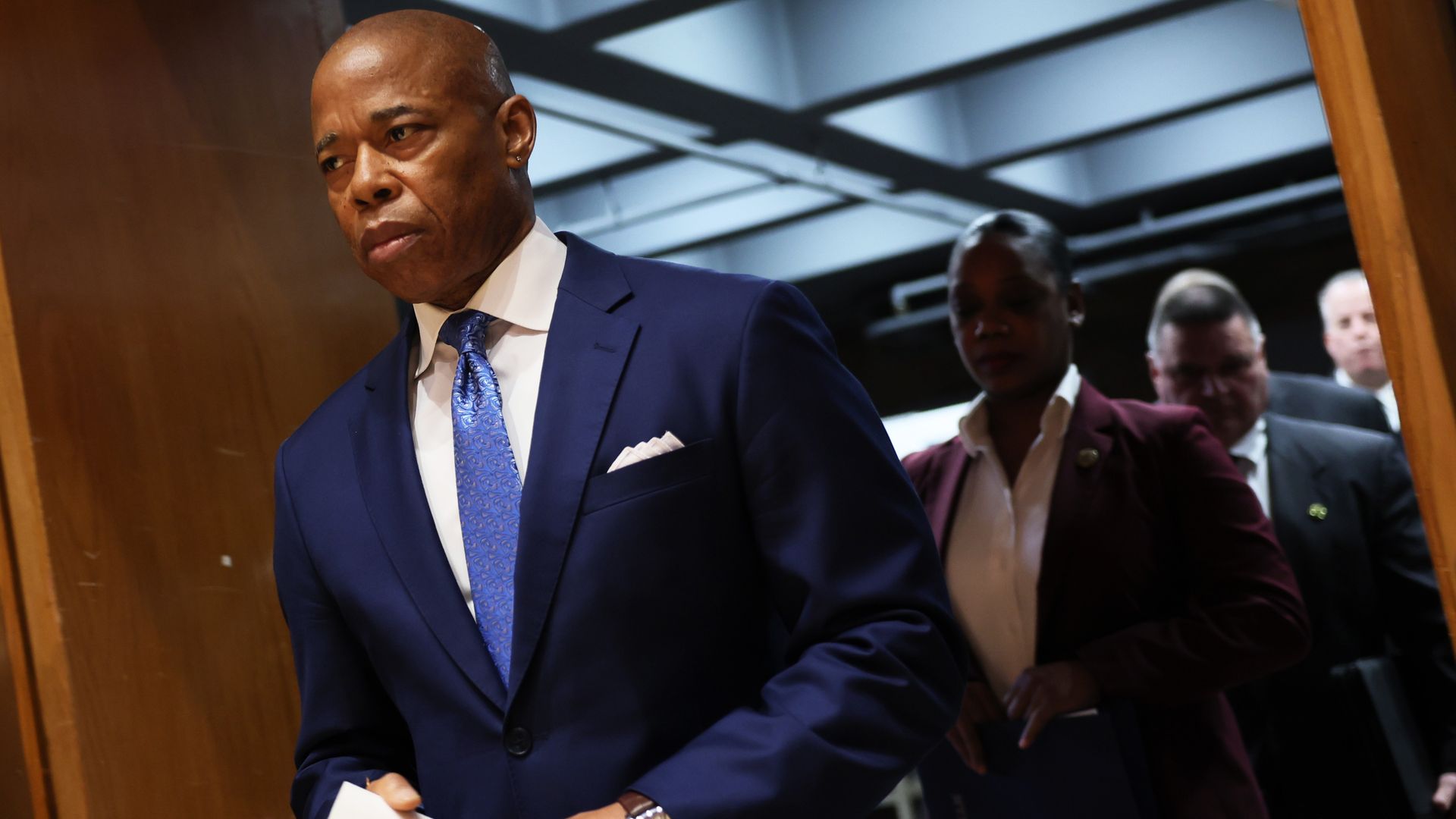 New York City Mayor Eric Adams (D) accused Texas Gov. Greg Abbott (R) on Monday of "once again deciding to play politics with people's lives" by sending asylum seekers to major cities with Black mayors.
The big picture: The mayor's comments come a day after Chicago Mayor Lori Lightfoot also urged Abbott to stop sending migrant buses to her city because it has "no more shelters, spaces, or resources to accommodate."
Both Democratic mayors are putting the pressure on before the Biden administration is expected to end the Title 42 pandemic policy next week, which has allowed immigration authorities to turn back hundreds of thousands of people without giving them a chance for asylum.
What they're saying: "Not only is this behavior morally bankrupt and devoid of any concern for the well-being of asylum seekers, but it is also impossible to ignore the fact that Abbott is now targeting five cities run by Black mayors," Adams said in a statement, referring to New York City, Los Angeles, Chicago, Denver, and Washington, D.C.
"Put plainly, Abbott is using this crisis to hurt Black-run cities," he added.
Abbott responded to Lightfoot Monday: "As the mayor of a self-declared sanctuary city, it is ironic to hear you complain about Chicago's struggle to deal with a few thousand illegal immigrants, which is a fraction of the record-high numbers we deal with in Texas on a regular basis."
"With Title 42 expulsions set to end next week, the federal government has estimated that we could have up to 13,000 illegal immigrants cross the U.S.–Mexico border every single day," the governor continued. "If Chicago can't deal with 8,000 in less than a year, how are small Texas border communities supposed to manage 13,000 in just one day?"
"You are right that 'this situation is completely untenable,' but this is not a Texas problem—this is a problem for the entire United States of America."
Context: Abbott has spent millions of dollars on sending undocumented migrants to Democratic-led cities on charter buses in protest of President Biden's border policies, Axios' Rebecca Falconer writes.
Where it stands: "Despite Abbott's inhumane actions, New York City will continue to do all it can to handle this influx, but this crisis is more than one city can handle," Adams said.
"With a vacuum of leadership from border states, we need the federal government to step in and provide us with support and to prevent this cruelty from continuing."
Go deeper