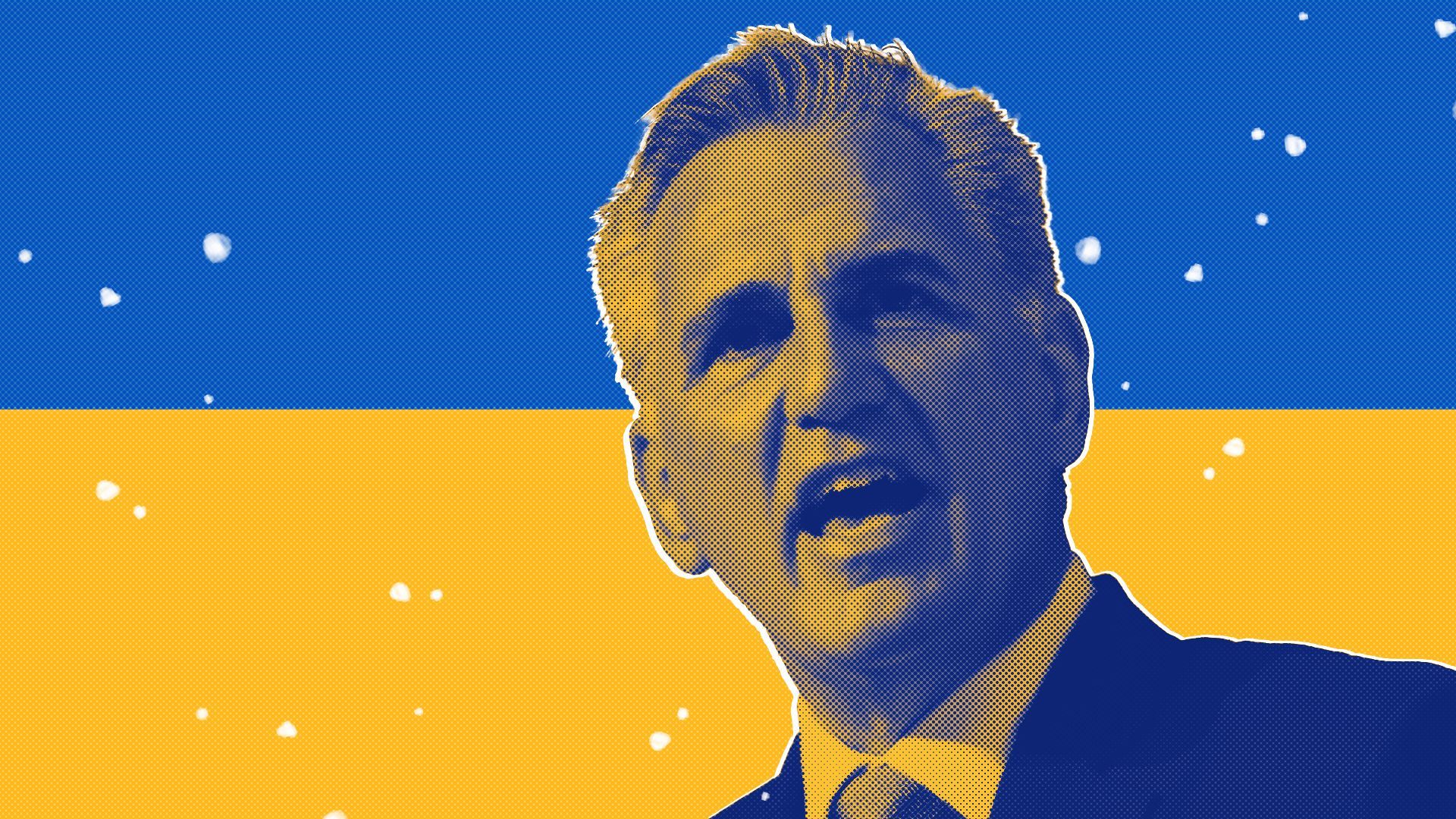 House Speaker Kevin McCarthy (R-Calif.) rebuked a Russian reporter who questioned his support for Ukraine, delivering his most full-throated defense of Kyiv's war effort since Republicans won the House majority.
Why it matters: Growing GOP skepticism of U.S. aid to Ukraine has alarmed Ukrainian and Western officials, who fear that a reduction or halt in military assistance could alter the course of the war.
But McCarthy's comments — and other recent developments — indicate that institutional Republican support for Ukraine is stronger than some of the loudest voices on the party's right flank have suggested.
Signs that the GOP's anti-Ukraine movement is more bark than bite will come as a relief to Kyiv, which is preparing to launch a critical spring counter-offensive in the coming days.
Driving the news: At a press conference in Jerusalem, where McCarthy addressed the Israeli Knesset on Monday, the Russian reporter began his question by stating: "We know that you don't support the current unlimited and uncontrolled supplies of weaponry and aid to Ukraine."
McCarthy shot back: "Did he say I don't support aid to Ukraine? No, I vote for aid for Ukraine. I support aid for Ukraine. I do not support what your country has done to Ukraine."
"I do not support your killing of the children, either. And I think ... you should pull out. And I don't think it's right. And we will continue to support, because the rest of the world sees it just as it is."
The big picture: McCarthy and Ukrainian President Volodymyr Zelensky spoke by phone for the first time last month, after a rocky start to the relationship punctuated by the speaker turning down an invitation to visit Ukraine.
The April 18 breakthrough came two days before 19 House and Senate Republicans — a tiny fraction of the congressional party — sent a letter to President Biden demanding an end to "unrestrained" aid to Ukraine.
A GOP congressional aide told Axios that the letter's organizers had been lobbying offices to sign on since February, and ultimately opted to combine Senate and House signatures as the efforts fizzled.
Between the lines: McCarthy helped kickstart fears of a splintering bipartisan consensus when he told Punchbowl News — weeks before the midterms — that the House GOP was "not going to write a blank check to Ukraine."
But other than a pair of House Foreign Affairs hearings focused on oversight of aid money and Russian war crimes, the issue has barely been on the House agenda.
McCarthy's 320-page debt ceiling bill — viewed as a blueprint of GOP priorities heavily influenced by right-wing members — does not mention the word "Ukraine."
The intrigue: Semafor reported Monday that Fox Corp. chairman Rupert Murdoch spoke with Zelensky weeks before firing Tucker Carlson, one of the most influential conservative voices fanning opposition to aiding Ukraine.
Carlson frequently had criticized pro-Ukraine Republicans on air — and pressured them behind the scenes to change their positions or risk blowback from his top-rated program on cable news.
That pressure is now expected to abate as Carlson searches for a new venue.
Reality check: As long as former President Trump is the GOP front-runner for 2024, opposition to supporting Ukraine will remain a powerful undercurrent within the Republican Party.
And the biggest test is yet to come: The Biden administration's current aid package to Ukraine is expected to run out sometime over the summer, setting up another high-stakes showdown between McCarthy and hard-right rebels.
Go deeper