Prosecutors call Pentagon leak suspect an ongoing national security risk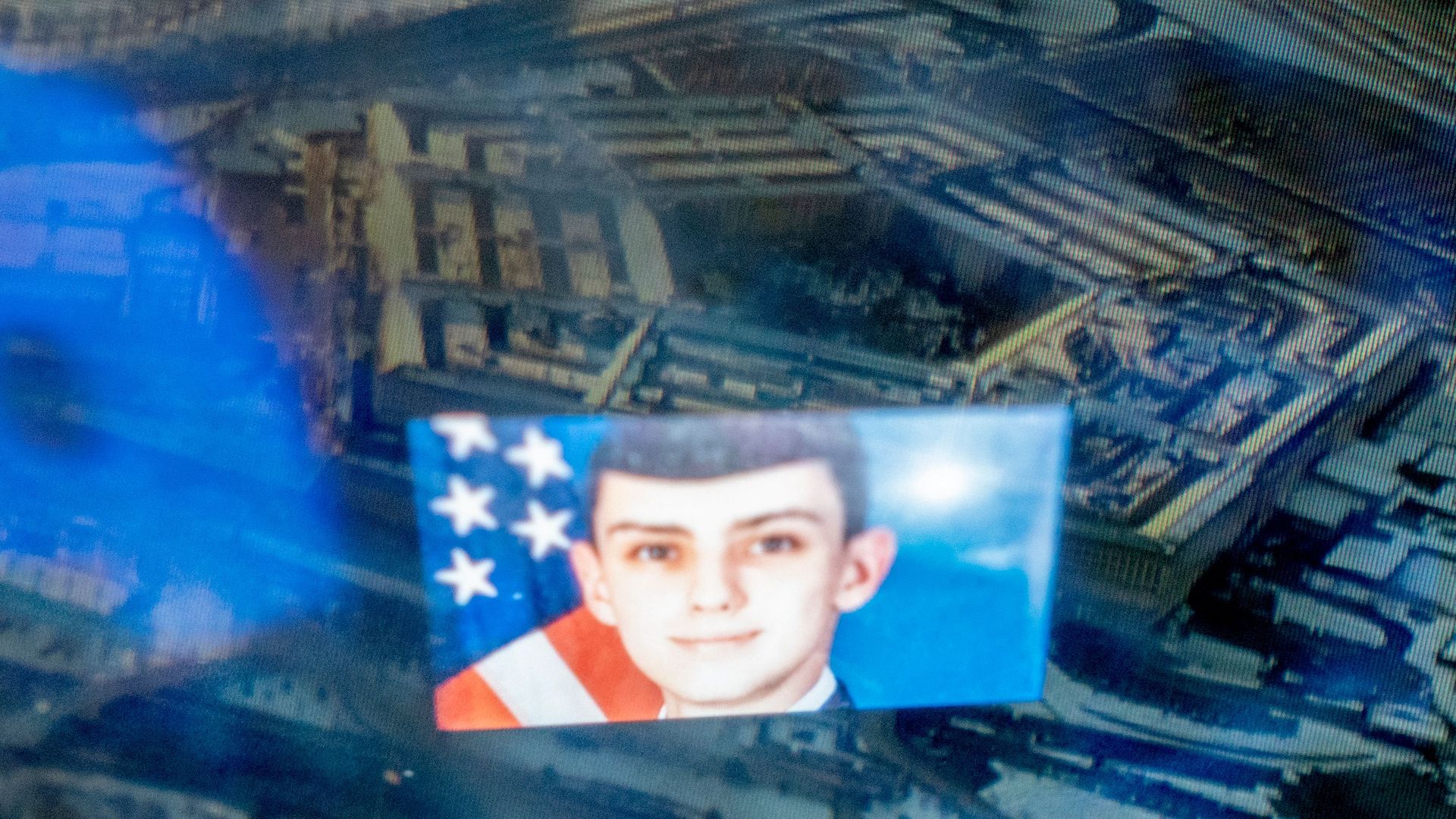 Jack Teixeira, the Air National Guardsman charged in connection with the leaking of sensitive Pentagon documents, "may still have access to a trove of classified information," prosecutors said late Wednesday.
Driving the news: Prosecutors said in a court filing seeking Teixeira's continued detention that the IT specialist from North Dighton, Massachusetts, was a "serious flight risk" and an "ongoing risk both to the national security of the United States and to the community."
Teixeira, who was born in 2001, was due to appear at a detention hearing on Thursday.
The big picture: Teixeira is accused of being at the center of a leak of highly classified documents that appeared on Discord, which indicated the U.S. spied on allies including Israel, South Korea and Ukraine, as well as Russia.
However, prosecutors alleged in their latest court filing that the information Teixeira accessed "far exceeds what has been publicly disclosed."
What they're saying: "The nature of the materials that the Defendant accessed — not all of which have publicly surfaced — have the capacity to cause additional exceptionally grave damage to the U.S. national security if disclosed," according to the prosecutors.
He's accused of "having betrayed his oath and his country" and "he appears to have taken a series of obstructive steps intended to thwart the government's ability to ascertain the full scope of what he has obtained and the universe of unauthorized users with whom he shared these materials," the prosecutors said.
This allegedly included Teixeira telling others on a social media platform to "delete all messages" and if "anyone comes looking" to not tell them.
The filing alleges that after Teixeira was arrested, "authorities searched a dumpster at his residence and found a tablet, a laptop, and an Xbox gaming console, all of which had been smashed."
Of note: The prosecutors said Teixeira had a "troubling history" that included making "racial threats" and regularly making "comments about violence and murder" on social media.
They also accused him of using his government computer to research mass shootings, allegedly typing "Ruby Ridge," "Las Vegas shooting," "Mandalay Bay shooting," "Buffalo tops shooting," and "Uvalde."
What we're watching: Teixeira has been charged under the Espionage Act with unauthorized disclosures of classified national defense information and the unauthorized removal or retention of classified documents or material, according to court documents.
He had yet to enter a plea.
Editor's note: This article has been updated with additional details throughout.
Go deeper