House leaders try to solve math problems on debt ceiling vote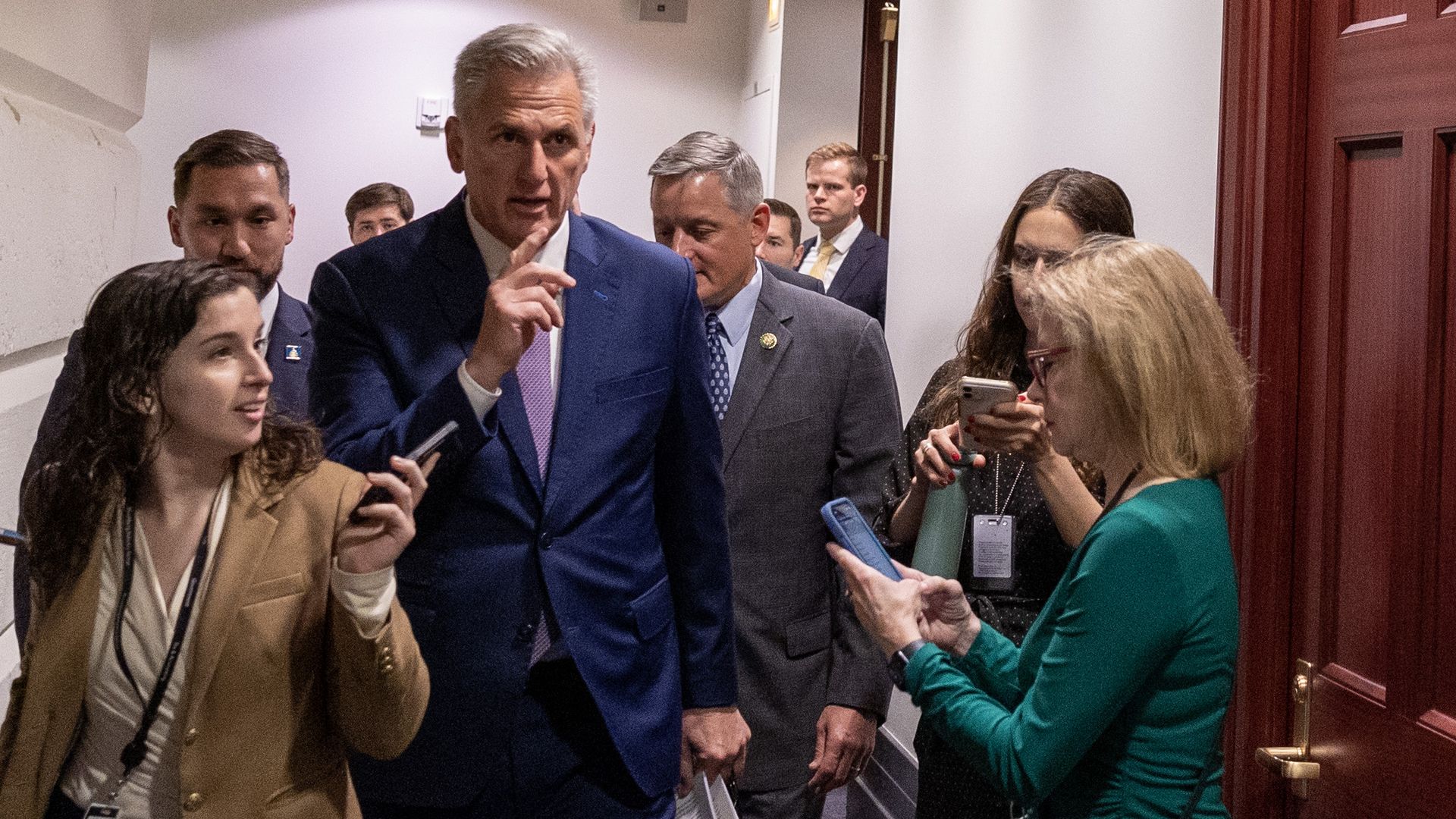 Congressional leaders are scrambling to ensure their caucuses are at full force when the House votes Wednesday on House Speaker Kevin McCarthy's (R-Calif.) debt ceiling bill.
Why it matters: Republicans have control of the House by a slim margin and multiple Republicans are signaling plans to defect.
The House is expected to vote as early as Wednesday afternoon on the measure, which would raise the debt ceiling into 2024 while slashing government spending.
Democrats are trying to maximize McCarthy's headaches as he wrangles his members.
By the numbers: Republicans have a nine-seat majority, meaning they can normally lose just four votes on a given party-line bill assuming all Democrats oppose it.
But the margin McCarthy needs could shift if several lawmakers are absent.
During votes on Tuesday, nine House Democrats and six Republicans were absent.
What we're hearing: Democratic leadership is cracking down on non-voters on their side and it expects multiple members who were absent to be in D.C. and voting on Wednesday, according to Democratic aides.
One Democratic aide described the message to the party's members as: "McCarthy had a terrible day yesterday. The only way to force him to have another terrible day is to be here and voting."
At least three Democrats who were absent Tuesday — Reps. Deborah Ross (N.C.), Jason Crow (Colo.) and Eric Swalwell (Calif.) — are expected to vote Wednesday, according to their offices.
Between the lines: It's not clear whether any Democrats will vote for the measure, though it is expected to be opposed by the vast majority of the caucus.
The legislation includes new welfare work requirements, repealing portions of the Inflation Reduction Act and rescinding student loan debt forgiveness in addition to broader, across-the-board spending cuts.
Yes, but: Several Republicans who were absent, including Reps. Roger Williams (Texas) and Greg Murphy (N.C.), attended the GOP conference meeting at the Capitol on Wednesday morning.
What we're watching: It could all come down to a few Republicans who, as of early Wednesday, said they opposed the legislation.
Reps. Nancy Mace (R-S.C.), Tim Burchett (R-Tenn.) and several other Republicans emerged from the GOP conference meeting saying they still planned to vote "no" on the bill.
Juliegrace Brufke contributed reporting for this story.
Go deeper