Trump looms over DeSantis despite voters craving new 2024 candidates: Polls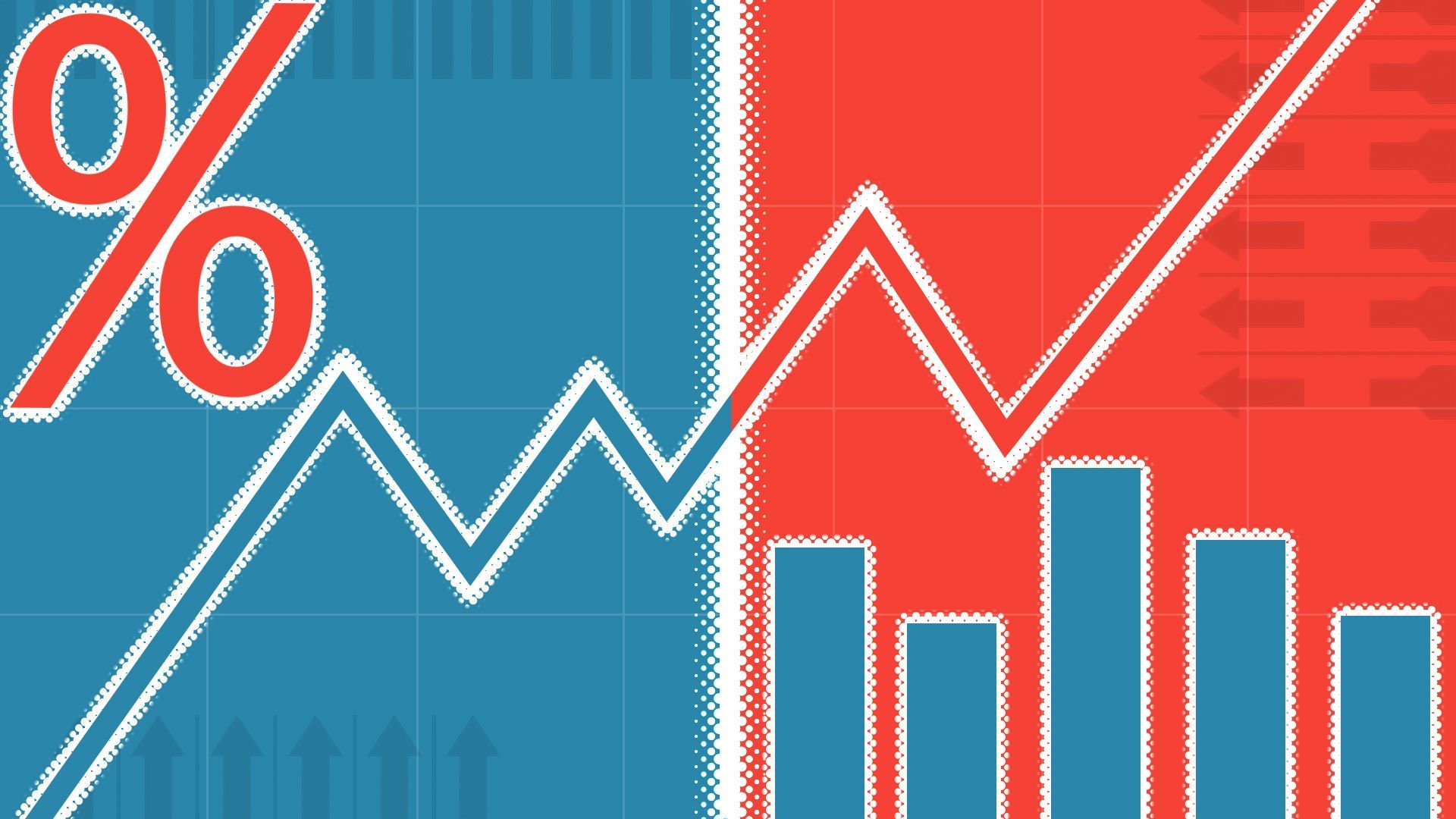 A new Wall Street Journal poll on the 2024 presidential race shatters much of the conventional wisdom about the political state of play.
Why it matters: The survey punctures many of the perceived advantages that DeSantis held against Donald Trump.
Asked whether Trump or DeSantis "cares about" voters more, Trump held a 14-point edge among GOP voters. More than half of Republicans felt Trump was more of a "strong leader" than DeSantis, who lagged by 32 points in that category.
Even electability wasn't a significant advantage for DeSantis: Just 41% of GOP primary voters believe DeSantis would have the better chance of beating Biden, while 31% said Trump would be the stronger candidate.
The big picture: The poll also suggests Trump has a path to victory against Biden, despite the former president's considerable baggage. It found that Biden's unfavorability rating is exactly the same as Trump's (57%). Nearly half of voters view both the current and former president "very unfavorably."
Overall, DeSantis holds a three-point advantage over Biden in a general election, while Trump trails Biden by three. Both are within the margin of error.
But DeSantis' small general election advantage isn't helping him in the Republican primary. After leading Trump by 14 points (52%-38%) in a head-to-head test last December, he now trails Trump by 13 points (51-38%).
Go deeper: The other important finding from the poll that runs against the conventional narrative is that Biden's disapproval rating isn't quite as bad as it looks at the surface level.
Biden's overall unfavorability rating is an abysmal 57%. But while 49% view Biden "very unfavorably," the 8% that view him "somewhat unfavorably" also are overwhelmingly Biden voters.
Biden leads Trump by a whopping 39-point margin (54%-15%) among voters who disapprove of how both men have handled the office of president.
Worth noting: An NBC News poll released Sunday indicated that a majority don't want a Biden-Trump rematch in 2024.
70% of respondents said they didn't want Biden to run for re-election. 60% said the same about Trump.
Biden's age was listed as a major reason for 48% regarding their stance on his potential 2024 campaign. The president is 80 years old and would be 86 at the conclusion of a second term.
Trump's indictment for 2016 hush-money payments did not factor into decisions from voters surveyed. Only 18% listed the charges as a major reason the former president shouldn't run, and another 21% said it was a minor reason.
The bottom line: If we're headed for a Biden-Trump rematch, it's going to be a close race — even if Biden starts out with a small edge. Democrats who believe that Trump would be the easiest candidate to beat may be falling prey to the same false narratives of the 2016 campaign.
Methodology: The Journal poll was conducted April 11-17 by Impact Research and Fabrizio, Lee & Associates. The poll is based on a sample of 1,500 registered voters, with a margin of error of ± 2.5 percentage points.
The margin of error was ±4 percentage points among a sample of 600 likely Republican primary voters.
The NBC News poll was conducted April 14-18 by Hart Research Associates/Public Opinion Strategies. The poll is based on a sample of 1000 adults, with a margin of error of ±3.10 percentage points.
Among approximately 800 registered voters surveyed, the margin of error is ±3.46 percentage points.
Go deeper