When humans and machines share a canvas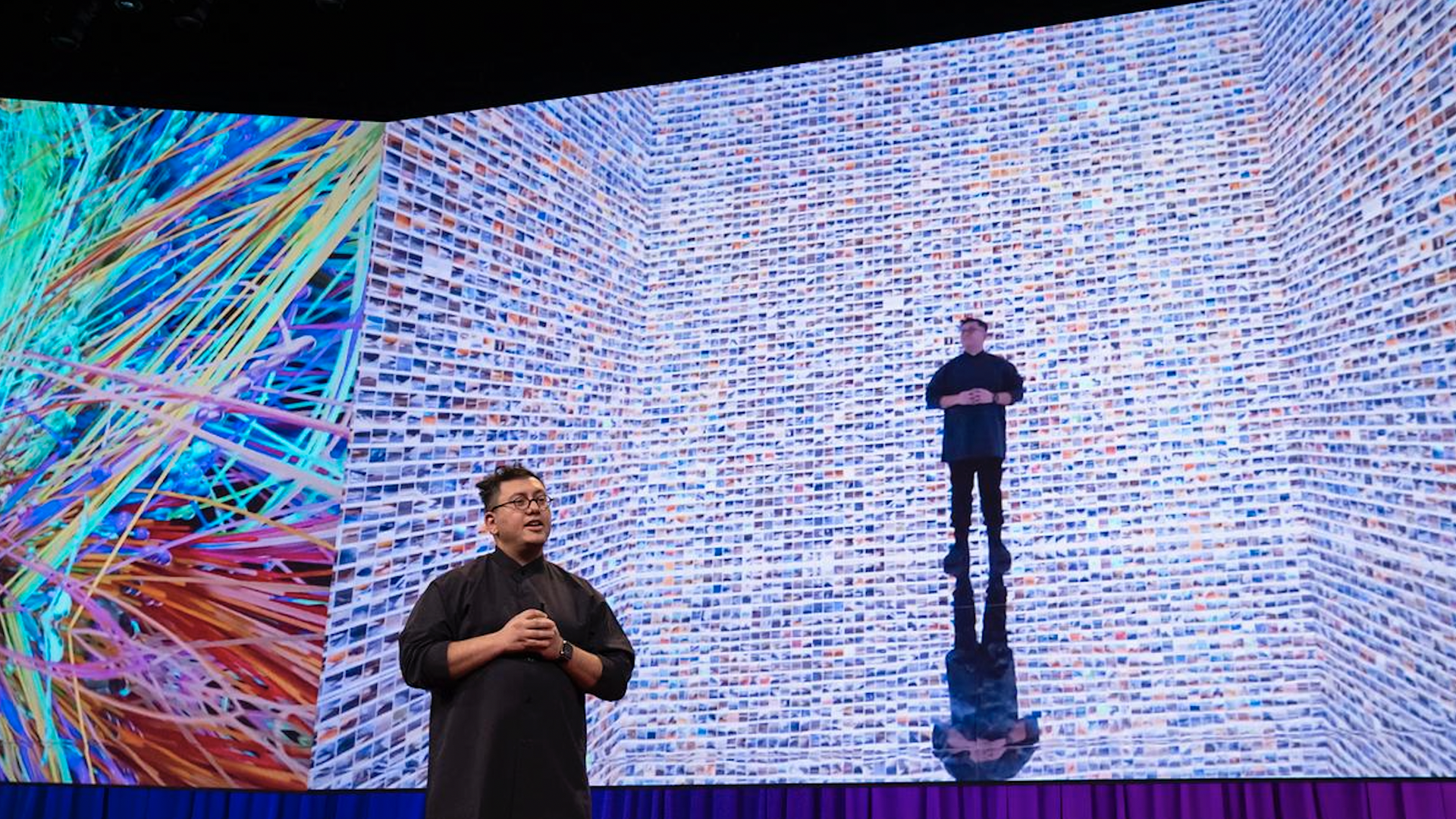 While many fret that AI threatens to take opportunities away from human artists, several practitioners took to the TED stage on Thursday to show the power that can emerge when they collaborate with technology.
Why it matters: Questions around AI are often framed as a battle between man and machine, ignoring what's possible when they team up instead.
Driving the news: TED devoted a session Thursday afternoon highlighting ways that cutting-edge artists are engaging with AI.
K Allado-McDowell, an artist who works at Google on a program connecting artists with AI, said the novel they wrote with GPT-3 contained both characters and story arcs that could only have emerged from collaboration.
"Together we created something more compelling and imaginative than either would have alone," Allado-McDowell said.
Data-driven artist Refik Anadol, based in LA, has been working with AI systems for the last seven years, capturing the sounds, sights and even smells of nature to both preserve existing life forms and generate new digital lifeforms.
"My hope is that one day AI becomes a mirror that can reflect collected memories of all humanity," Anadol said.
AI creator Bilawal Sidhu, who works out of Austin, showed how AI can allow artists to capture and transform real-world settings, from living rooms to forests.
Sidhu accomplishes this using neural radiance fields, known as NeRFs — a mathematical technique that uses neural networks to create on-screen 3D images out of 2D images.
In one example, Sidhu redecorated the sitting room in his parents' house, and in another he took a daytime scene of cherry blossoms and created an enchanted evening view.
"If you squint, I'm sure you can see how this is going to transform architecture and interior design forever," he said.
Reality check: AI-infused creations have already started to find a place in the art world — such as Anadol's artificial coral display at the World Economic Forum, or this exhibit in San Francisco.
At the same time, the traditional art and photography worlds are struggling to figure out what to do with art that is made using AI.
Earlier this week a German photographer rejected a prestigious award, revealing that his prize-winning image was in fact AI-generated.
Now that anyone can type in a prompt and produce an image, Allado-McDowell said, a flood of AI imagery is inevitable.
"It's mostly going to be garbage that comes out of it," they said, but that need not rule out the emergence of truly great works.
"AI it is a new art medium and it requires a new genius to show us what is really exciting," they said.
Between the lines: Some argue that artists can actually help the rest of society adjust to the dawn of the new technological era.
"We are inherently drawn to things we cannot understand," curator and artist Eileen Isagon Skyers said during another Wednesday TED talk.
Yes, but: There was little discussion during the TED session of the economic impact AI will have on artists.
Photography may not have made painting go away — but it did greatly disrupt the commercial art business.
Especially in a time of cost-cutting, many writers and illustrators worry that employers will decide purely AI art is "good enough" to take their jobs.
Go deeper