Why more states are decriminalizing fentanyl test strips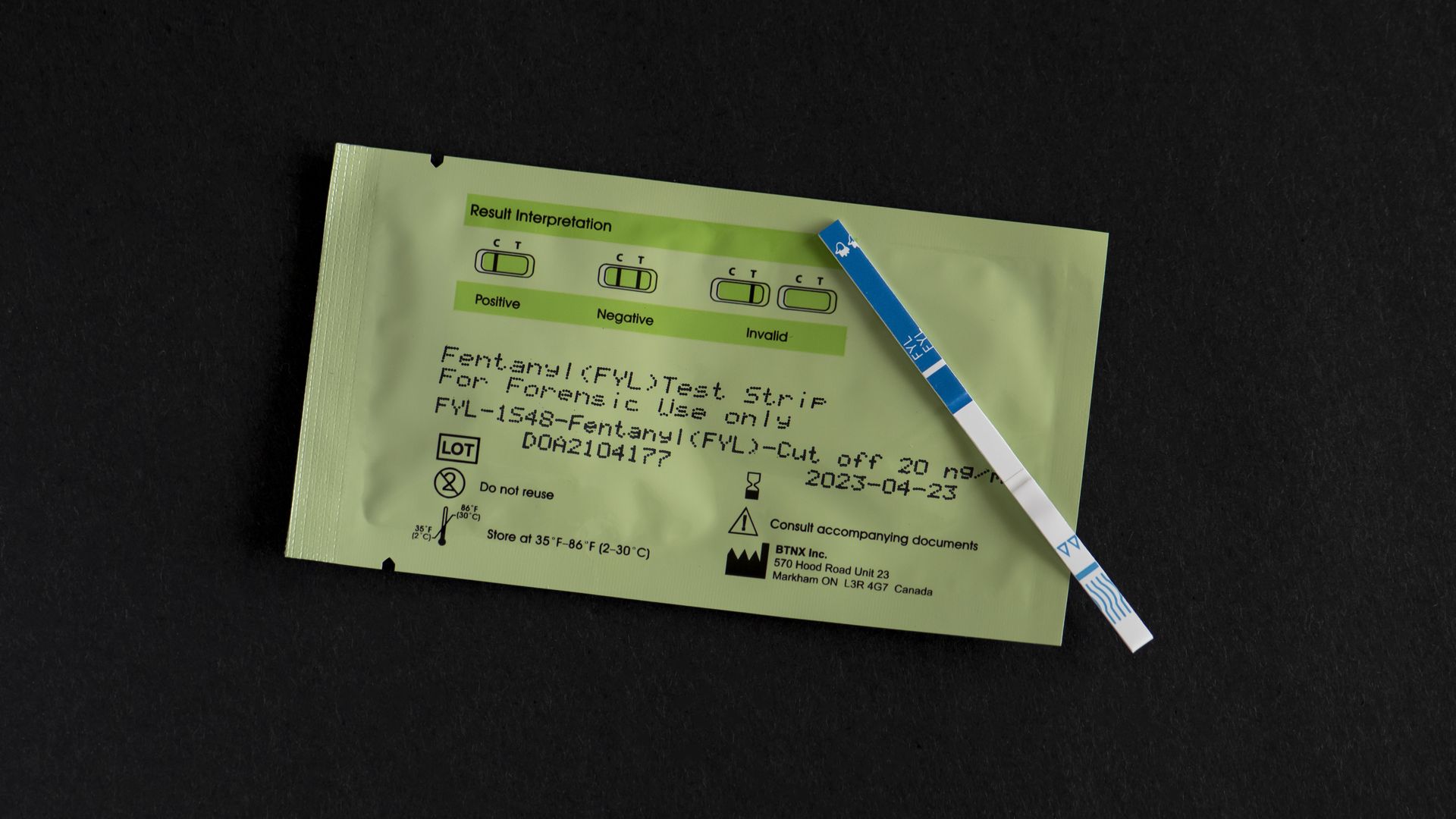 More red states are moving to decriminalize test strips used to detect fentanyl in illicit or counterfeit drugs as the substance becomes a leading killer of adults under 50.
Why it matters: The paper strips can reduce fatal overdoses, especially in instances when people unknowingly consume fentanyl-laced pills that look like prescription drugs.
Yes, but: Until recently, many states viewed the strips as drug paraphernalia that could embolden people to use substances shown to be free of fentanyl. That stance is at odds with harm reduction advocates, the American Medical Association and the Biden administration.
Prosecuting possession or distribution of test strips has stymied their widespread use as an overdose prevention tool.
Some studies have shown people alter drug use after detecting fentanyl with a test strip, by taking precautions like limiting dosages or having the overdose reversal drug naloxone on hand.
How it works: The CDC recommends mixing about 10 milligrams of a drug someone plans to ingest with water, dipping the strip in for 15 seconds and waiting two to five minutes for a result.
One stripe means fentanyl is present. Two indicates that none was found.
State of play: Governors in 16 states have signed legislation legalizing the strips since January 2022, according to the Network for Public Health Law's tracker, bringing the total to 36 plus the District of Columbia.
Thirteen of the 16 have Republican-controlled legislatures.
At least 10 of the 14 states where the strips are still illegal to use have proposals to change their drug paraphernalia laws to exclude the strips. Nearly all are Republican-led.
Mississippi, Kentucky and Utah are among the latest to decriminalize them, with laws taking effect this summer.
Texas and Florida, two major Republican strongholds, have had bills almost unanimously endorsed by one chamber and await the other's vote in upcoming weeks.
What's happening: In states where they're legal, test strips can be sold in pharmacies and handed out by public health departments, harm reduction organizations or clinics.
"If we can just get people to pause long enough to think about what they're ingesting, that's huge," Kentucky state Rep. Kim Moser (R), who led the effort in her state, told Axios.
Kansas House Rep. Stephen Owens (R) told Axios he didn't support decriminalization until learning how the test strips can "allow one more person to live another day, to get treatment and to turn their life around."
Viewing them as a tool to protect people, like EPI pens, also helped persuade Utah's Republican-controlled House, said Utah state Sen. Jennifer Plumb (D), an ER doctor who introduced the bill.
"Just because we give someone an EPI pen doesn't mean they immediately go home and say 'Alright, we're firing up a peanut butter sandwich because we have this EPI pen now," Plumb told Axios. "That's not how humans work."
Zoom in: Not all legislators are buying into the change. In Kansas, the Senate has stripped the necessary language out of a bill unanimously approved by the House earlier this year.
Others like Iowa have blocked fentanyl test strips but are moving forward with harsher fentanyl penalties for possession and distribution, which some advocates say will do little to stop the rise in overdoses.
Between the lines: Updates to laws have largely applied to fentanyl at a time when stronger drugs like nitazenes — a synthetic opioid that test strips don't detect — are piercing the drug supply.
Xylazine-mixed fentanyl, which the White House declared an emerging threat this week, has test strips that recently became available but would be illegal to carry under most current laws.
Fentanyl test strips also have limitations and don't reveal how much of the substance is in a sample or whether it was made illicitly or came from a pharmacy.
While advocates say the strips might be most helpful for people who occasionally use illicit drugs, the average $1 cost can add up quickly for more frequent users.
Of note: Fentanyl test strips won't fix the larger socioeconomic issues that often drive drug use, such as poverty, homelessness and gun violence, said Rachel Winograd, who leads the Addiction Science, Practice, Implementation, Research, & Education Lab at the University of Missouri-St. Louis.
But, Winograd added that "In the absence of a regulated drug supply where you can trust that ... what you're using is what you think it is, then we have to get more creative."
Go deeper