Fentanyl-positive patients usually had additional drugs in their systems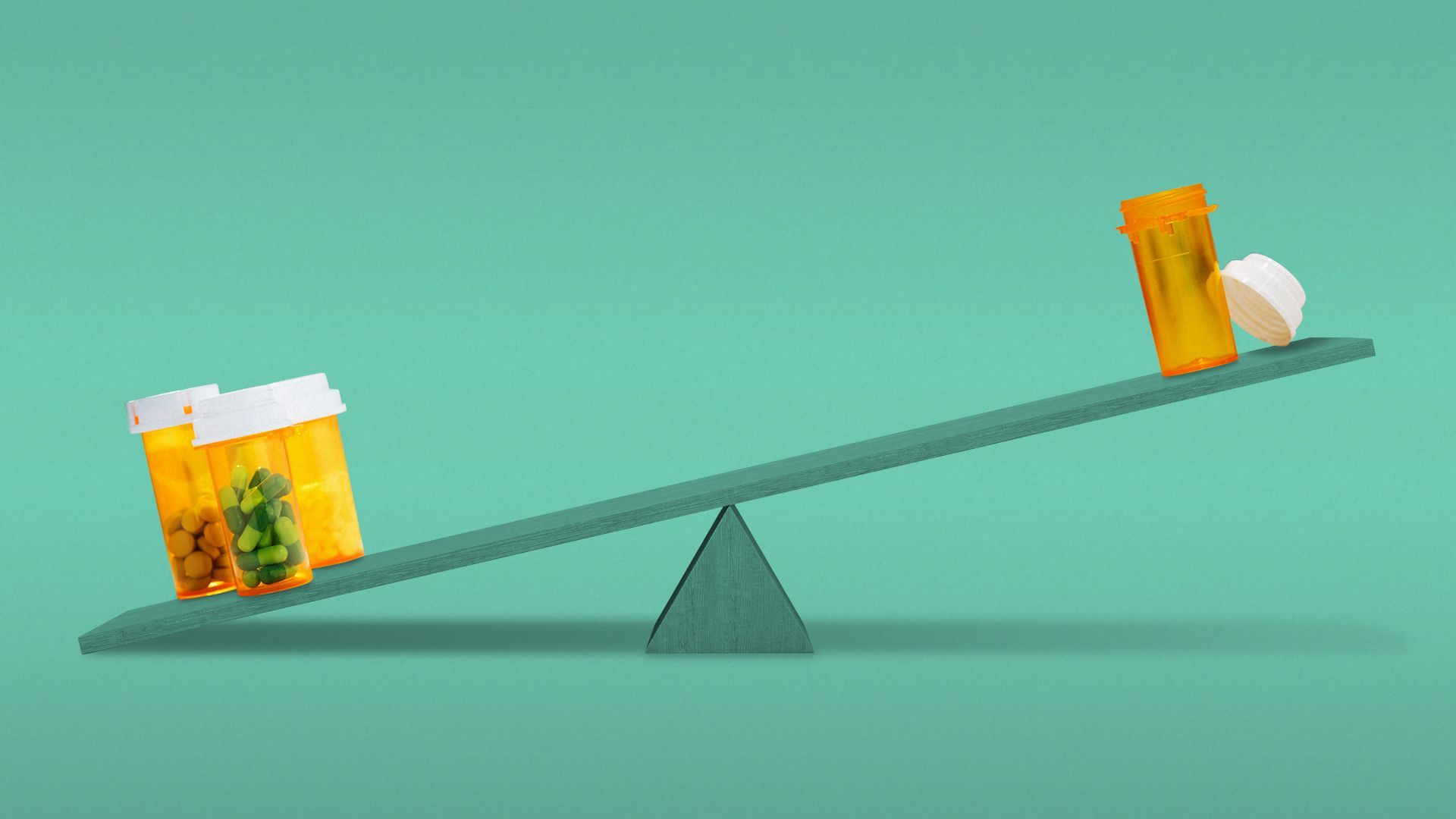 Nearly every person that tested positive for fentanyl last year also had signs of other substances including methamphetamine and heroin, according to a new report from Millennium Health. That's a more than 60% increase from 2019 and an all-time high.
Why it matters: Multiple substances in one's body can increase overdose risk and complicate treatment options, researchers told Axios.
"It's not really opioid use disorder," said Eric Dawson, Millennium Health's vice president of clinical affairs. "It's polysubstance use disorder. And that's a complex picture."
Most in-office testing is also not equipped to immediately detect each drug, Dawson said.
By the numbers: The analysis of 4.5 million drug tests from over 600,000 patients in substance use treatment centers found that more than 43% of fentanyl-positive tests were positive for up to three additional drugs.
The most common were methamphetamine, prescription opioids, cocaine and heroin. But overall use of heroin and prescription pills — two substances that drove the earlier days of the addiction crisis — is declining.
Fentanyl analogs — the illegal and often deadlier alterations of prescription painkillers — were found in more than 60% of fentanyl-positive drug tests nationwide.
Among heroin-positive drug tests, almost all of them also had fentanyl. For those testing positive for prescription opioids, it was nearly 70%.
The co-detection of meth with fentanyl almost quadrupled since 2019 and remains the second-most used drug in substance use treatment centers.
Zoom in: Every single part of the U.S. is seeing an increase in fentanyl drug use since 2019, but the West saw spikes 10 to 11 times higher than those reported in 2019, per the report.
The co-detection of fentanyl and meth was almost 12 times greater on the West Coast in 2022 and at least nine times higher than percentages seen in the eastern part of the country.
The overlap of fentanyl and heroin or fentanyl and prescription opioids were also highest in the West.
In most cases, users are not intending to get fentanyl, Angela Huskey, Millennium Health's chief clinical officer, told Axios. "The user is seeking a Vicodin, oxycodone, an Adderall — something they have taken before ... that they believe they know the effects of."
The bottom line: The geographic differences in polysubstance use has implications for treatment and suggest that a one-size-fits-all approach might not be successful, Huskey said.
Go deeper