Jan. 6 defendant accused of firing at police before planned FBI surrender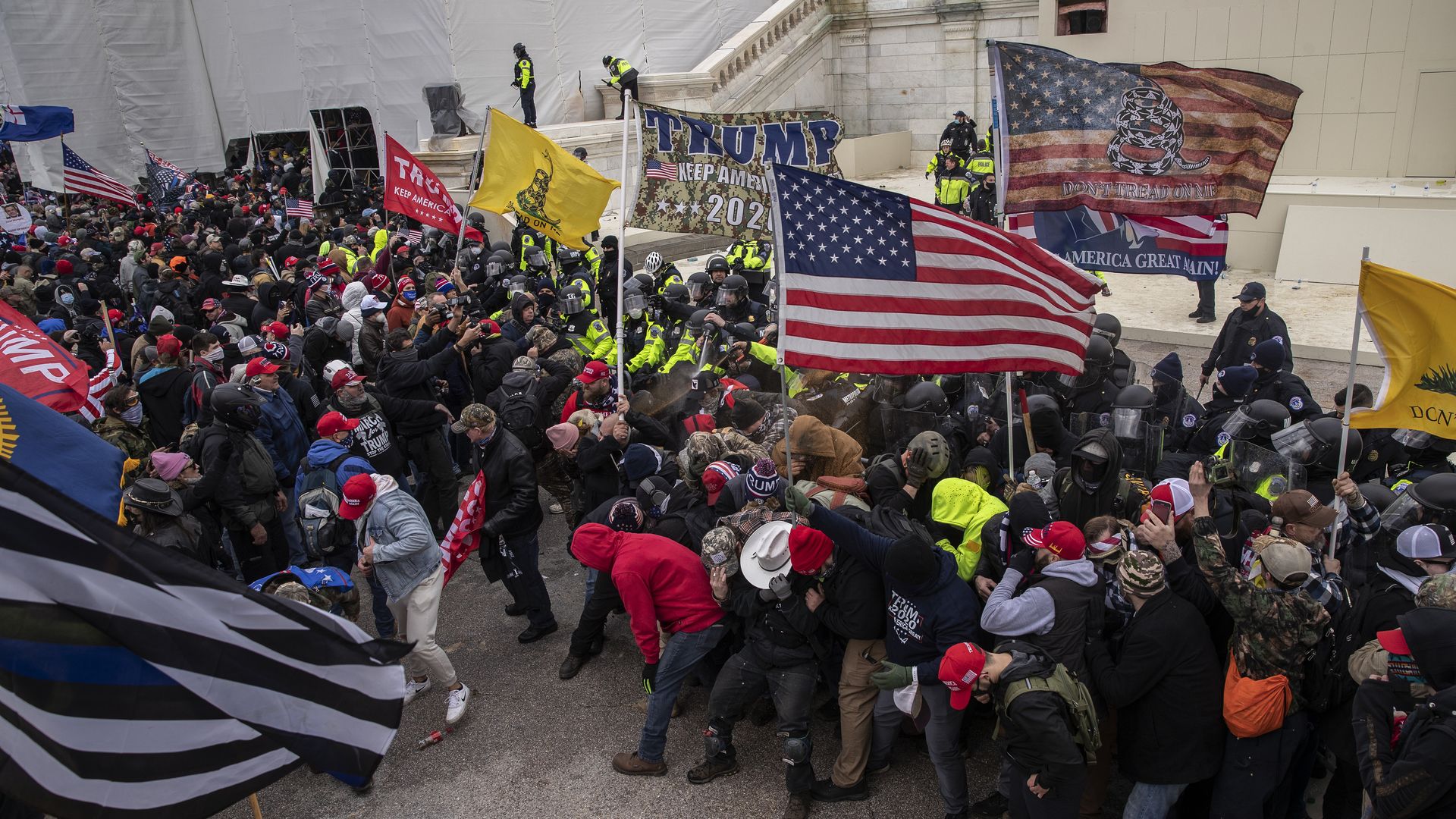 A Texas man charged with four misdemeanors from his alleged participation in the Jan. 6, 2021, Capitol riot opened fire at local police a day before he was set to surrender to the FBI, the U.S. Attorney's Office for the Northern District of Texas said on Thursday.
Why it matters: The man, Nathan Pelham, 40, of Greenville, Texas, now faces a federal firearm charge in addition to the Jan. 6 misdemeanors, which were filed against him by federal prosecutors in D.C. last week.
If found guilty of the charges, Pelham, a previously convicted felon, could receive up to three years in prison for the misdemeanors and up to 15 years for the felony gun charge.
The big picture: Northern District of Texas said Pelham was informed of the misdemeanors by an FBI agent on April 12 and agreed to surrender on April 17.
On the evening of April 12, officials from the Hunt County Sheriff's Office went to Pelham's residence for a welfare check in response to a call from a relative, who told deputies Pelham had a gun, the attorney's office said.
When deputies arrived on the scene and flashed their emergency lights, Pelham's daughter exited the home and was placed into a patrol car before deputies allegedly heard gunshots coming from the residence.
Roughly an hour later, Pelham then exited his house and allegedly fired multiple shots toward several deputies from his porch before re-entering his home.
He emerged again roughly an hour later and allegedly fired more rounds toward law enforcement officials, who left the scene in the early morning hours of April 13 without making an arrest. No injuries were reported.
Pelham was arrested on Jan 6 charges on April 17 and was later officially charged and arrested on firearm charge on Tuesday, though he was already in custody.
He made his initial appearance before a federal judge on Wednesday.
A search of his home revealed a Smith & Wesson 9mm pistol, four boxes of ammunition and several 9mm sized holes in the walls.
In relation to the Jan. 6 riot, Pelham was charged with entering and remaining in a restricted building or grounds, disorderly conduct in a restricted building or grounds, disorderly conduct in a Capitol building or grounds and demonstrating in a Capitol building or grounds.
A statement of facts accompanying the charges said Pelham attempted to leave the U.S. for Canada on March 17, 2021, but was denied entry by the Canadian authorities.
He was detained by U.S. Customs and Border Protection, which later discovered photos and video of Pelham near a door to the Capitol on Jan. 6 through a search of his phone, according to the statement.
In at least one photograph, Pelham was wearing a hat with a logo associated with the Proud Boys, a far-right extremist group
Go deeper: Over 1,000 people now face charges in connection to Jan. 6 riots
Go deeper