Hamas and Abbas make separate trips to Saudi Arabia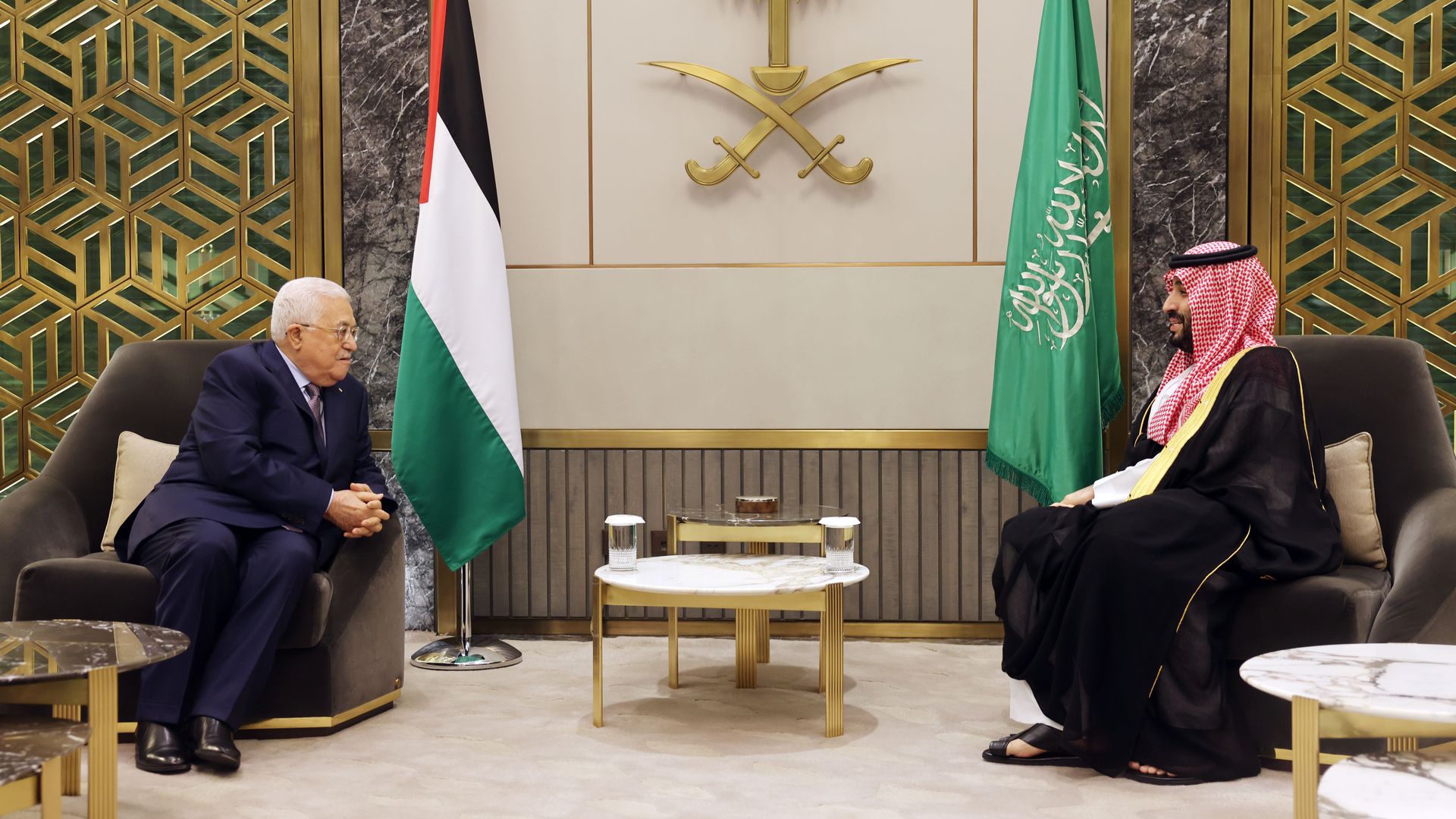 A delegation of senior Hamas officials is visiting Saudi Arabia for a Muslim pilgrimage and meetings with Saudi officials, the organization announced this week.
Why it matters: It's the first time senior Hamas leaders have visited Saudi Arabia since 2015. The visit appears to be part of a rapprochement effort with the kingdom. It also comes as Palestinian President Mahmoud Abbas makes his own trip to Saudi Arabia.
In recent years, the Saudis have cracked down on Hamas operations in Saudi Arabia and arrested dozens of its operatives.
Driving the news: The Hamas delegation is headed by Ismail Haniyeh, the head of Hamas' political bureau, and Khalid Mashaal, the head of Hamas' international branch.
The official reason for the visit was a pilgrimage to Mecca. Videos of Hamas leaders visiting the holy sites circulated on social media on Tuesday.
The delegation is expected to meet Saudi officials and discuss the ties with Saudi Arabia and the issue of Hamas operatives that are detained in the kingdom, according to reports on websites close to Hamas.
The Saudi government released at least one Hamas official from prison ahead of the visit.
The other side: On the same day the Hamas delegation arrived in Saudi Arabia, Abbas landed in Jeddah for an official visit.
Abbas on Tuesday night met with Saudi Crown Prince Mohammed bin Salman and discussed the situation in the occupied West Bank and Jerusalem.
A Palestinian official said the trip was planned long in advance and is focused on improving the bilateral relations with Saudi Arabia and discussing Saudi aid to the Palestinians.
What to watch: The two visits raised expectations that the Saudis may again try to mediate a Palestinian reconciliation agreement.
Abbas and Haniyeh in 2007 signed an agreement in Mecca to form a unity government, but the deal broke down several months later when Hamas seized control of the Gaza Strip. The Saudis blame Hamas for the failure of the agreement.
The big picture: The two visits are part of a broader diplomatic push by MBS to normalize Saudi relations with key players in the region.
Saudi Foreign Minister Faisal bin Farhan on Tuesday visited Damascus and met Syrian President Bashar al-Assad. It was the first such visit in more than a decade.
The Saudis are hoping to bring Syria back into the Arab League during the Arab summit next month, but several Arab countries still oppose it.
Go deeper