GOP senators dig in against Feinstein committee swap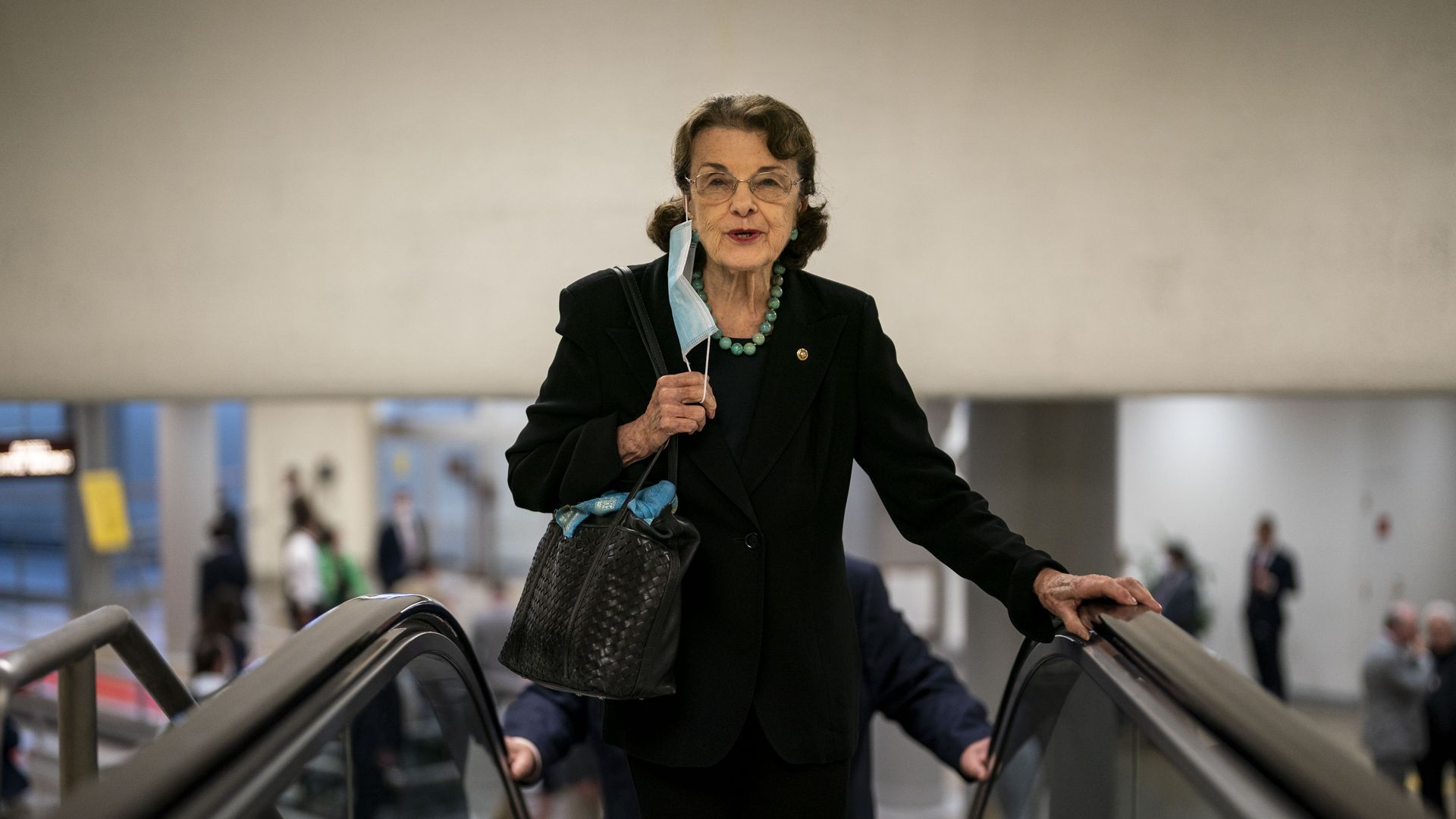 Top Senate Republicans on Monday signaled widespread opposition within their conference to temporarily replacing Sen. Dianne Feinstein (D-Calif.) on the Senate Judiciary Committee.
Why it matters: Republicans said temporarily replacing a senator on a committee is a virtually unprecedented action – but that if Feinstein resigns, the more routine task of filling her seats would be an easier lift.
Feinstein's prolonged absence after being hospitalized for shingles in March has stalled Democrats' efforts to advance judicial nominees.
"It hasn't happened before," Sen. Deb Fischer (R-Neb.) said of temporarily swapping a committee seat. "I see the predicament that the Democrats are in, but they need to settle that."
The state of play: More than a half dozen Senate Republicans, including members of leadership, told Axios they would vote against Senate Majority Leader Chuck Schumer's (D-N.Y.) effort to temporarily substitute Feinstein.
"I don't think there is any appetite on our side to help what we consider to be controversial or unqualified nominees to get confirmed," said Sen. John Cornyn (R-Texas).
Even moderate Sen. Susan Collins (R-Maine) said she opposes the move: "There has been a concerted campaign to force her off the Judiciary Committee, and I think that's wrong and I won't be a part of it."
The maneuver is subject to the 60-vote filibuster threshold, so Democrats need ten Republican votes.
Zoom out: If Feinstein resigns, that is a "whole different scenario which happens around here with some frequency," said Sen. John Thune (R-S.D.), the Senate minority whip.
Thune suggested Democrats are "using this because they want to put pressure on her to resign, and they think this gives them a sort of lever."
"I think that would be [more uncontroversial] if there was a vacancy and we were talking about all of Sen. Feinstein's duties," said Sen. Thom Tillis (R-N.C.).
"That would be a different set of circumstances … not on a temporary basis," said Cornyn.
The other side: Blocking parties' efforts to fill committee seats could set a dangerous precedent, argued Judiciary Committee Chair Dick Durbin (D-Ill.).
"Tomorrow, this could happen to the Republicans," said Durbin, "They could find themselves in a vulnerable position through no fault of their own."
Asked if Democrats would consider changes to the filibuster, Durbin told Axios, "I hope it doesn't reach that." He also said he won't press her to resign: "I'm not going to push her into any other decision."
"The Dems are just getting back to vote now, we haven't had a chance to be in the same room," said Sen. Tim Kaine (D-Va.), "But I suspect we will be discussing it … I just hope she returns as soon as she can.
What we're watching: Some aides and senators in both parties insist that there's a chance negotiations could clear the logjam.
"We'll allow the leadership team to negotiate the appropriate path forward," said Sen. Mike Rounds (R-S.D.).
Go deeper