Climate-displaced Americans face discrimination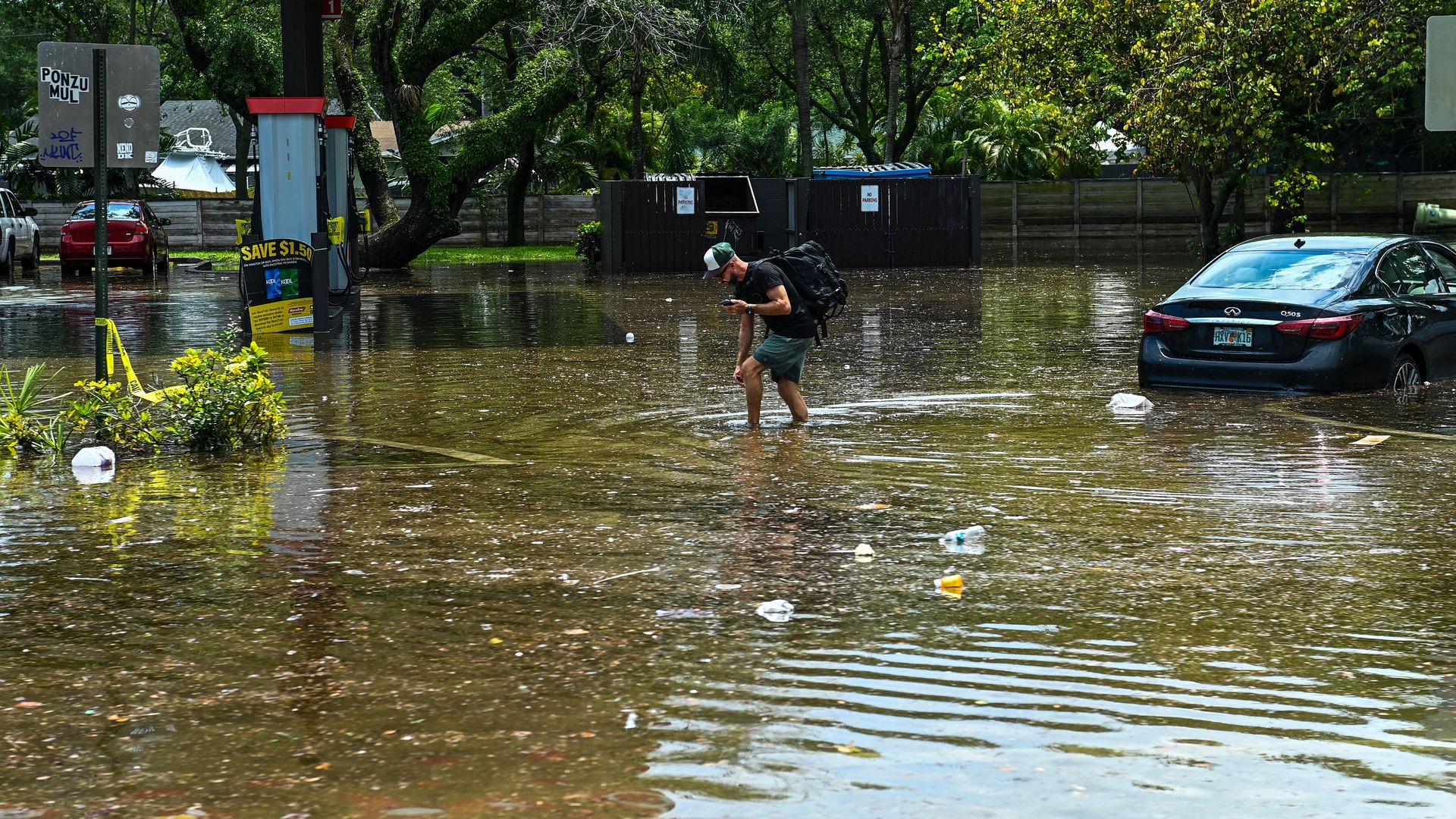 About one in three Americans reported in a recent Gallup poll that they have personally experienced an extreme weather event within the last two years.
Why it matters: Climate change is fueling more severe and common storms, floods and wildfires nationwide — and experts say disaster relief systems aren't built to withstand the resulting mass displacement.
Details: Roughly 3.4 million Americans were displaced by a hurricane, flood or other disaster event in 2022, according to 2023 Census Bureau data.
Around 16% of those displaced never returned home — and 12% didn't return for more than six months, per E&E News.
The big picture: A new analysis published by the Urban Institute, informed by surveys led by the University of Colorado Denver, looks at housing recovery for survivors of the climate-fueled Marshall Fire on Dec. 30, 2021, which destroyed 1,084 Colorado homes.
What they found: For households making less than $75k per year, 70% of survey respondents reported still being in the first stage of rebuilding — or the "pre-building permit" step.
This compares with just 38% of those making more than $200k who are in that same stage.
The analysis also revealed lower-income households have "greater levels of underinsurance."
And more than a year after the Marshall Fire, higher-income households are further along in their rebuilding than those with lower-incomes, according to study co-author Katherine Dickinson.
A Louisville, Colorado, resident, Dickinson — an assistant professor at the Colorado School of Public Health — says that while her house wasn't damaged, she lives only about a mile from the closest home that was lost.
Of note: There's a lack of clarity regarding things like FEMA aid or insurance coverage — especially for those affected by a disaster that aren't easily classified, according to Dickinson.
One example is the Marshall Fire survivors whose homes weren't destroyed, but still sustained damage — including lingering impacts from post-blaze air pollution that seeped into structures and threatened residents' health.
"There's a lot of attention and a set path for people who lost their home, but for folks that are still standing, they've found it difficult to get support and clear guidance on what they're supposed to do," says Dickinson.
Zoom in: Linda Anderson Stanley, attorney and senior program manager of Equal Justice Works' Disaster Resilience Program, tells Axios that the "staggering" number of Americans displaced after disasters spotlights how systems in place to protect people "don't actually work out that way."
This is especially the case for low-income communities who disproportionately face inequitable federal disaster recovery and resiliency efforts, according to Stanley.
"It's not the disaster itself that's discriminating," says Stanley. "Disasters don't discriminate. But many of the systems that we have in place do."
The intrigue: There are different levels to disaster displacement that contribute to this, according to Anne Junod, a senior research associate at the Urban Institute.
"There's a catastrophe, and you'll see social safety net services ramp up, you'll see it health services, you'll see nonprofits, you'll see large streams of funding supports that become available," says Junod.
She notes that "fast" and "slow" climate migrants — the former being those fleeing a single disaster event, while the latter are forced to eventually leave an area following compounding pressures from a series of climate-related hazards — don't have the same funding streams available.
Meanwhile: "Slow" climate migrants are not eligible for most disaster relief funding through FEMA or HUD.
Plus, existing application and eligibility barriers, such as documentation requirements for emergency housing or nutrition assistance, only magnify for climate-displaced populations.
Our thought bubble: As people across south Florida are left reeling in the wake of historic rainfall triggering damaging deluges, the region's position on the "frontlines" of the climate crisis could lead some residents to follow the lead of other "slow" climate migrants who have left areas like the Keys for less flood-prone land.
The bottom line: "How do you access bank statements ... that were washed away with your home?" says Junod.
Editor's note: This story was originally published on April 14.
Go deeper