Community disaster relief combats federal failures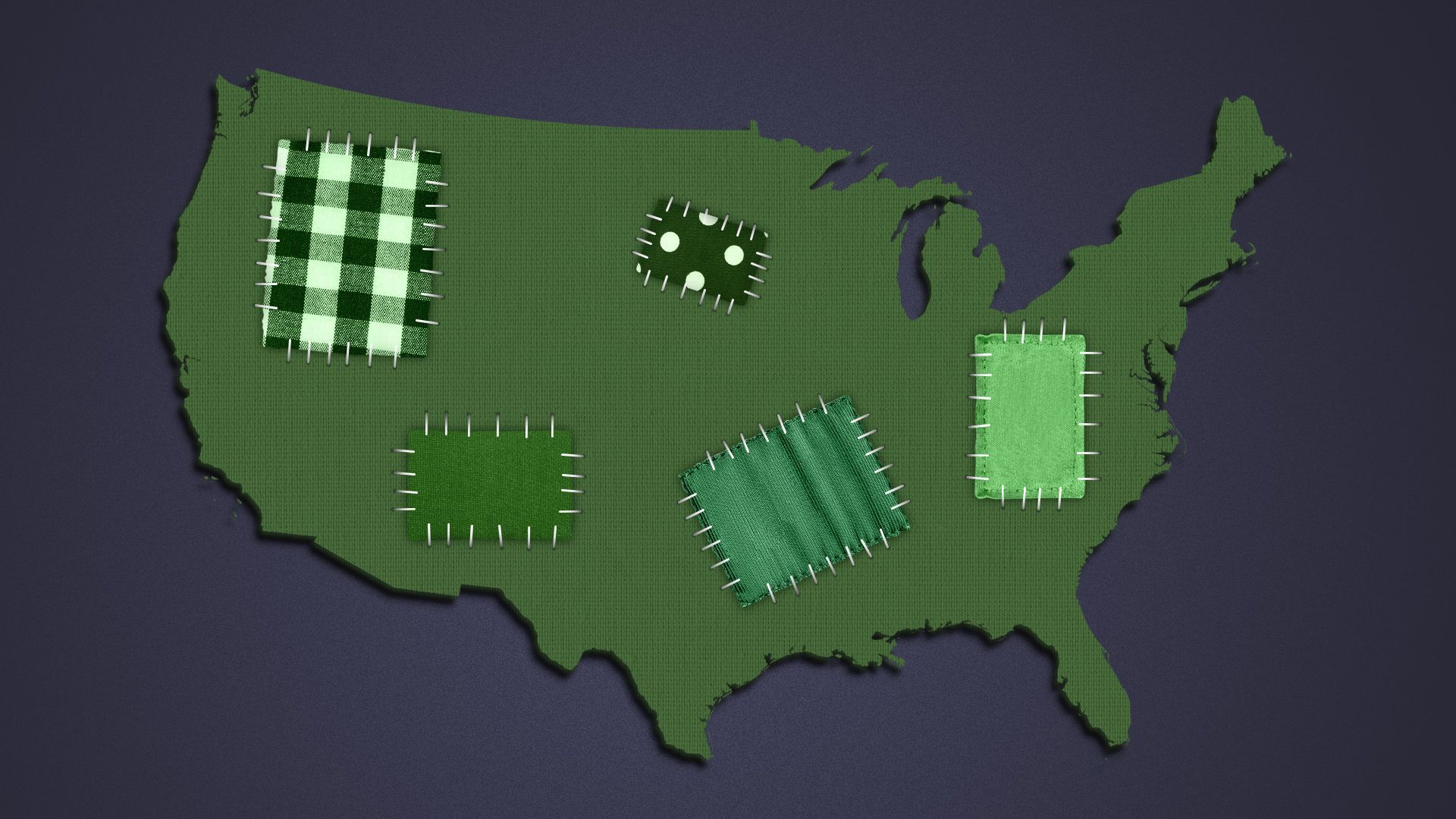 It's long been clear that uneven federal disaster recovery and relief efforts lead to exacerbated racial and social divides.
The big picture: From tracking disaster impacts, response and recovery for Black communities following a devastating tornado to providing food supplies to Latino farmers amid deadly wildfires, community-based organizations across the country are revising that narrative.
The main groups to know:
The Black Resilience Network, which is coordinating on the ground in Mississippi after several majority-Black towns were pummeled by one of the state's deadliest tornadoes last Friday.
Adelante Mujeres, which supports low-income Latina women and their families, is trying to minimize the impacts of disaster events like wildfires in Washington County, Oregon, where many residents work on farms and face food insecurity.
All Healers Mental Health Alliance, which works to facilitate culturally-aligned responses to the mental health needs of historically marginalized communities affected by disasters.
Feeding America, which operates more than 200 food banks that serve over 60,000 food pantries across the U.S., providing food and emergency supplies post-disaster.
The backstory: Black and Latino communities are among the most impacted by disaster events in the U.S., and also typically the last to receive both immediate and longterm federal aid.
Nnenia Campbell, deputy director of the Bill Anderson Fund and research associate with the Natural Hazards Center at the University of Colorado Boulder, tells Axios the disaster workforce needs to be developed "so it can better build and collaborate" with communities of color.
Driving the news: California's predominantly Latino farmworkers are facing loss of homes and livelihoods following back-to-back bomb cyclones.
And the predominantly Black town of Rolling Fork, Mississippi, where many residents live in mobile housing, which is exceedingly vulnerable to damage from disasters, has long been plagued by flood and tornado concerns, per the New York Times.
"It helps to shine a light on some of these communities that are hidden or forgotten about," said Annette Primm of the All Healers Mental Health Alliance, which is working with the Black Resilience Network (BRN) to support those impacted by the tornado.
Zoom out: BRN is advocating nationally for a reduction of inequities in disaster response and recovery at federal, private sector and nonprofit levels.
Last month, the newly-formed coalition of Black-led organizations and leaders — which works to advance racial justice through climate resilience — co-hosted a stakeholder's event with the Federal Emergency Management Agency and the Department of Homeland Security.
Since, they've launched an Emergency Operations Center, which includes the creation of "situation reports" by member organizations that will track the impacts, response, and recovery process for disasters on Black communities — which they are piloting in Mississippi.
What they're saying: "Being specific in who's most vulnerable matters. Naming the communities matter," says Atyia Martin, who founded BRN. "At large, Black communities disproportionately bear burdens of climate change and disasters."
Martin, who was also the first Chief Resilience Officer for the City of Boston, tells Axios that in Mississippi, they'll be providing technical assistance for organizations to support residents in applying for assistance through FEMA and other agencies.
Meanwhile: During a disaster, like last year's wildfires which spurred the evacuation of thousands across Washington and Oregon, the nonprofit Adelante Mujeres helps provide "culturally-appropriate" food and information to their community, according to health equity program manager Carla Fisanich.
"There's not enough information in Spanish," says Fisanich, adding that resources are lacking for those with limited English proficiency that tell you what to do in a disaster, or how to access food banks.
Threat level: Climate change is producing an uptick in the frequency and intensity of disasters like hurricanes, floods, heatwaves and wildfires.
Between the lines: In more disaster-prone places, this can mean a barrage of destabilizing events, which further exposes how the social processes that leave people vulnerable to food insecurity also leave them more exposed to disasters.
Vincent Davis, director of disaster services at Feeding America, says that's why it's important the nonprofit is embedded in communities before a disaster strikes.
Yes, but: Even so, Davis says Feeding America's food banks are "not necessarily connected during a disaster," which is why partnering with neighborhood community-based organizations is "essential."
"We [need to] galvanize that network nationally," says Davis. "So that we can respond quickly."
The bottom line: "Just like some of these communities have been hidden with the inequities that they live with day to day, our organizations have been hidden as well," says Primm. "I just hope that organizations like ours ... will get the kind of funding needed to move this forward."
Go deeper