What a deluged California means for farmworkers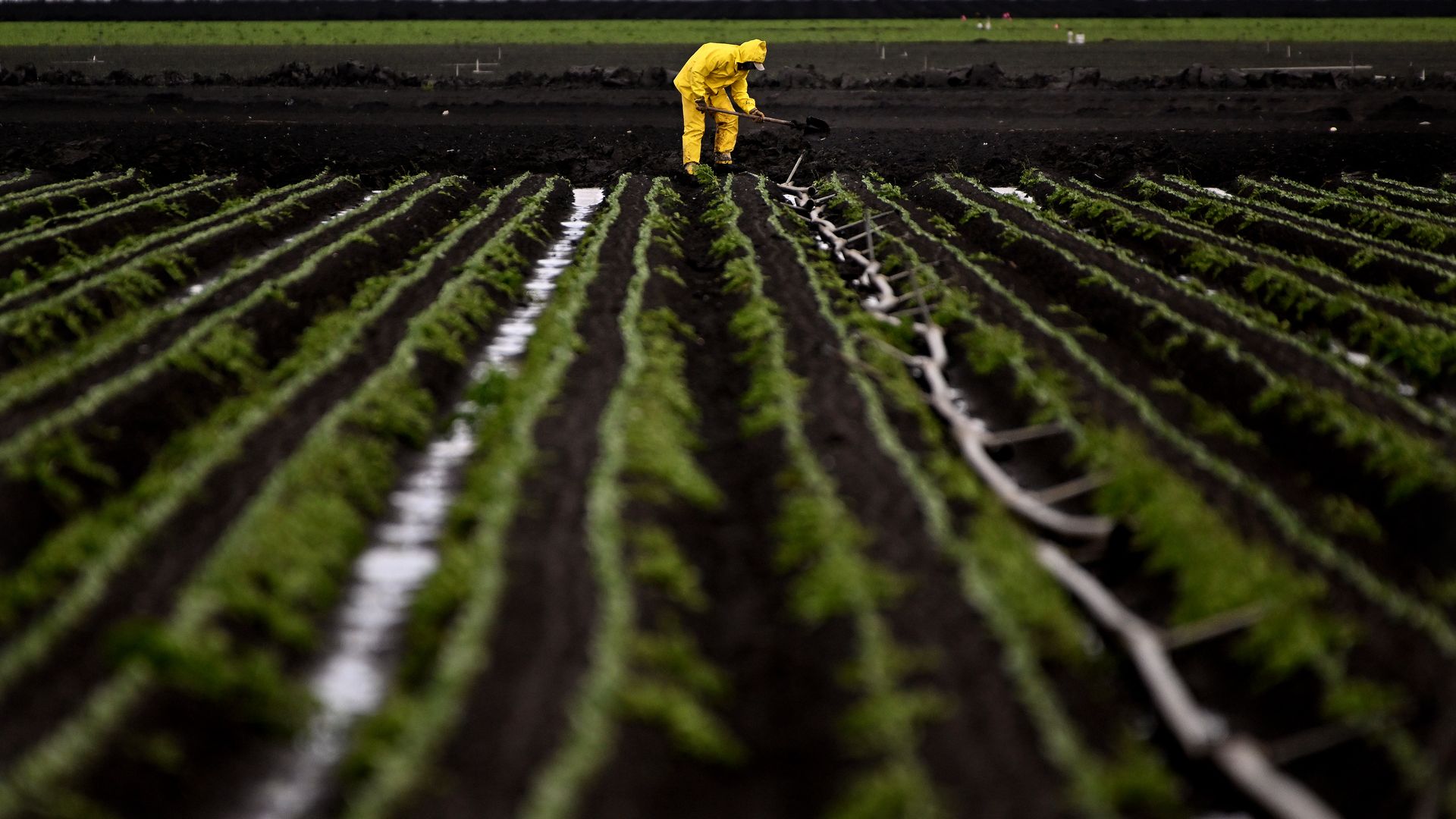 As the latest storm associated with a strong atmospheric river sweeps through California, already strained farmworkers across the state are bracing for yet another setback.
The big picture: The rounds of atmospheric river events have decimated crops and reduced work opportunities for many of the state's farmworkers, who lack access to social safety nets.
What they're saying: Hernan Hernandez, executive director of the nonprofit California Farmworker Foundation, tells Axios that lasting structural damages from the rounds of storms are compounding with the loss of work for farmworkers, particularly in Monterey, Santa Cruz, Santa Barbara and Ventura counties.
"Our concern is that we had a storm three, four weeks ago, right? It was bad, but it was nowhere near what we're seeing today," says Hernandez.
For many farmworkers, Hernandez says, "whole [crop] seasons are gone" and homes are "literally uninhabitable."
The latest: Hundreds of acres of strawberries — one of California's staple crops — in Monterey and Santa Cruz counties were submerged during last week's floods.
This week, thousands have been forced to evacuate ahead of the 12th atmospheric river since late December to hit the state's flood-ravaged areas. (Atmospheric rivers are long, narrow bands of air that can carry water vapor for thousands of miles.)
This follows January's deadly storms, which caused thousands of farmworkers to lose weeks of income and fueled a food crisis for the more than 90% of immigrants that make up California's farmworker workforce.
"Farmworkers cannot afford rent, and when you're telling them 'Hey, either your season got delayed for those few crops that were left,' or 'Now your season is completely gone' ... then they're waking up and thinking, 'How am I going to make ends meet?'" says Hernandez.
Zoom out: President Biden approved the state of California's emergency declaration request on March 10, making federal disaster assistance available to supplement state, tribal and local response efforts, per FEMA.
Yes, but: Federal disaster assistance is largely only available to people with "housing, business or personal property damaged" — which leaves out many farmworkers actively navigating loss of livelihood due to the floods.
How it works: Farmworkers face "limited" access to "FEMA-type resources," according to Amy Liebman, chief program officer at the Migrant Clinicians Network.
And for the public services they are eligible for in the aftermath of a disaster, like community clinics or emergency food banks, Liebman says there's a high likelihood that farmworkers without documentation avoid these resources as they "operate out of fear."
By the numbers: Nearly one-third to half of all farmworkers in the U.S. live in California, and approximately 75% are undocumented, according to the UC Merced Community and Labor Center.
More than two-thirds of the state's undocumented farmworkers live in Santa Cruz County, per the Center for Farmworker Families — an area that has been in the "bullseye" of several storms already this year.
Between the lines: When a disaster hits, food insecurity in farmworker households — "which is always an issue" — intensifies, says Liebman.
"There's these double whammies. From being low-wage workers with fewer protections ... and then also when you look at housing, sometimes that's directly tied to your employer ... it's like your livelihood, your housing, all of this stuff becomes at risk."
Threat level: Prior to the onslaught of flooding, prolonged drought has been "taking a toll" on the agricultural sector, "reducing water availability and increasing crop water demands," according to a 2022 Public Policy Institute of California brief.
Daniel Giménez, a Rutgers University professor of environmental science whose research includes soil health, tells Axios that as climate change events alter the water cycle, this alters soil health and consequently food production.
"Climate change is adding a new layer of complexity," says Giménez.
The bottom line: "We're talking about a population that is living day to day and 50% are undocumented," Hernandez tells Axios.
"So when their cycle's interrupted because of climate change, then they don't have any income to sustain their families, let alone keep a roof over their head."
Go deeper