Poland PM questions commitment of France and Germany on Ukraine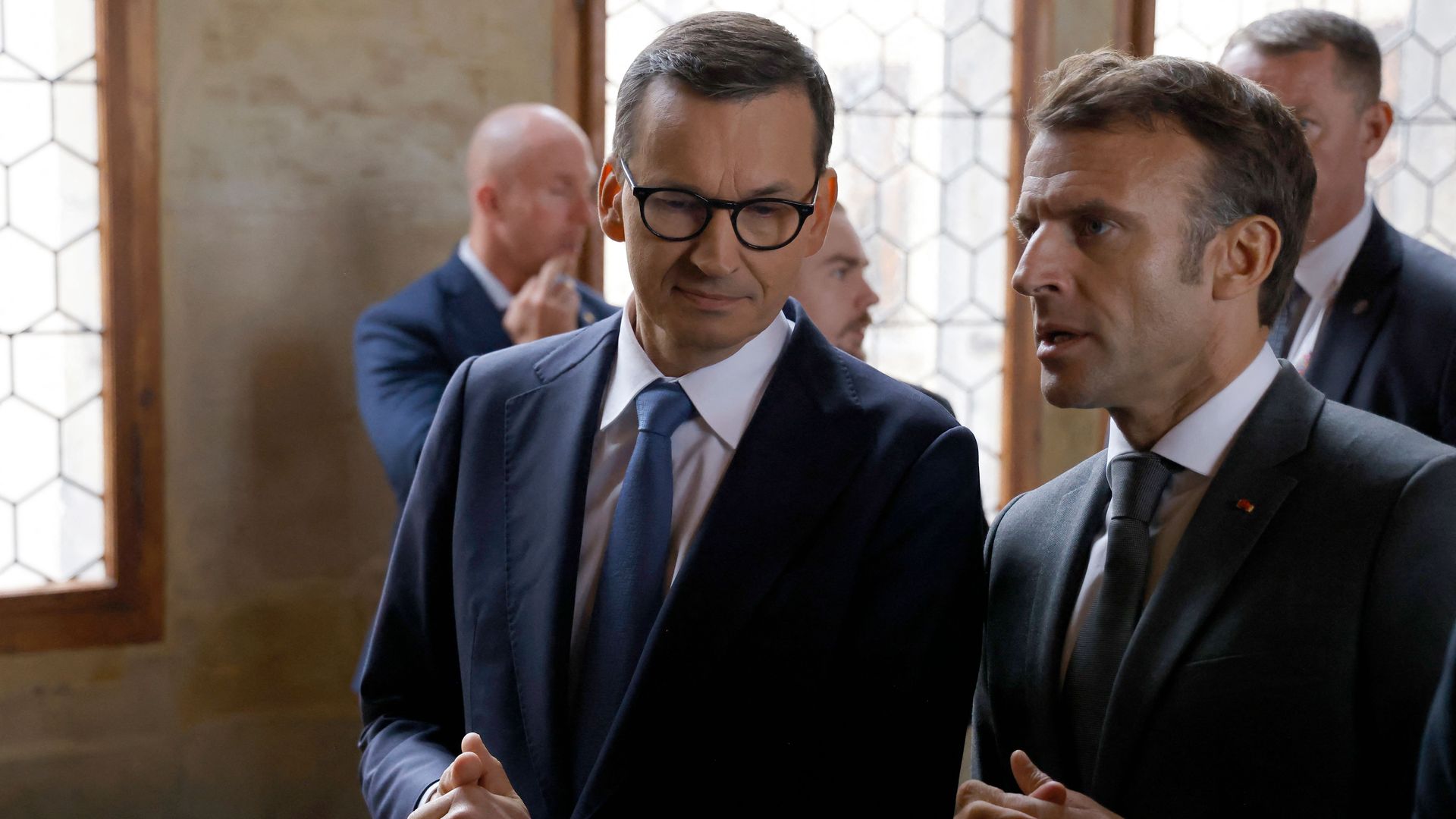 Polish Prime Minister Mateusz Morawiecki criticized some of his NATO and EU allies during an appearance in Washington on Thursday for offering insufficient support to Ukraine and cozying up to Beijing.
Why it matters: Although several European leaders have sought to downplay any divisions over those two key issues — the path forward on Ukraine and relations with China — Morawiecki expressed deep reservations about the positions of certain "Western European countries." Asked specifically about France and Germany by Axios, Morawiecki cast doubts on the commitment of both European powers to ensure a Ukrainian "victory."
What he's saying: "Germany and France would want Ukraine to win, I have no doubts about this, but to what extent they want to have this victory of Ukraine and to what extent they are able to engage their money, their weapons, their diplomacy to support Ukraine, I'm not sure," Morawiecki said.
He argued that countries, including the U.S., the U.K., the Baltic states, the Czech Republic and Poland, had all been more proactive in arming the Ukrainians.
Both France and Germany have said they will support Ukraine "as long as it takes." Both have also increased their military aid to Ukraine in recent months, pledging armored vehicles and air defense systems, though their contributions relative to GDP lag behind several other European countries, not to mention the U.S.
"They are great European powers, they are our friends and partners, but we would wish them to be more involved in this war in Ukraine in terms of really and deeply, wholeheartedly supporting Ukraine," Morawiecki added.
That answer was more diplomatic than what Morawiecki said about unspecified "Western European countries" during his opening remarks at Thursday's event, hosted by the Atlantic Council.
"There are politicians in Western Europe who want a ceasefire in Ukraine at any price, as quickly as possible," Morawiecki contended.
Morawiecki did not say whether he believed French President Emmanuel Macron or German Chancellor Olaf Scholz are in that camp. Later, though, he lambasted Macron's signature policy of "strategic autonomy" as something that "sounds fancy" but would only move Europe closer to China and further from the U.S.
Between the lines: Macron's push to make Europe a "sovereign" foreign policy power is unpopular with central and eastern European states for whom the U.S. is a critical security partner vis-a-vis Russia.
The French president made international headlines when he declared while in China on Sunday that European countries risked becoming "vassals" to the U.S. in its confrontation with China.
For his part, the Polish prime minister claimed some of the same countries who had grown deeply reliant on Russian energy were now "short-sightedly" preparing to become "more dependent" on China economically — a trend he said was underscored in recent trips by European leaders to Beijing (Macron and Scholz both visited).
State of play: The primary divisions between NATO allies on Ukraine have been over which weapons to provide, and whether Kyiv should be encouraged to soften its position that peace is possible only once Russian troops have left Ukrainian territory.
Worth noting: Morawiecki also said cooperation with Hungary — with whom Poland's nationalist government had allied in showdowns with Brussels over the rule of law and other issues — had decreased significantly due to Budapest's position on the war. Hungary has voted for sanctions on Moscow but repeatedly attempted to soften them first.
Go deeper