Updated Mar 17, 2023 -

World
Poland, Slovakia become first NATO members to offer Ukraine fighter jets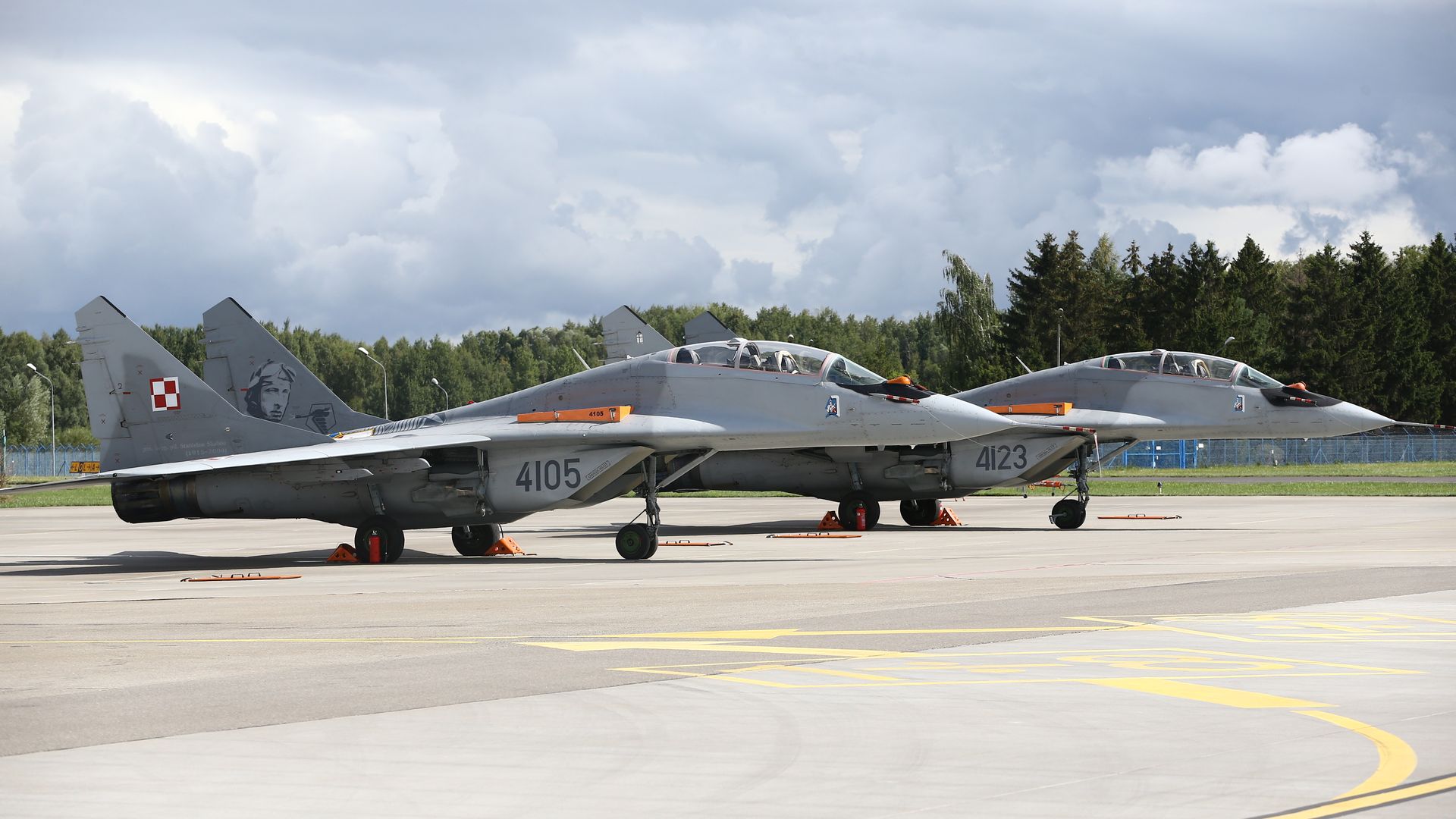 Polish President Andrzej Duda said this week that Poland will transfer four of its MiG-29 fighter jets to Ukraine in the coming days and plans to send others, as well.
The latest: Slovak Prime Minister Eduard Heger said on Friday that his country would send 13 of its MiG-29s.
Slovakia's fleet of 11 MiG-29s was retired last summer and many of them are currently not in operational condition, according to Reuters.
Why it matters: The transfers would make Poland and Slovakia the first and second NATO members to answer Kyiv's call for aircraft to help it further prevent Russia from securing air superiority over Ukraine.
The Ukrainian Air Force already operates MiG-29 jets, so they will likely be able to use the aircraft right away.
What they're saying: Duda said Poland will transfer additional planes after they have been serviced, AP reports.
Duda did not say whether other countries plan to join Poland in fulfilling Ukraine's request for aircraft. A Polish government spokesman said on Wednesday that other countries have also pledged MiGs to Ukraine, but he did not name them.
Heger said the military aid to Ukraine is to ensure it "can defend itself [and] the entire Europe against Russia."
Neither leader said when they expect Ukraine to receive the aircraft.
National Security Council spokesperson John Kirby told reporters during a call that Poland's decision did not change the Biden administration's position on supplying Ukraine with aircraft.
"It doesn't change our calculus with regard to the F-16," Kirby said, referring to the U.S. fighter jets sought by Ukraine. "It's not on the table right now."
The big picture: Ukrainian officials have been calling on European countries and the U.S. to supply Ukraine with fighter jets or establish a "no-fly" zone over the country since the start of Russia's invasion.
The U.S. in March 2022 rejected a plan from the Polish government to deploy Poland's entire fleet of MiG-29 jets to the U.S., which would have allowed the U.S. to transfer the Soviet-era aircraft to Ukraine's military.
That plan would've included backfilling Poland's MiG-29 fleet with American-made F-16 fighter jets.
Go deeper: Israel approves export licenses for anti-drone systems for Ukraine
Editor's note: This article has been updated with a quote from John Kirby and Slovakia's announced transfer.
Go deeper