Scoop: Israel approves export licenses for anti-drone systems for Ukraine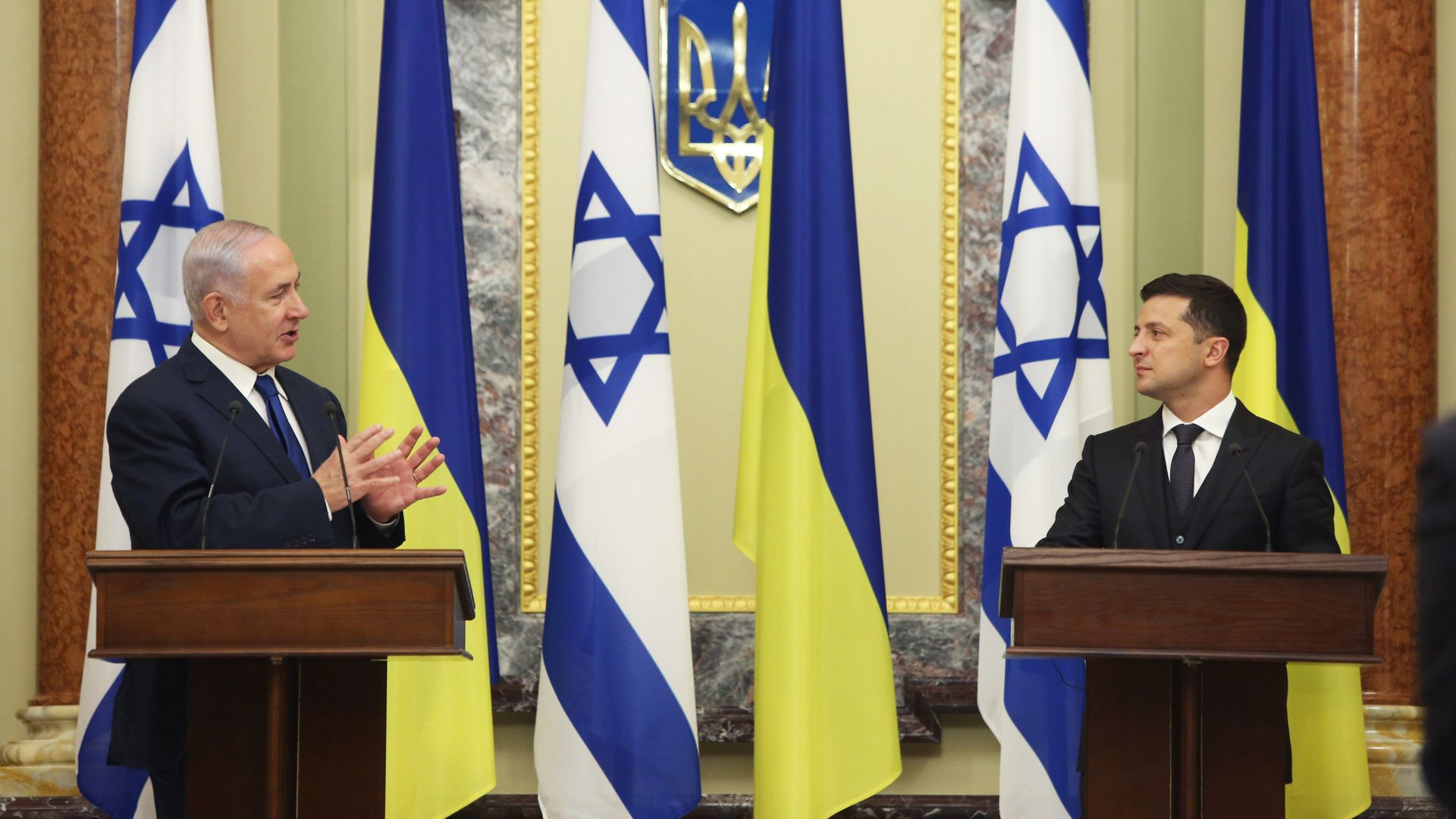 Israel recently approved the export licenses for the possible sale of anti-drone jamming systems that could help Ukraine counter Iranian drones used by Russia during the war, three Israeli and Ukrainian officials said.
Why it matters: It's the first time since Russia invaded Ukraine more than a year ago that Israel has approved defense export licenses for possible weapons sales to Ukraine.
Israel has been careful not to give military assistance to Ukraine, fearing such a move could create tension with Russia and harm Israeli security interests in Syria.
Driving the news: After Russia started using Iranian-made attack drones during the war, the Ukrainian government increased its pressure for Israeli military assistance.
Ukrainian officials have claimed that providing weapons systems to Ukraine is in Israel's best interest because Iran is able to gain information about how the drones perform and then make improvements.
Iran has acknowledged it delivered some drones to Russia before the war started, but denies doing so after the invasion began. Russia denies using Iranian-made drones during the war, despite growing evidence to the contrary.
Behind the scenes: The approval of the export licenses by Defense Minister Yoav Gallant and Foreign Minister Eli Cohen came in mid-February as Israel was conducting a Netanyahu-ordered review of its policy toward the war, the Israeli and Ukrainian officials said. That review has been completed but no new decisions have been made, according to Israeli officials.
Cohen notified Ukrainian President Volodymyr Zelensky about the approval during his trip to Kyiv on Feb. 15.
The licenses were approved for two Israeli companies — Elbit and Rafael — that develop anti-drone systems, Israeli and Ukrainian officials said.
A Ukrainian official told Axios that a delegation from Ukraine's Ministry of Defense visited Israel recently to get a presentation on the anti-drone systems. No deal has been signed yet.
The systems Israel proposed that Ukraine buy use electronic warfare to jam and down drones. The systems have a range of around 25 miles and can be positioned near power plants or other critical sites to protect them from drones.
The Ukrainian Defense Ministry is interested in the systems, but they are viewed as less critical because Ukraine has been able to intercept the drones between 75–90% of the time, the Ukrainian officials said.
"What we really need is a defensive system against ballistic missiles," a Ukrainian official told Axios.
What they're saying: Israeli officials claim the approval of the export licenses is not a shift in policy because the systems are defensive in nature and do not use any live fire that can kill Russian soldiers.
"Israel is assisting Ukraine in the defense and civilian fields. Every request is being reviewed according to the defense export policy to Ukraine. We don't elaborate on that for national security and foreign policy considerations," the Ministry of Defense said.
Between the lines: A senior Israeli official told Axios one of the reasons Israel approved the licenses was to possibly see how the defense systems perform against Iranian drones.
Go deeper