March inflation report hints at cooler price gains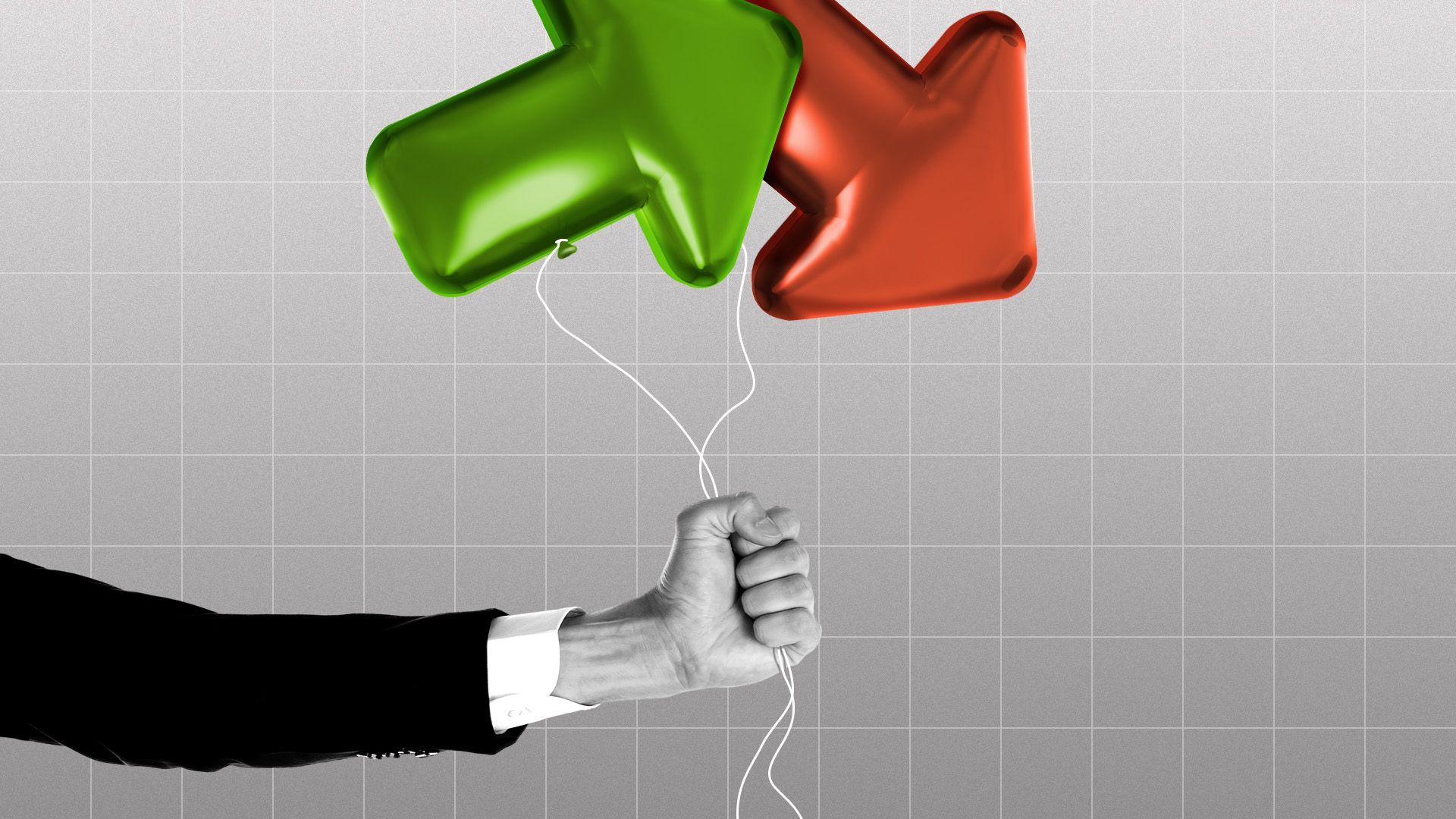 After worrying inflation data so far this year, March's numbers offer room for guarded optimism.
Yes, but: Price gains are still far too rapid, especially in sectors of the economy where inflation can be difficult to stamp out.
Still, there are signals of disinflationary relief, with more set to come in the months ahead, even if they're not on track to happen as quickly as the Federal Reserve (or consumers) would like.
By the numbers: Core inflation, which excludes food and energy prices, rose 0.4% last month, barely slowing from February's brisk pace. In the year through March, core inflation was 5.6% — higher than the overall inflation index (5%) for the first time since 2020.
Still, core inflation over the last three months, on an annualized basis, is 5.1% — higher than where it stood by the same metric in the final quarter of 2022 (4.3%).
The intrigue: Some key underlying details of the report pointed to downward inflation momentum.
Rent, part of the massive shelter category that's helped push up inflation for months, may finally be reflecting the moderation that has appeared in private sector data. The index rose 0.5% in March — slowing from the 0.8% rise in February — with further downshifting expected.
There was also moderation in the "supercore" measure being watched closely by the Fed (i.e. core services excluding housing), given the close ties to labor market dynamics.
Prices for this metric rose 0.2% last month — down from 0.4% in February, according to Abigail Watt, a research economist at abrdn.
What they're saying: "It's still the case that inflation in this category is too strong. The Fed will be looking for the positive momentum to continue," says Watt.
Of note: Fed officials tend to focus on the measures of inflation that look past volatile food and energy costs. But for consumers hit hard by soaring costs for these essentials, there was some good news on that front.
That includes grocery prices falling outright by 0.3% — the first decline since September 2020 that came, in part, because of plummeting egg prices.
Overall, food prices were flat compared to February, though they are still up 8.5% in the 12 months through March.
The bottom line: For now, America's inflation story remains the same: too high and too sticky for the appetite of Fed policymakers, with no guarantee of a straight downward path.
But signs of cooler prices ahead are helping to readjust financial market expectations for Fed rate hikes, with larger odds that the central bank will pause hiking after next month's policy meeting.
Go deeper: Listen to the Axios Today podcast, where host Niala Boodhoo and Courtenay Brown make sense of the conflicting information in the March inflation report.
Go deeper