Hospitals' off-site fees draw lawmakers' scrutiny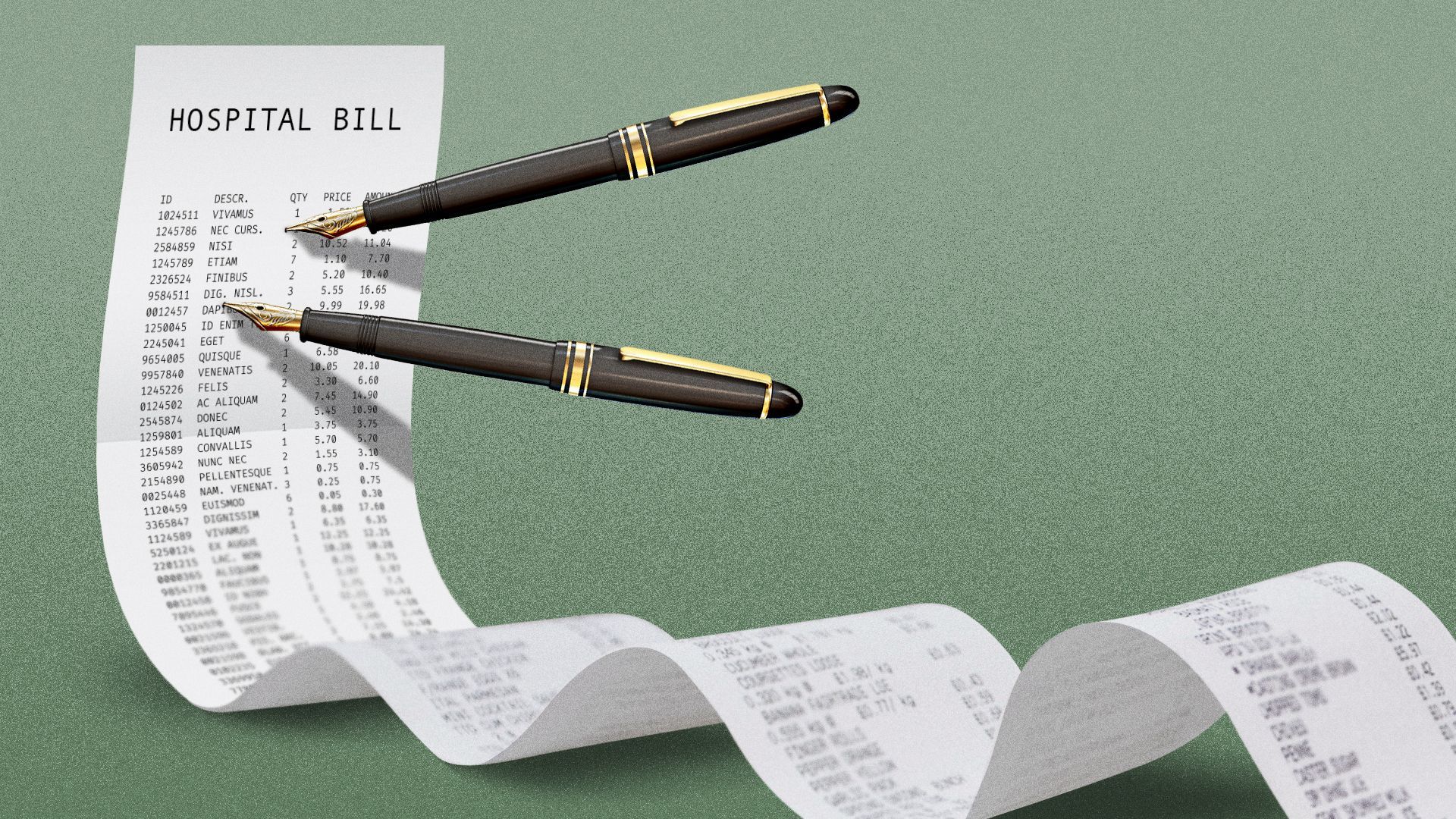 More than two years after Congress acted to shield patients from surprise medical bills, lawmakers are turning to another source of unexpected medical costs: the fees that hospitals tack on for services provided in clinics they own.
Why it matters: As health systems push more care outside hospital walls, they're charging extra "facility fees" for common services like blood tests, X-rays and, in some cases, even telehealth visits.
Critics say the practice drives up health care costs while padding hospital profits and incentivizing more consolidation. But hospitals argue the fees cover the cost of nurses, lab technicians, medical records and equipment — and that limiting them could reduce patient care.
Driving the news: The fees have caught the attention of Congress, which could take up price transparency legislation.
But five states are currently considering laws to curb facility fees for certain services or strengthen existing laws, per the National Academy for State Health Policy, which has proposed model legislation.
Connecticut is updating a 2015 law that required notifications when facility fees were being charged by hospitals.
"Rising costs remain a barrier for far too many people and result in many people putting off care because they can't afford it," Deidre Gifford, executive director of the Connecticut Office of Health Strategy, said last month, when Democratic Gov. Ned Lamont proposed a package of reforms.
Colorado lawmakers are targeting the practice, despite mounting hospital resistance, Kaiser Health News reported.
And Texas legislators are weighing prohibitions on off-campus fees — a move the Texas Hospital Association brands "unprecedented and dangerous."
Lawmakers in Indiana and Massachusetts are eyeing similar moves.
How it works: Many health services can be provided in both hospital and outpatient settings. But some patients who visit an offsite clinic are billed as if they were treated in the hospital.
Some might receive a facility fee if they haven't yet met their health plan deductible. Others could see the added cost reflected later in higher premiums and copays.
A 2020 Rand report found facility and related professional charges factored in employers and private insurers paying 224% of what Medicare would have paid for the same services at the same facilities.
Some business groups like the Employers' Forum of Indiana are advocating for bans or moratoriums on the fees, citing the increased cost of offering competitive benefits.
The other side: Hospitals maintain that facility fees are needed to cover essential infrastructure like electronic health record systems and other overhead costs. Some refer to them as "people fees," saying they cover the expenses of nurses, lab technicians, pharmacists and other essential staff.
Texas hospitals are concerned about what they say is the broad definition of a facility fee in pending legislation in the state's Senate, saying it could eliminate all hospital payments besides those that go to physicians.
"We need to quantify what problem we're trying to solve," said Cameron Duncan, vice president of advocacy at the Texas Hospital Association.
The group said the bill as originally filed would result in 69% of Texas hospitals closing their outpatient clinics.
The intrigue: Insurers that negotiated covered costs with hospitals and health systems have remained largely quiet on the fees.
And the vagaries of hospital pricing means transparency requirements alone may not give patients warning about added fees.
"It's not clear from data either that the fees are consistent, or that you could decipher that the fee is consistent for each type of procedure," said Vicki Veltri, senior policy fellow at National Academy for State Health Policy and former leader of the Connecticut Office of Health Strategy.
The bottom line: Patients increasingly get charged like they're in a hospital even if they didn't set foot in one as physicians' offices are increasingly scooped up by massive health systems.
While those health systems tout access and efficiencies to drive down health care costs, facility fees are driving more lawmakers and regulators to do a reality check.
Go deeper