One startup is a big step closer to pilotless commercial cargo flights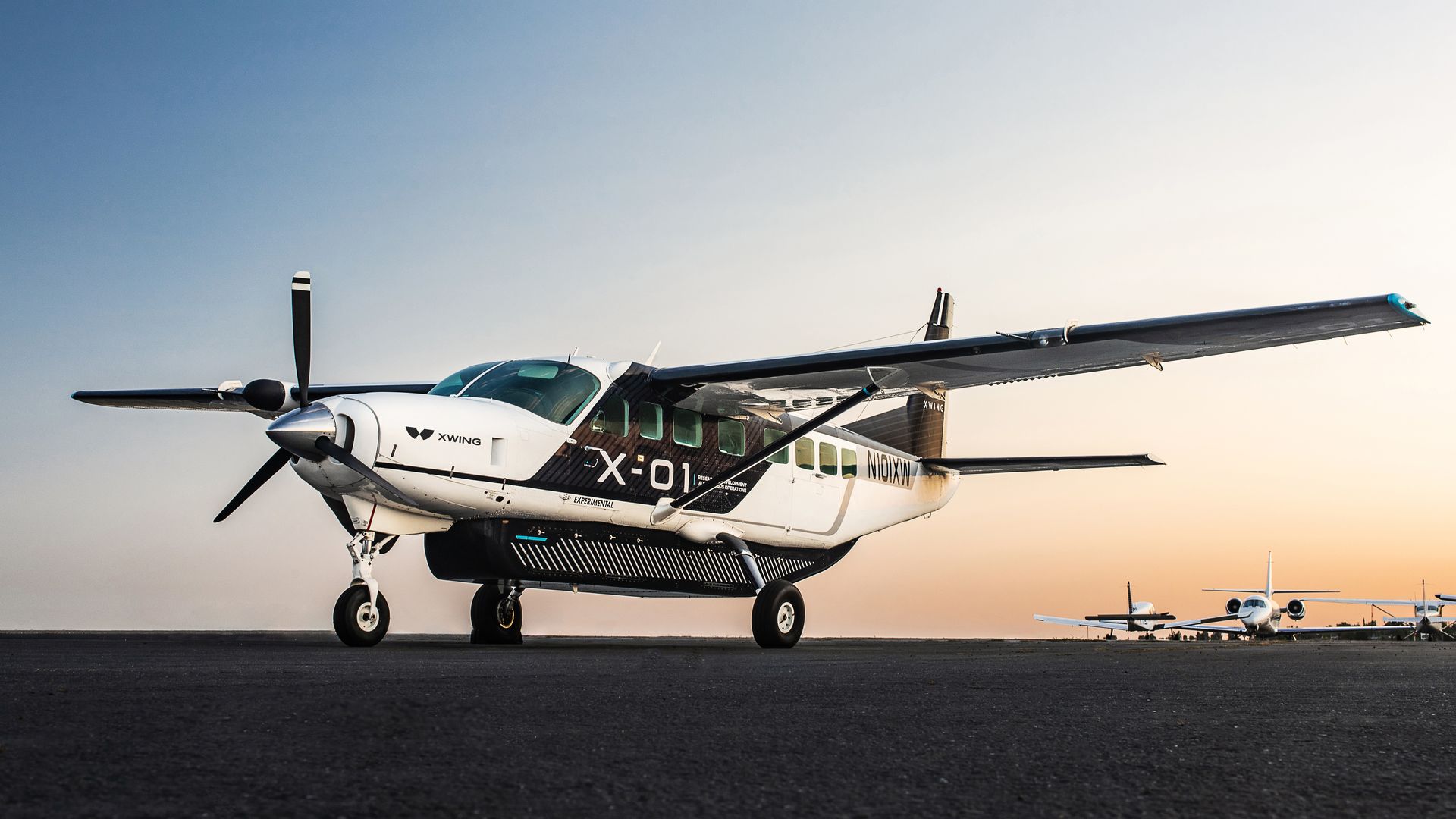 Autonomous flight startup Xwing has submitted a key planning document to federal aviation regulators, Axios is first to report — a significant step in the company's quest toward commercial uncrewed cargo operations.
Why it matters: The document, called a Project Specific Certification Plan, begins a process that, if all goes well, will result in Federal Aviation Administration approval for commercial cargo flights using Xwing's "Superpilot" autonomous tech.
The big picture: Xwing's FAA proposal is the first involving a large uncrewed aircraft under what's called the "standard" category.
That's the same category under which typical passenger and cargo airplanes are certified. It comes with higher safety standards than the "experimental" category into which the latest autonomous aircraft usually fall.
"Nobody else out there has put the whole package together for something that can actually meet the existing safety standards," Earl Lawrence, Xwing's chief compliance and quality officer, tells Axios.
Catch up quick: While other autonomous flight startups are designing entirely new aircraft from the ground up, Xwing has modified a Cessna 208 Caravan to be flown without pilots aboard.
The company's Superpilot system uses AI and sensors for crewless flight, while ground operators oversee each mission.
Back in 2021, Xwing flew the world's first totally autonomous, gate-to-gate cargo flight as part of ongoing testing efforts.
It's since been building out a traditionally flown air cargo network in preparation for approval of its autonomous tech, as well as working with the FAA, NASA and others to better understand how uncrewed planes will integrate into the National Airspace System.
The intrigue: Modifying existing aircraft may give Xwing an edge over its rivals — the Caravan is a proven workhorse, well-understood by regulators, air traffic controllers and so on.
Other startups in the space are increasingly deferring their dreams of full autonomy in favor of other innovations, such as electrification and vertical takeoff and landing.
What they're saying: "Autonomous flight is, in our books, as transformative an innovation for the industry as the jet engine," Xwing founder and CEO Marc Piette tells Axios.
In part, he envisions autonomous aircraft as a way to revitalize the country's regional airports, many of which have been losing service as traditional airlines cut money-losing routes.
The company is also pitching Superpilot as a safety tool — an especially salient selling point given the latest string of attention-grabbing near-misses.
Reality check: The aircraft certification process can take years to play out, and the FAA is still hashing out its approach to autonomous civilian flight broadly speaking.
The bottom line: The skies are about to get busy with all manner of autonomous craft, from tiny delivery drones all the way up to full-size planes.
Go deeper