Drone delivery is about to get real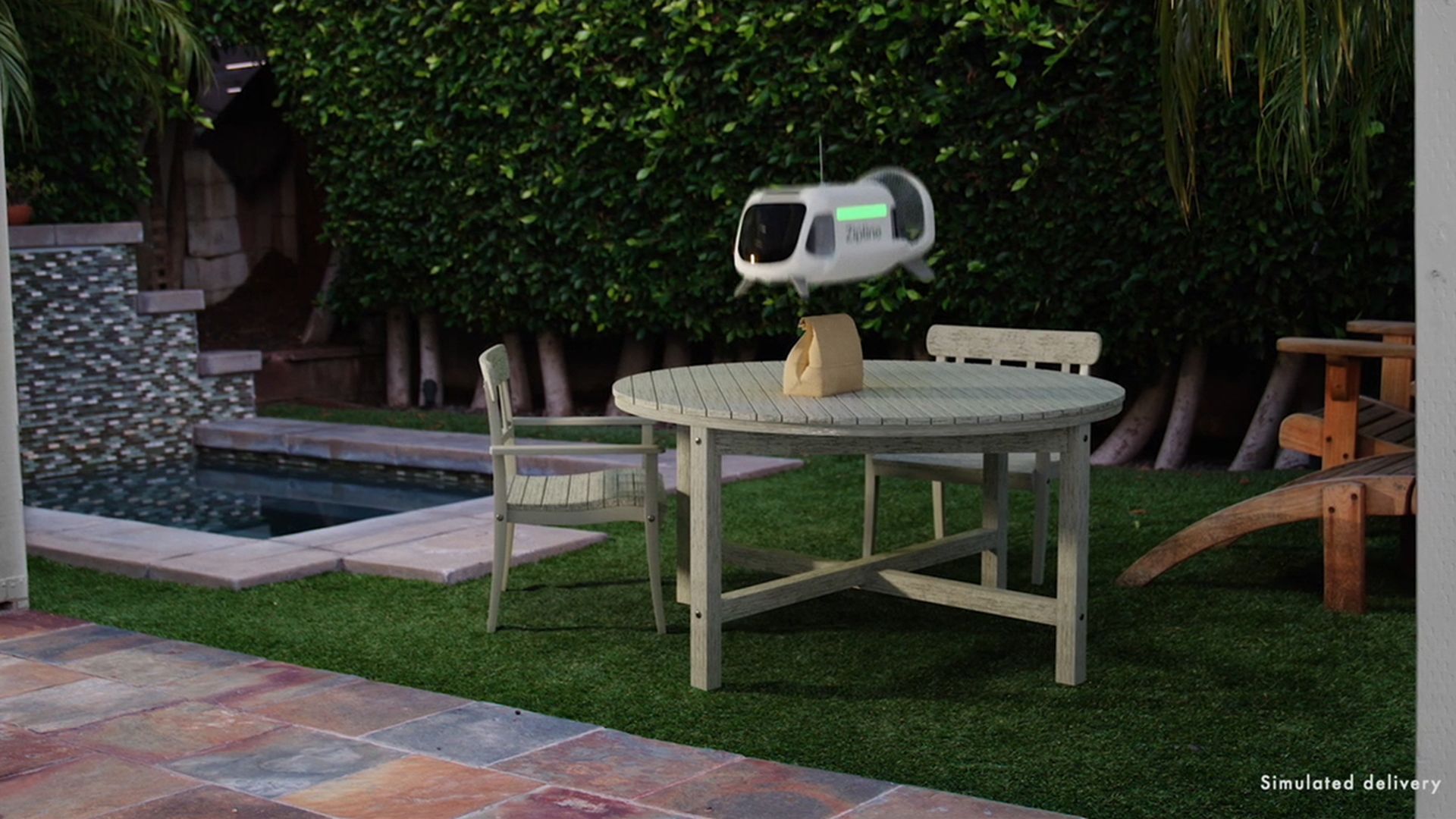 Zipline and Wing, two of the world's leading drone delivery companies, are amping up their operations in preparation for wide-scale U.S. deployment starting next year.
Why it matters: The companies' new, more sophisticated systems are a sign that the industry is maturing and that drone delivery, once a novelty, could become commonplace within a few years.
That's assuming the final regulatory hurdles are cleared, of course.
Driving the news: Zipline on Wednesday unveiled its next-generation delivery drone, which includes an autonomous droid lowered by a tether to gently deliver a package precisely where it's expected.
"We have built the closest thing to teleportation ever created — a smooth, ultrafast, convenient, and truly magical autonomous logistics system that serves all people equally, wherever they are," Zipline co-founder and CEO Keller Rinaudo Cliffton said in a statement.
Less than a week earlier, Alphabet-owned Wing unveiled its automated Wing Delivery Network, which is designed to deploy drones as efficiently as Uber dispatches drivers.
"Up to this point, the industry has been fixated on drones themselves — designing, testing and iterating on aircraft, rather than finding the best way to harness an entire fleet for efficient delivery," Wing CEO Adam Woodworth wrote in a blog post announcing the company's next phase of development.
The big picture: Using electric drones — instead of humans driving 3,000-pound gasoline vehicles — to deliver packages weighing as little as five pounds is expected to be faster, cheaper and better for the planet.
Both Zipline and Wing have already achieved early success overseas (Zipline primarily in Africa and Wing in Australia).
Drone delivery is available in a handful of U.S. cities, but service remains limited as the Federal Aviation Administration develops rules for flying drones beyond operators' line of sight.
Details: Zipline's new drone system was developed quietly over the last three years, as it made some 500,000 autonomous deliveries with its original plane-shaped drone that is catapulted into flight and drops packages via parachute.
The new design still looks like a plane, but uses rotors to take off from and land on a new charging dock that can affix to the side of a building.
While hovering silently 300 feet above its destination, the drone releases a droid from its belly on a tether.
The droid has its own sensors and fans that allow it to steer to the correct location, even in windy conditions.
That precision enables deliveries directly to a stoop, courtyard or picnic table — important for home deliveries in congested areas.
How it works: Employees can load orders "without even having to leave the kitchen, pharmacy or doctor's office," according to Zipline.
Zipline's droid, tethered to a drone on the charging dock outside, drops down a chute that workers load with a customer's order.
After a package is loaded, the droid rises back up to rejoin the drone, which then flies off to make the delivery.
By the numbers: Each drone, or "Zip," has a 10-mile service radius while carrying a six- to eight-pound payload.
They can also fly up to 24 miles one way from dock to dock, charging at each dock before picking up their next delivery.
What's next: Testing with about 100 aircraft will continue this year, with the first customer deliveries expected in 2024.
New U.S. customers include Sweetgreen, a popular restaurant chain, plus several medical companies, including Michigan Medicine, Intermountain Healthcare and MultiCare Health System, which plan to deliver prescriptions.
The government of Rwanda, Zipline's first customer, will also use Zipline's newest drones to enable last-mile delivery to homes, hotels and health facilities in Kigali and elsewhere.
Meanwhile: Wing has developed its own dynamic drone network that allows it to respond to demand as needed.
Instead of completing single point-to-point flights, linked Wing drones will be able to pick up, drop off, travel and charge in whatever pattern makes the most sense for the entire system.
Wing also has introduced a new "auto loader" to be placed outside a store or restaurant that includes a hook where employees can latch packages without waiting for a drone to arrive.
The drone will be dispatched to pick up the order automatically, like an on-demand delivery driver.
The bottom line: The ultimate in fast delivery is almost here.
Go deeper