Meet Beta Technologies' new electric plane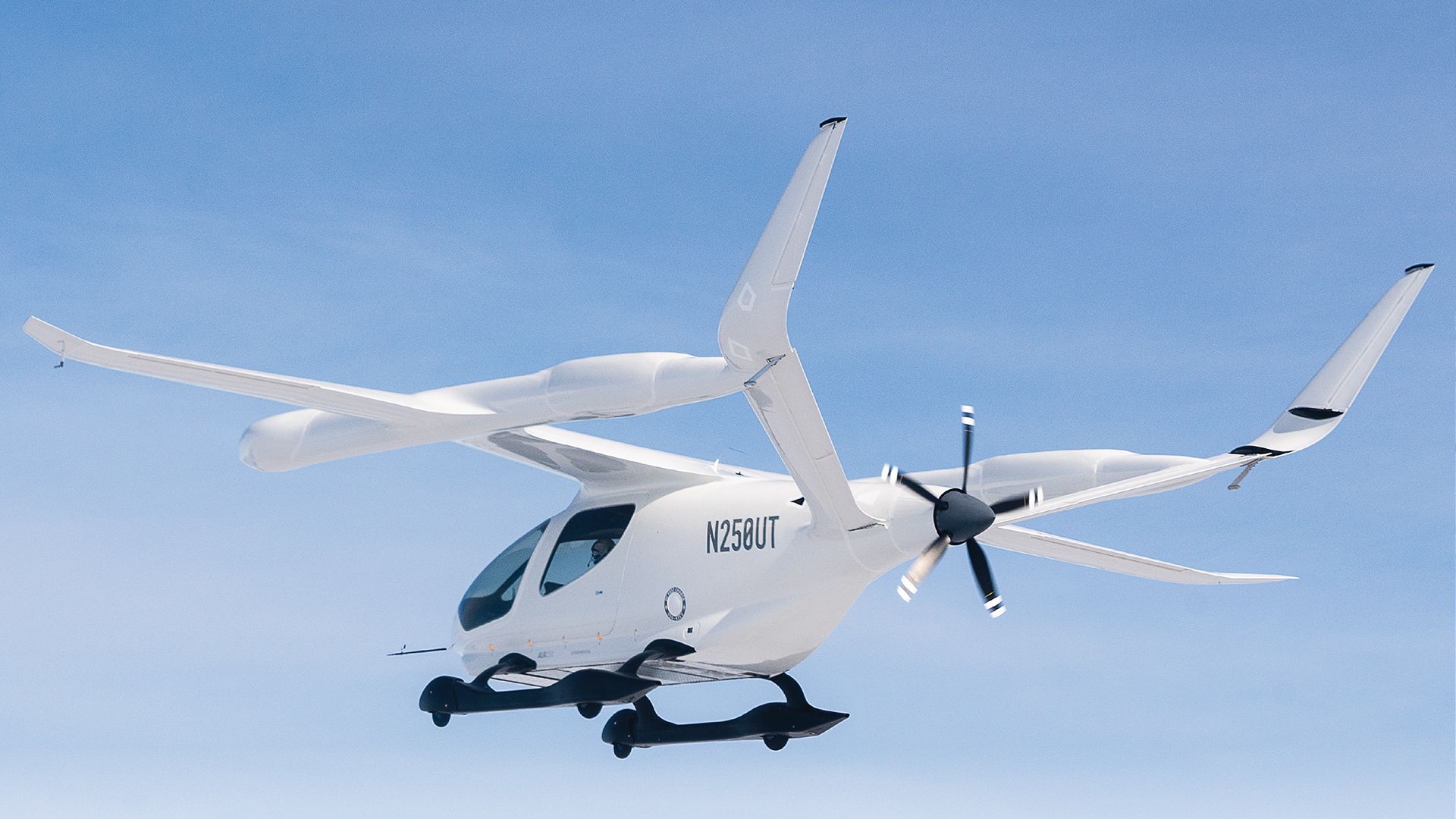 Beta Technologies, an electric aviation company that has an electric vertical takeoff and landing (eVTOL) aircraft in flight testing, announced sales of a less futuristic battery-powered model on Tuesday.
Driving the news: The company is pursuing certification of an electric conventional takeoff and landing aircraft, or eCTOL, which uses airport runways, while simultaneously working on eVTOL technology.
Why it matters: The move is shaking up the highly competitive electric aviation space. Beta is offering carriers an extensively tested near-term cargo or small passenger solution they can put into existing uses while improving their sustainability.
The big picture: Beta founder and CEO Kyle Clark tells Axios the company is responding to customer demand by pursuing the eCTOL route.
It is also well on its way to federal certification of the aircraft, called the CX300.
Its airframe, battery pack and avionics are identical to the eVTOL aircraft, known as the ALIA-250, but it lacks the tilt rotors.
By removing the rotors and flying conventionally, Clark said, "You get longer range and more payload, a less expensive aircraft and a clear certification path."
The FAA has had test pilots go through Beta's training course and fly the plane, providing feedback and potentially speeding the plane's journey to certification, Clark said. Air Force test pilots have flown it as well.
Zoom in: So far, the eCTOL plane has flown a total of 22,000 miles and completed a 386-mile flight during two years of human-crewed testing, according to the company. It was initially built to level flight performance of the ALIA, Clark said.
The CX300 has several committed customers, including the biotech firm United Therapeutics, whose founder is one of Beta's financial backers.
Air New Zealand has committed to ordering three eCTOL aircraft, with an option for 20 more.
In addition, Bristow, a helicopter transport company, has placed a deposit-backed order for 50 eCTOL aircraft, plus its firm order for five eVTOL planes, Beta revealed.
The intrigue: Beta's customers can use the company's fast-charging network rolling out at airports across the U.S. to support the electric transition.
The chargers can power either of the aircraft models, as well as electric vehicles.
Instead of spending $500 to $700 for fuel to power a turbine aircraft, airlines could spend about $20 to recharge the CX300 and fly to the next stop, Clark said.
Between the lines: The certification process for both planes is happening in parallel.
Beta aims to roll out the CX300 to commercial customers in 2025, and it already has its military certification.
It is getting ready to open a factory where it will manufacture both planes at its South Burlington, Vermont, headquarters.
The bottom line: Clark said that with the CX300, Beta is bringing a sustainable aviation solution to market sooner at a time of "insatiable" interest.
Go deeper