Scoop: Milley's remarks on Iran alarmed Israel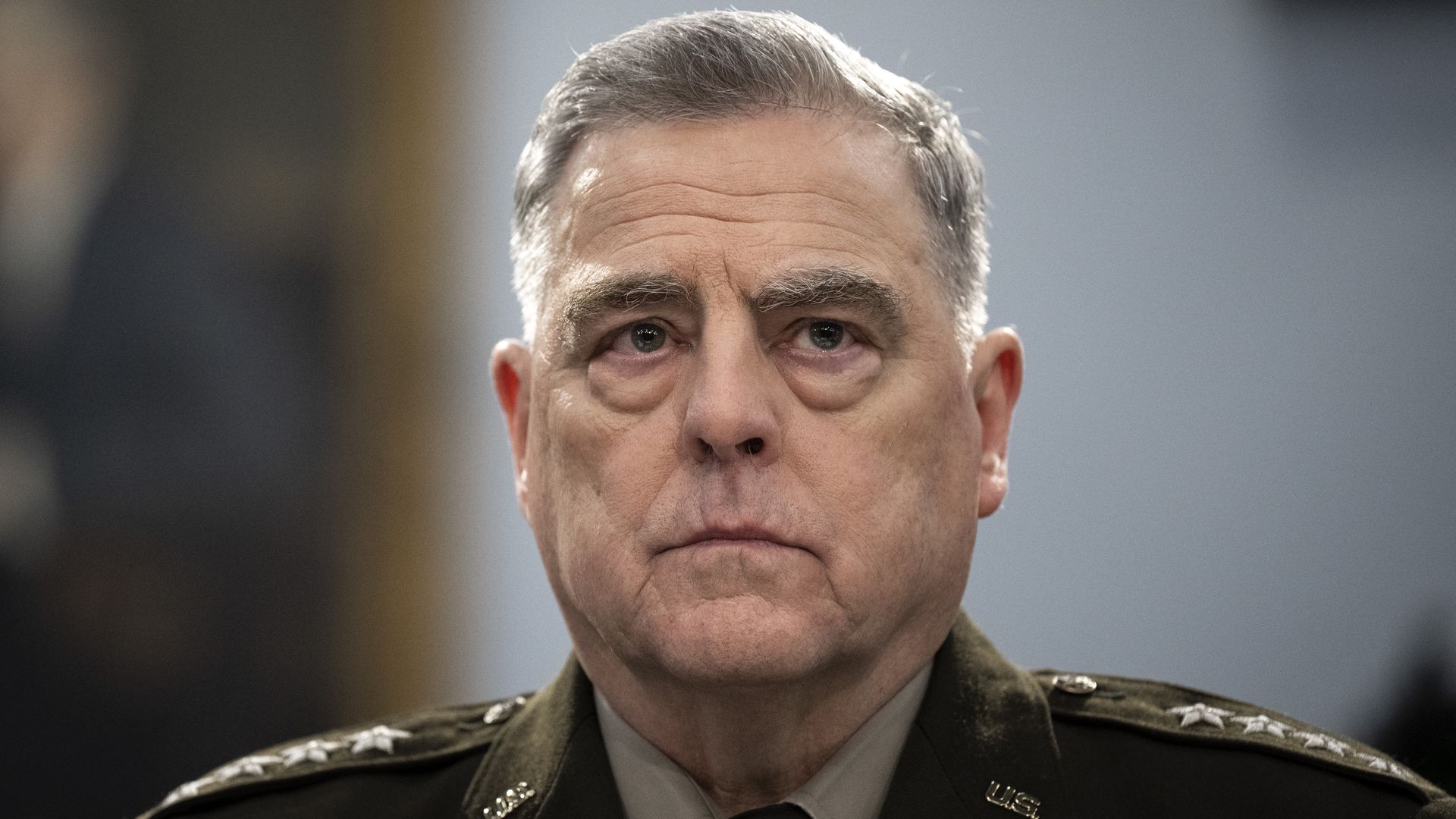 A statement Gen. Mark Milley, the chair of the Joint Chiefs of Staff, made during a House hearing last week on Iran's nuclear program alarmed Israeli defense and intelligence officials to the point they protested and asked the Biden administration for clarifications, four Israeli officials told Axios.
Driving the news: Milley, testifying before the House Appropriations Subcommittee on Defense, said that the U.S. "remains committed as a matter of policy that Iran will not have a fielded nuclear weapon." The word "fielded" created the impression among Israeli officials that the U.S. had changed its policy on Iran and would tolerate Tehran having a nuclear weapons program, the four sources said.
Milley also said it would only take Iran two weeks to produce enough uranium for a nuclear weapon. It would then "only take several more months to produce an actual nuclear weapon," he added.
Behind the scenes: Senior officials in the Israeli Prime Minister's Office, Ministry of Defense, IDF, Foreign Ministry and Mossad who deal with the Iranian issue were alarmed by Milley's remarks, the Israeli officials said.
The word "fielded" made the Israeli officials question whether the U.S. would allow Iran to develop a nuclear weapon as long as it didn't deploy it on a missile or other delivery system, the four Israeli officials said. The Biden administration's policy has always been based on preventing Iran from obtaining a nuclear weapon.
The Israeli officials said they were also alarmed by Milley's assessment of the time Iran would need to produce a nuclear weapon once it has a sufficient amount of uranium enriched to 90% purity.
Milley's "several months" timeline was not only significantly shorter than the estimate of the Israeli intelligence community, but it was also a U.S. estimate that hadn't been shared with Israel, the Israeli officials said. Israeli officials believe it would take Iran one to two years to build a nuclear device.
The big picture: A senior Israeli official told Axios that other senior Israeli officials from several agencies who work on Iran issues called their U.S. counterparts and expressed concern about Milley's remarks. They also asked that Milley clarify his remarks or retract them.
Several days later at a House Armed Service Committee meeting, Milly stressed that the U.S. is committed to ensuring Iran never obtains a nuclear weapon. This time, he didn't use the word "fielded."
He did, however, repeat the claim that Iran would need "several months to produce an actual nuclear weapon" if it enriched enough uranium to 90%.
Joseph Holstead, a Joint Staff spokesperson, told Axios that the "U.S. policy remains the same." Milley's use of the word "fielded" in the "past was military vernacular," Holstead said.
What they're saying: Israeli officials saw Milley's statement before the House Armed Service Committee as the clarification they hoped for. "We asked the Biden administration to fix it and they did," a second senior Israeli official said.
Go deeper