WWE-UFC could pursue combined streaming deal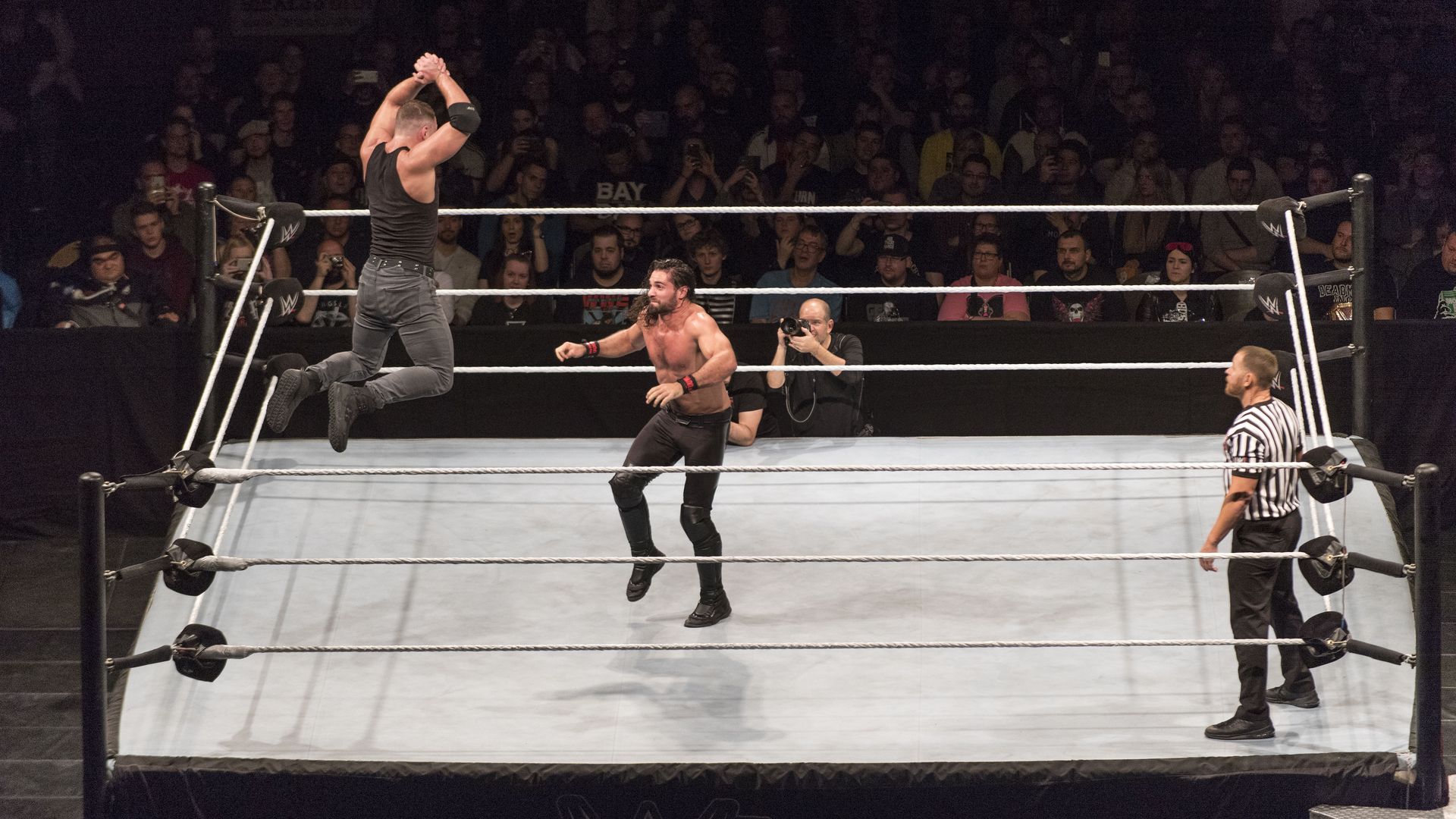 WWE and UFC will pursue separate media rights negotiations for linear TV, but there could be an opportunity to pursue a combined streaming deal, WWE CEO Nick Khan told Axios in an interview Monday morning.
Why it matters: WWE's streaming deal with NBCUniversal's Peacock expires in 2026. UFC's media deal with ESPN, which includes giving ESPN+ the exclusive rights to all UFC pay-per-view matches, expires in 2025.
Asked whether WWE and UFC would consider a combined streaming rights deal once those agreements expire, Khan said, "the good folks at NBCU have been tremendous partners to us. So let's see what they have to say."
Details: WWE's current linear TV rights deals with NBCUniversal and Fox Corp. expire next year. Its streaming deal with NBCUniversal's Peacock expires in 2026. UFC signed a five-year TV contract with ESPN in 2019 that was extended through 2025. Khan said the companies would be pursuing those TV deals differently.
"The most important thing is that NBC and Fox, from a WWE point of view, feel respected in the process," Khan, who will become WWE president when the deal closes, told Axios. "So we're going to enter those conversations with them."
The right of first refusal, "just starts now," Khan said.
"[W]e're going to see what that looks like and hopefully it's robust, and we don't get out of the "right of first window," and "we strike a deal with each of them." The window Khan is referring to is an agreement that gives NBCU and Fox the right of first refusal to re-up their deals with WWE.
"If we're not able to do that, we'll see what the marketplace has to say and ultimately choose the right partner for the WWE audience in our shareholders."
Catch up quick: Endeavor said Monday it would combine WWE, which it acquired Monday as part of a $9.3 billion deal, with Ultimate Fighting Championship (UFC), which it took control of in 2016.
The two companies will be combined as a part of a $21 billion publicly traded holding company and will leverage Endeavor's back end resources to achieve synergies, Endeavor said.
Khan confirmed that there were multiple bidders for WWE. "There were many terrific bidders and ultimately, the decision was made, that this was the right opportunity for our shareholders and our company," he said.
Meanwhile, asked about layoffs or staff changes for WWE, Khan said "We're not sure."
"An integration team is going to be put into place between both companies in short order, and we'll know — we'll have a lot more in the next week or two."
Be smart: The two businesses, while combined under one holding company, will be run separately, Khan confirmed, but "if there are fun things to do," he said, "we're going to figure it out."
Khan noted that he and Dana White, who will continue in his role as president of UFC, is a close friend.
The big picture: The deal is a huge victory for Vince McMahon, executive chairman and controlling shareholder of WWE.
McMahon returned to the company suddenly in January amid sale talks, following his disgraced exit in 2022. He is expected to serve as executive chair of the board of the newly-combined company.
McMahon signed a new two-year employment contract with the WWE last month with an annual compensation package valued at $7.6 million, per The Hollywood Reporter. The contract includes the rights to by extended further in one-year increments after the deal-year deal ends.
After the Endeavor deal closes, Khan said, "we'll have the conversation of, you know, what more there is to do together."
Between the lines: When the deal closes, Endeavor will hold a 51% controlling interest in the newly combined company, and WWE shareholders will hold the remaining 49%. Endeavor will appoint six board seats and WWE will appoint five.
WWE will continue its relationship with Saudi Arabia, despite Endeavor's historic reluctance to do business with the country, Khan said.
"[O]ur relationship with The Kingdom is a terrific partnership for which we're appreciative of, and you know, nothing in terms of anyone else's prior experience will affect that."
"We think that we've delivered the product in the way that the Kingdom wanted it delivered. We have a multiple year agreement with them in place. We're excited to do a show — we'll be back there May 27 for a big premium live event."
What to watch: Endeavor said the combined company is expected to trade under the moniker "TKO" once it goes public.
Khan said the name of the combined company is being finalized now.
"We don't have to have it yet. But we're finalizing it and expect that get finalized in the next couple of days. Then we'll announce it after that."
Asked about how the new company would integrate sports betting, Khan said he has nothing to share yet, "but if you give me a couple of weeks, we should pick it up then."
Go deeper: Listen to the Axios Today podcast, where host Niala Boodhoo and Sara Fischer discuss the creation of a new sports entertainment company.
Editor's note: This story has been corrected to show Nick Khan is the WWE CEO, not president. He will become president at the close of the deal.
Go deeper