NCAA women's March Madness breaks records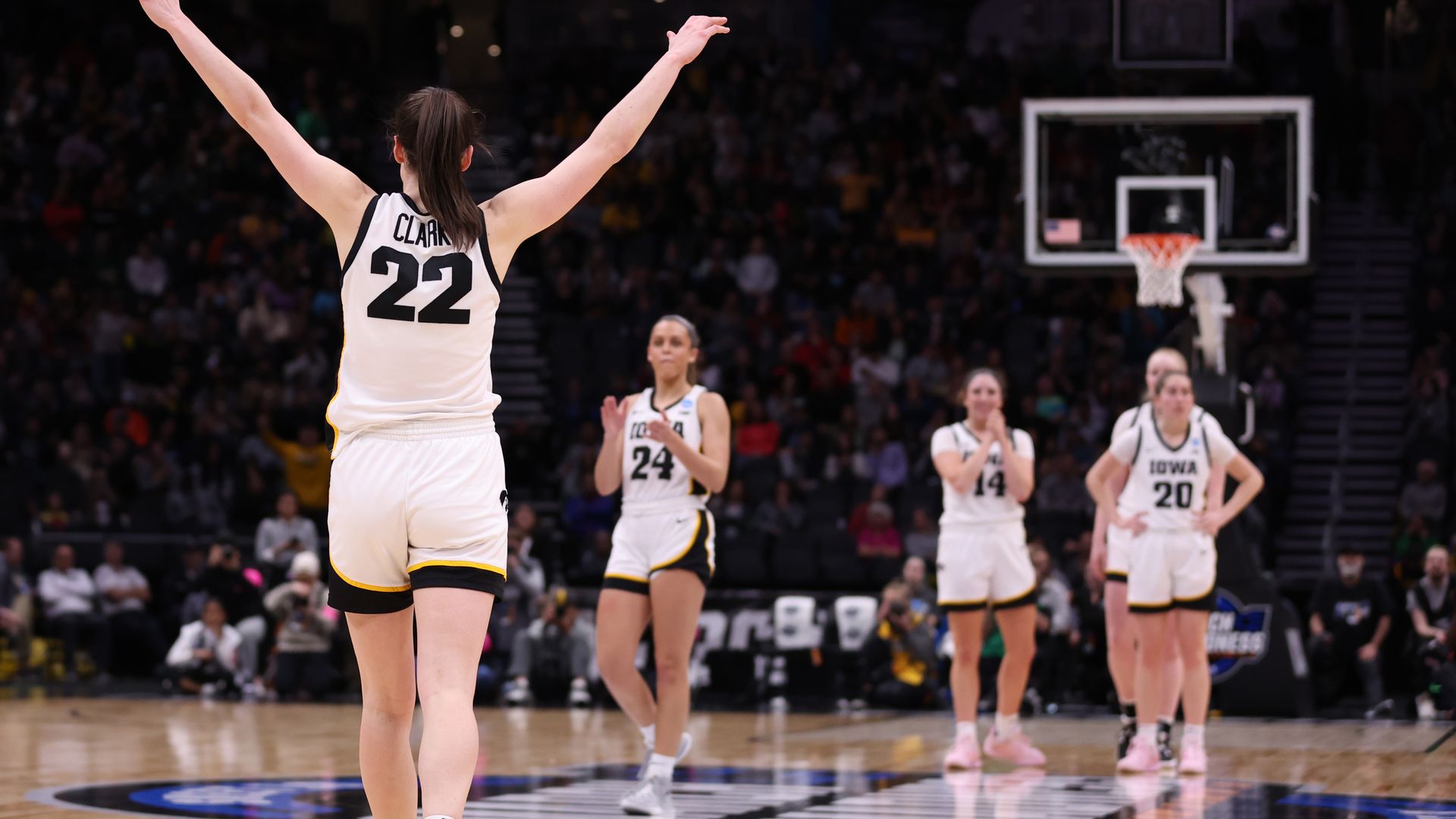 This year's women's NCAA March Madness tournament is smashing viewership records.
By the numbers: The women's Elite Eight round of the tournament drew 2.2 million average viewers — the most on record for ESPN and 43% higher than 2022.
Overall, tournament viewership is up 42% from last season.
Fans have consumed 4.7 billion minutes of women's March Madness content this tournament, which is also an ESPN record.
On the men's side, the Elite Eight games on CBS and TBS averaged 8.68 million viewers, which is a 14% drop from last season, per Sports Business Journal.
The Sweet 16 round also drew a record number of viewers for the tournament — an average of 1.2 million people watched each of those games.
The Ohio State-University of Connecticut game during the Sweet 16 was the most-viewed Sweet Sixteen women's game on ESPN record.
Zoom in: University of Iowa phenom Caitlin Clark is breaking records on the court and has led her Hawkeyes to the Final Four, where they are set to take on the University of South Carolina.
The Louisville-Iowa game was ESPN's most-viewed Elite Eight game on record, with 2.5 million views. That's more than any NBA game on ESPN this season, per The Athletic.
For comparison, the regular season's most-watched college basketball games on ESPN were the mens' North Carolina-Duke games on Feb. 4 and March 4, which had 2.85 million viewers and 2.63 million viewers respectively.
Clark also became the first player — men's or women's — to achieve a 40-point triple-double in an NCAA tournament game.
The big picture: There have been years of inequities between the men's and women's NCAA tournaments.
Women's teams in 2021 were given just a fraction of the resources as men's teams, sparking national outrage.
A 2021 report found that the NCAA prioritized men's basketball in nearly every sense — which exacerbated the different treatment.
"The N.C.A.A.'s broadcast agreements, corporate sponsorship contracts, distribution of revenue, organizational structure and culture all prioritize Division I men's basketball over everything else in ways that create, normalize and perpetuate gender inequities," the report, published after the 2021 tournament, said.
What to watch: How many fans tune into Clark and the Hawkeyes' Friday night Final Four match-up against South Carolina. (It's at 9 p.m.)
Go deeper... Player empowerment is key to the future of U.S. women's pro soccer
Editor's note: This story has been updated with additional numbers on the mens' March Madness tournament viewership.
Go deeper